BT CEO Pay Seen Plunging as Board Said to Weigh Bonus Clawbacks
By
Writedown in Italy may allow board to take back past awards

Shareholders demand adjustments because targets weren't met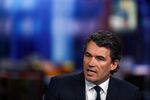 BT Group Plc Chief Executive Officer Gavin Patterson faces a significant hit to his compensation after the company reduced its profit outlook in January and tripled a writedown from an accounting scandal in Italy.
The board of the former U.K. phone monopoly is considering clawbacks of past management compensation due to the revised financial results from Italy as it prepares the company's annual report, said people familiar with the matter, who asked not to be identified as the deliberations are private.
Fund managers are seeking an adjustment to prior payouts because executives were rewarded for hitting targets that in retrospect weren't met, said one of BT's top 10 shareholders, who asked not to be identified.
A pay cut for BT's CEO, who pulled in 5.4 million pounds ($6.8 million) in fiscal 2016, would be the board's first use of new clawback provisions. The rules apply to cash bonuses and stock incentive awards starting in 2015-2016. Patterson received an annual bonus of 1.06 million pounds for 2015-2016 and was granted stock awards in June 2016 with an estimated value of about 4 million pounds at the time.
Britain's largest companies are under scrutiny over executive pay as fund managers and Prime Minister Theresa May call for executive remuneration to be better aligned with the pace of inflation and compensation for other employees. Clawback provisions allow companies to take back money already paid to executives after results are restated.

A BT spokesman declined to comment on specifics, and referred to a January statement: "We are conducting a broader review of financial processes, systems and controls across the group. The BT Group remuneration committee will consider the wider implications of the BT Italy investigation."
BT typically reports on executive compensation for the prior year after releasing annual financial results each May. In recent years about 80 percent of Patterson's total compensation has been paid in bonus and stock incentives.
Patterson will probably also see a significant drop in his bonus for the 12 months that ended on March 31, because the profit warning will affect BT's ability to meet financial targets, according to analysts at Exane BNP Paribas. The CEO's total compensation could be down as much as 70 percent for the year, they estimated in February. The company could pull back about 20 percent of prior-year management bonuses and Patterson may also see a lapsing of stock awards tied to financial performance and shareholder returns, they wrote.
BT is still smarting from the Jan. 24 disclosures that knocked 21 percent off the company's stock-market value that day. The company said then that the outlook for its information-technology outsourcing divisions had weakened and that accounting irregularities in Italy were worse than expected, leading to a 530-million-pound writedown.
May's Proposals
BT hasn't previously been targeted by investors uneasy over executive pay, as the company has generally sought to keep salaries at the lower end of its telecommunications peers. Still, all of Britain's big companies are due to be affected by May's promises to attack excessive pay and corporate misbehavior through proposals such as mandatory publication of pay ratios, annual binding votes on company remuneration reports and a ban on complex share-based pay schemes for top managers.
The accounting fiasco in Italy hasn't been the only issue dogging Patterson this year. BT is also facing allegations of bid-rigging for an IT contract in Hong Kong and last month was found by U.K. regulators to have failed to adequately compensate customers for delays installing ethernet connections. Patterson, who spent billions to get BT into pay-TV and mobile, is seeking to rebuild confidence in the company's network unit after a bruising battle with U.K. regulator Ofcom over its structure.
The company agreed in March to pay a fine of 42 million pounds and reimburse another 300 million pounds to its rivals for what Ofcom called a "serious breach" of rules that protect competitors who rely on BT's Openreach network to provide broadband service.
"I don't they're serious enough yet for his head to roll but I think the ice is getting thinner," said Allan Nichols, an analyst at Morningstar in Amsterdam. "He's got to be starting to sweat."
— With assistance by Kasper Viita
Before it's here, it's on the Bloomberg Terminal.
LEARN MORE