Broadcom Said to Win Japan Banks' Backing for Toshiba Chip Bid
By and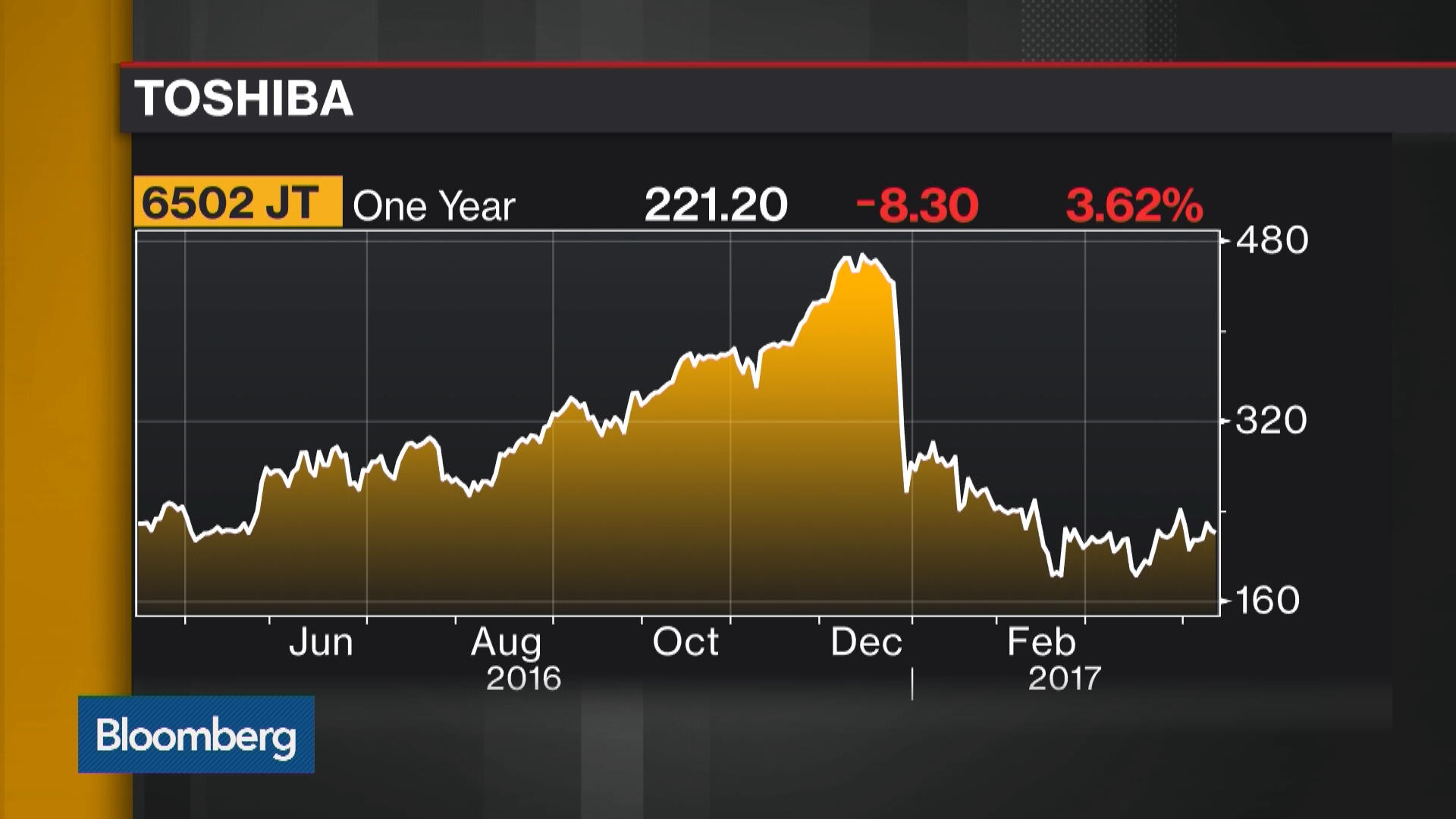 Broadcom Ltd. has lined up financing from three Japan banks and private-equity firm Silver Lake as it bids for Toshiba Corp.'s semiconductor business, according to people familiar with the matter.
The lending units of Mizuho Financial Group Inc., Sumitomo Mitsui Financial Group Inc. and Mitsubishi UFJ Financial Group Inc. plan to provide about $15 billion in loans, while Silver Lake will add $3 billion in convertible debt, said the people, asking not to be identified because the matter is private. Broadcom is offering about 2 trillion yen ($18 billion) for the chip business, though bids at this stage are non-binding and the offer could change, the people said. The second round of bids are due May 19, they said.
Toshiba is auctioning off its memory-chip business as it tries to plug a hole in its balance sheet from heavy losses in its Westinghouse nuclear business. The Tokyo-based company has also received preliminary offers from Taiwan's Hon Hai Precision Industry Co. and South Korea's SK Hynix Inc. Hon Hai has indicated it may pay as much as 3 trillion yen for the chip unit, but that offer would likely face resistance from the Japanese and American governments.
Toshiba spokeswoman Kaori Hiraki declined to comment, while Broadcom didn't respond to requests for comment. Masako Shiono, a spokeswoman at Mizuho, and Silver Lake declined to comment. Spokesmen at Mitsubishi UFJ and Sumitomo Mitsui were not immediately available to comment.
Mizuho and Sumitomo Mitsui are also primary banks for Toshiba.
Toshiba's plans to sell the chip business hit a snag this week when joint-venture partner Western Digital Corp. objected to the sale. Western Digital Chief Executive Officer Steve Milligan wrote a letter to Toshiba's board members on April 9 advising them that they should negotiate exclusively with his company before any sale.
He also argued that the rumored bidders were unsuitable and the reported prices offered were above the fair and supportable value of the chip business, according to a person familiar with the process. Toshiba and Western Digital are joint owners of certain chip business facilities. He cautioned in particular against accepting the bid from Broadcom, a company that has led the wave of consolidation in the chip industry over the last two years.
Western Digital's objections may slow or perhaps even derail the process of finding a buyer. The Japanese company needs cash to avoid its shares being delisted from the Tokyo Stock Exchange and has warned that its very survival is at risk. Analysts cautioned that Western Digital does have legal rights that will bear on the sale process.
"We believe that WDC has rights surrounding the JV including the consent to approve/disapprove of any transaction involving the joint venture," Amit Daryanani, an analyst at RBC Capital Markets, wrote in a research note. "We believe that WDC has the legal wherewithal to veto or approve a winning bid."
Toshiba shares fell as much as 4.5 percent in Tokyo trading. They have dropped 22 percent this year before today.
Western Digital, one of the largest makers of computer hard drives, last year made a $15.8 billion bet on technology that's making its core business obsolete, with its purchase of SanDisk Corp. SanDisk was a manufacturing partner of Toshiba, a role that Western Digital has assumed.
That purchase piled debt onto its balance sheet and may restrict its ability to match some of the bids that other companies have made for Toshiba's chip unit. In January, Western Digital said it had cash and cash equivalents of $5.2 billion. The company had "liquidity available" totaling $6.2 billion and a net debt position of about $800 million, it said.
— With assistance by Pavel Alpeyev, Ian King, and Takako Taniguchi
Before it's here, it's on the Bloomberg Terminal.
LEARN MORE