Brazil's President Denies Discussions of Campaign Donations
By
President Temer defends himself in video on social media

Brazil transfixed by plea bargain videos of executives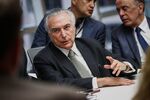 Brazil's President Michel Temer has defended himself from accusations he took part in discussions about political campaign financing with one of the country's largest companies.
In a video posted on the government's social media sites, Temer issued a short statement response to the plea bargain testimony of two former Odebrecht SA executives who allege he negotiated a $40m payment in 2010 to the Brazilian Democratic Movement Party.

"My friends, I have no fear of the facts," he said. "What repulses me is the lie."
Brazil's political establishment is still reeling from the fallout of the latest development in the Carwash corruption scandal. On Tuesday, a Supreme Court judge authorized investigations into around a quarter of the cabinet, a quarter of the Senate and dozens of federal deputies. On Wednesday the court released videos of the plea bargain testimony of Odebrecht executives, allowing Brazilians to see first-hand the accusations made against some of the nation's most powerful politicians.
The chief prosecutor did not ask the Supreme Court to approve an inquiry into Temer. Under Brazilian law, a sitting president cannot be charged over acts committed before taking office.
In the video published on Thursday afternoon, Temer confirmed that he attended the meeting with "a representative of one of the country's biggest companies". He says that no illegal payments were discussed then or at any other point.
"My greatest ally is the truth, the raw material of the judiciary, which will reveal the whole truth of the facts," he said.
President Temer's approval ratings have plunged as he pushes ahead with unpopular austerity measures while an economic recovery remains aloof. Temer's personal disapproval rating jumped to 73 percent from 64 percent in December, according to an Ibope poll published on March 31. His government was rated as good or very good by 10 percent of respondents, down from 13 percent in the previous survey.
Before it's here, it's on the Bloomberg Terminal.
LEARN MORE