After 'Horrific' Losses, Buyers Return to EM Local Currency Bonds
By
VanEck emerging market local currency bond fund added $222M

With dollar weakening, yield-hungry buyers see opportunity
U.S. investors aren't shy about buying emerging market debt. But when they do, they usually prefer that it be denominated in dollars.
That may be changing, however, as yield-hungry bond buyers grapple with a dollar that's relinquishing some of its post-election surge.
In March, the VanEck Vectors J.P. Morgan EM Local Currency Bond ETF, ticker EMLC, added $222 million in assets, the most in more than four years, according to data compiled by Bloomberg. Its 9.5 percent asset growth outpaced BlackRock Inc.'s dollar-debt fund, EMB, and the PowerShares Emerging Markets Sovereign Debt Portfolio, ticker PCY, the data show.
The flows don't necessarily point to a mass migration to local currency debt. But for U.S. investors who suffered substantial losses on the bonds from 2013 to 2015 it signals a change of heart, according to Jim Barrineau, co-head of emerging markets debt for Schroder Investment Management.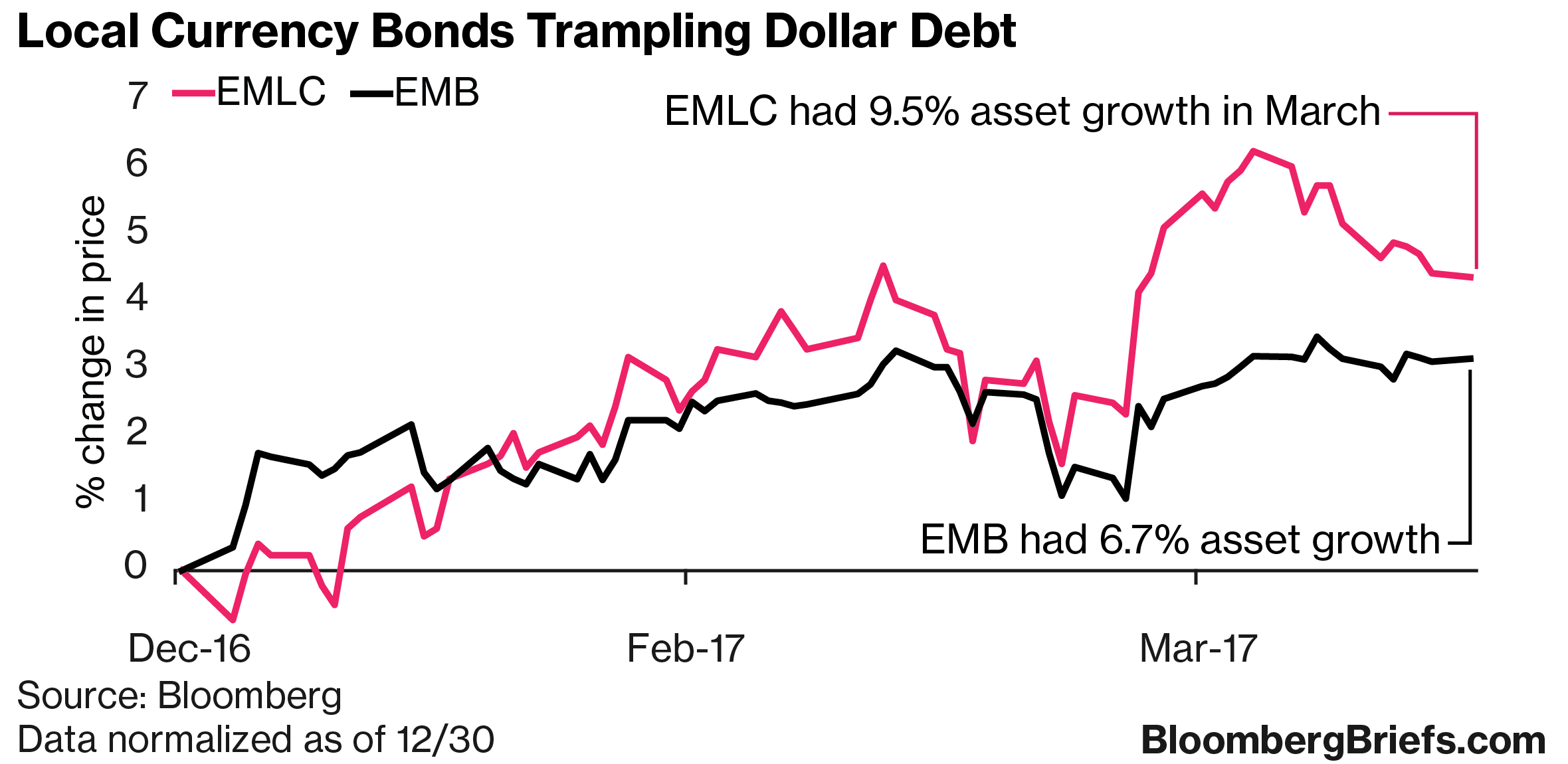 This is one reason why local currency developing market funds are among the top-performing fixed-income ETFs this year.
"U.S. investors are still more comfortable holding hard currency EM debt rather than local currency, but if we continue to see a relatively positive environment for EM assets, then I do think you will see some rotation going forward," said Stephen Cohen, global head of fixed-income beta for BlackRock.
WisdomTree's EM Local Debt Fund, symbol ELD, is the top-performing U.S.-listed emerging markets fixed-income fund this year. It has benefited from an 11 percent weighting in the Russian ruble, which climbed 7 percent against the dollar through April 10. The fund has returned 6.7 percent, compared with 4.8 percent for BlackRock's EMB.
Developing market assets are attracting the attention of U.S. investors heartened by the fact that the Trump administration has yet to enact policies that could disrupt international trade. Growing skepticism over the U.S. president's ability to push through tax and spending proposals has sent the dollar down 3.7 percent this year, according to data compiled by Bloomberg.
European investors have been even more willing to look at local currency bonds than their U.S. counterparts. In London, the iShares EM Local Govt Bond UCITS ETF, IEML, has seen the most inflows of any emerging-market bond fund this year, collecting $1.45 billion. That's about $200 million more than BlackRock's dollar-denominated IEMB.
Of course, given the past experiences of some U.S. investors, analysts warn that these inflows may be just a blip rather than a sustained trend. 
"We're in this softer-to-stable dollar regime where local currency will do well," said Schroder's Barrineau said. "But after you've had a horrific experience, you feel like you are going to be burned."
— With assistance by Rachel Evans
Before it's here, it's on the Bloomberg Terminal.
LEARN MORE