Your Evening Briefing
Here are today's top stories for Europe.
Bloomberg News
The evening briefing will soon be available in your inbox every day. Sign up here.
Against the background of last week's chemical weapon attack in Syria and the U.S. missile strike that followed, Secretary of State Rex Tillerson met today with Russian counterpart Sergei Lavrov and President Vladimir Putin. The lead-up wasn't auspicious: Lavrov blasted America's "ambiguous and contradictory" foreign policy while Putin said trust with the U.S. has "deteriorated" since Donald Trump took office. Russia is pushing back against U.S. demands that it abandon Syrian leader Bashar al-Assad. — Andy Reinhardt
Markets spooked. Far-left French presidential candidate Jean-Luc Melenchon, an admirer of Fidel Castro and Hugo Chavez, is gaining ground in polls with his fiery rhetoric and uncompromising political positions. Now markets are getting nervous, driving up the spread between French and German bond yields.
Spring is in the air. In a speech today, International Monetary Fund chief Christine Lagarde struck a more optimistic note about the global economy after its long and sluggish recovery. "After six years of disappointing growth, the world economy is gaining momentum," she said in Brussels, adding later in a Bloomberg TV interview, "We should not waste it."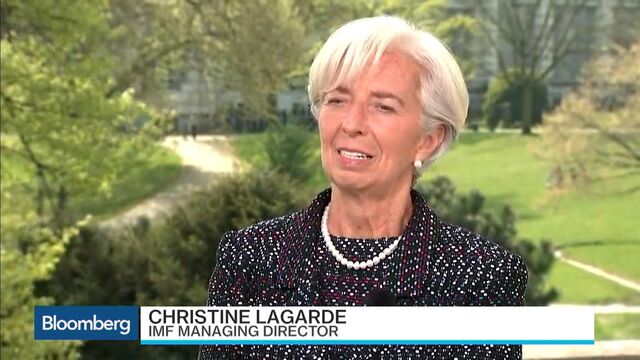 Second thoughts. When Taavet Hinrikus co-founded TransferWise, an online money-transfer service that grew into London's first fintech unicorn, basing the company in London was a no-brainer. But he said today at a conference that if he had to do it all over again, he'd go elsewhere. The reason? Brexit. Philip Hammond and Mark Carney were in the audience to hear it.
Keeping up with the Teslas. Volkswagen is set to unveil an electric crossover concept in Shanghai next week in a challenge to Tesla's Model X. The third in a series of zero-emission cars from the German giant, it's expected to have a range comparable to gas-powered models and to drive autonomously. Also on tap in Shanghai: an electric SUV from nearly-forgotten German auto brand Borgward, which went bust in 1961. A Chinese automaker has revived the retro marque to surprising success.
Retracted and withdrawn. First Lady Melania Trump won a payout and apology from the Daily Mail, settling U.K and U.S. lawsuits over false allegations about her modeling career that hurt her "personal integrity and dignity," in the words of her lawyer. Trump is understood to have won a payout close to $3 million, according to a person familiar with the settlement.
The 2016 vintage from Bordeaux was a blockbuster. Many chateau owners says the wines are the best they've ever made. On a 500-mile tour of top vintners, Bloomberg reviewer Elin McCoy says she "found terrific wines at every price level and in every appellation." Read her recommendations—and a few warnings.
Before it's here, it's on the Bloomberg Terminal.
LEARN MORE