business
Your Evening Briefing
Here are today's top stories
Bloomberg News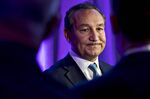 The evening briefing will soon be available in your inbox every day. To be among the first to get it, sign up here. 
United Continental Holdings Inc.'s CEO has gone from an airline savior to a target of social-media scorn. With a few ill-chosen words after a United passenger was violently dragged off a plane in Chicago, Oscar Munoz stoked the flames of a public-relations firestorm. He struck a more contrite tone almost 24 hours after the incident, but the damage was done. United saw its stock sink and may have risked a blowback from Asian consumers. Ironically, Munoz just last month was named "Communicator of the Year for 2017" by PRWeek magazine. —Kristine Servando
Xi Jinping spoke to Donald Trump by phone and pushed for dialogue on resolving the issue of North Korea's nuclear threat. Growing anxiety over war prompted South Korea's government to issue a message of calm to citizens, saying there's no need to worry about security on the Korean Peninsula as the government is working with other nations to manage escalating tensions with North Korea.
Australia leads the world in sky-high skyscraper rents. It isn't just housing costs: office rents are becoming dizzyingly high in Melbourne and Sydney, rising faster than in any other global city, according to property consultancy Knight Frank. In Melbourne, where the vacancy rate is at a 10-year low, rents climbed 11 percent. Sydney rents rose 10 percent as some office towers were converted to apartments or marked for demolition to make way for a new train line.
China's top man on trade. Zhang Xiangchen, newly named Chinese envoy to the World Trade Organization, is not widely known outside Geneva's trade circles, but he's one to watch closely. Even before taking up the post, Zhang was gently touting the WTO as a potential tool against Donald Trump, a protectionist president who has publicly questioned whether the organization works.
Want a less scary tax bill? Chile and New Zealand might prove appealing, as workers there enjoy the lowest tax rates among the world's biggest economies, according to data from the OECD. Those in Belgium might want to consider moving. The average tax rate for a single worker with no children is 54 percent. Check out the list here.
Malaysia's longest-serving prime minister has a warning for the nation's current leader, Najib Razak: the end of the ruling party's six-decade reign may be near. A former Najib ally, Mahathir Mohamad, says people are increasingly unhappy with the government, and he predicts an upset in upcoming polls.
Manila's iconic jeepneys are in Duterte's crosshairs. The Philippines' most popular and cheapest mode of public transportation is being targeted for the scrap heap as the president tries to modernize the nation and clean up its air by adopting electric vehicles. But drivers of the artwork-laden, smoke-belching vehicles contend they can't afford the switch, and they staged a nationwide strike in February.
Have your best-ever trip to Europe. Here's everything you'll need to plan your best European holiday, from staying in a historic Parisian hotel to luxuriating on the best beaches in Greece. Though it may not be in the EU much longer, London makes the list, where, with Brexit roiling the pound, your money will go unusually far.

Before it's here, it's on the Bloomberg Terminal.
LEARN MORE