Turkish Faith in Erdogan Tested by Constitutional Referendum
By , , and
Even Erdogan fans complain that politics malaise is setting in

'Sometimes I say Tayyip Erdogan is the perfect man': supporter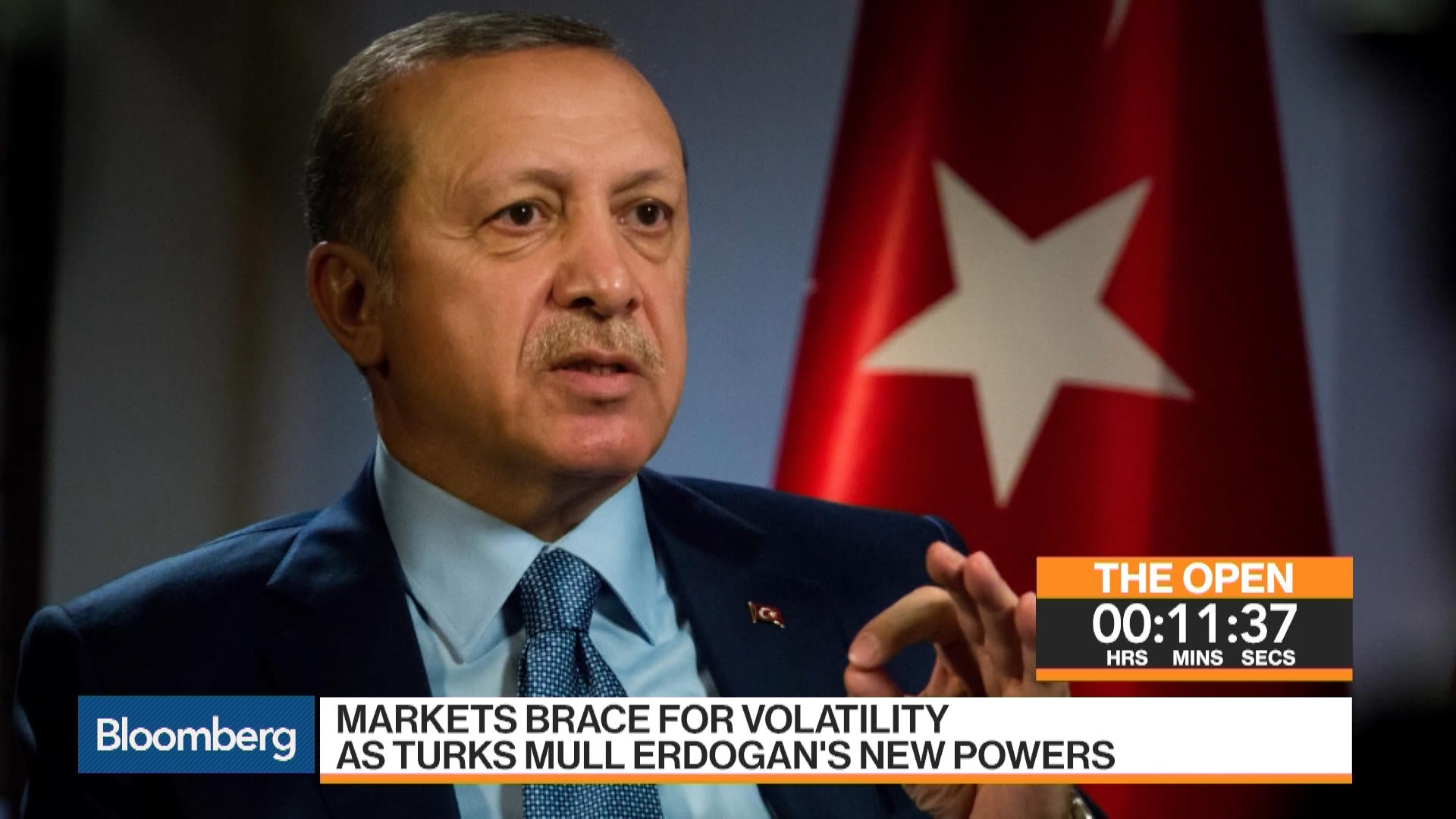 In his shop sandwiched between the mud and brick houses in a tiny town at the heart of Anatolia, Mevlut Ickedal says he has long ago turned off the television because he can't stand round-the-clock coverage of his favorite politician: President Recep Tayyip Erdogan.
The 52-year-old appliances merchant from Keskin nonetheless plans to vote "yes" on Sunday, approving a set of 18 constitutional changes that will transform Turkish democracy by endowing Erdogan with sweeping executive powers. But not because Ickedal's confident such a transformation is in the nation's best interest. He just doesn't see anything better out there.
Like many Erdogan supporters, Ickedal isn't as enthusiastic about standing behind the president as he used to be. So what will impel him to vote on Sunday is a fear of the unknown at a time of deepening political and economic malaise for Turkey. From Kirikkale province where Ickedal's town is located to Kayseri at the geographical center of Turkey, Erdogan faithful are mindful of the economic slowdown eating into their livelihoods and worried about security threats they perceive to be imminent. More than 10 percent of those who voted for the governing AK Party in the last general election in 2015 now regret their decisions, according to a March study by Istanbul-based polling company Konsensus.
"Sometimes I say Tayyip Erdogan is the perfect man and sometimes I feel he's the ultimate impostor," Ickedal said. "I'll vote 'yes' because I don't see anyone else who can govern this country. Either Tayyip will get us out of this mess and take us to the top, or Tayyip will bring us down."
15 Years
As prime minister for a dozen years and then president for the past three, Erdogan has guided Turkey for nearly as long as the modern republic's founder, Mustafa Kemal Ataturk. With polls showing opponents and supporters lining up in roughly equal numbers behind the proposal to make the presidency, rather than parliament, the nation's main repository of power, Erdogan has been telling Turks he's the only thing that separates them from utter chaos.
The vote comes at a time when the nation of 80 million is struggling with purchasing power that's eroded along with a tumbling currency. Retreating from years of China-like growth earlier in Erdogan's tenure, Turkey's economy has been sputtering since Erdogan faced a series of challenges beginning with nationwide mass protests in mid-2013. That was followed by a corruption investigation that threatened some of his closest allies and family members, and later by upsurges of violence with Kurdish separatists in the country's east and a coup attempt by a faction of the military last year.
Economic Stability
"I'm still undecided but I am inclined to vote 'yes' for economic stability and to rein in the dollar," said 35-year-old Kadir Paydas, a two-time Erdogan voter who said his pet shop in Kayseri has been hurt by the lira's slump, which made his imported pets and supplies harder to afford. "I just want to live in a safe and stable country."

Opponents of the changes warn that centering executive power in the hands of a single person leaves little safeguard against authoritarianism. Turkey declared a state of emergency after the failed coup in July, then swiftly purged the civil service of more than 100,000 perceived opponents, shut down more than 100 media outlets and jailed some of its most prominent opposition politicians, including Selahattin Demirtas and Figen Yuksekdag, leaders of the main Kurdish party.
Speaking Out
Erdogan's sway over state institutions has also made it harder for those rejecting the proposed changes to make their case on the streets or on news media controlled by pro-government businesses. Fear of speaking out against the government is one explanation for an unusually high portion of voters who say they're undecided, which some pollsters say has reached as high as 20 percent.
"Is this a good time to express your opinion?" asked 57-year-old Yasar Altinbas, who sells curtains not far from Ickedal's shop. "They come and arrest people," he said. "I voted for AKP in November 2015 and also before that. But it doesn't make sense to concentrate all power in one person's hands now."
According to estimates by Turkey's main opposition party CHP, the number of people who were adversely affected by Erdogan-backed purges, including family members of those arrested or sacked, is around a million. That amounts to about 1.5 percent of voters eligible to cast ballots on Sunday.
It also means pollsters could be "significantly underestimating" the number of 'no' voters who are concealing their preferences, said James Sawyer, an analyst at political risk consultancy Eurasia Group in London. "The so-called 'moderate' wing of the AKP risks becoming Erdogan's Achilles Heel, given its more pragmatic outlook and skepticism of Erdogan's efforts to centralize powers."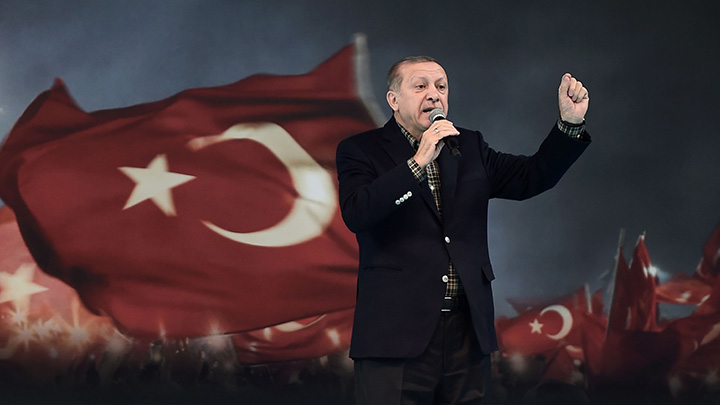 Seized Companies
Nowhere do the purges reverberate more strongly among Erdogan supporters than in Kayseri, the hometown of former president Abdullah Gul, an AK Party co-founder who stepped aside and has retreated from public life since Erdogan decided to run for president in 2014. The city of 1 million has served both as an AKP stronghold and a hub for the grassroots organization of Fethullah Gulen, the U.S.-based preacher Erdogan accuses of orchestrating the failed putsch last year.
One of Kayseri's biggest industrial families, the Boydaks, had their assets seized by the government after the coup attempt on suspicion they were tied to the Gulen movement. They employed 13,000 people, and more than 350 companies are part of the conglomerate's supply chain in Kayseri alone.
'In Trouble'
"We are in trouble," said Yunus Can, a 52-year-old driver who was resting besides his truck after having driven thousands of miles from Uzbekistan to bring copper to Hes Kablo, a Boydak enterprise. "They say the average income per capita is $10,000. I can't see that kind of money in my pocket."
"It'll be bad for us if 'yes' votes win," Can continued as a voice blared from the loud speakers: "Tea break is over!" and implored workers to get back to work. "How many democracies are out there that are run by one man?"
That concern was echoed by Hasan Yakupoglu, a 32-year-old who makes his living selling nationalist T-shirts with wolf heads or Gokturk alphabet letters spelling out "Turk." But not because he's worried about Erdogan wielding the power.
"I read all of the amendments and I don't approve of a single one of them," Yakupoglu said. "Our trust in our president now is infinite, but what happens after?"
Environment and Urban Planning Minister Mehmet Ozhaseki, a Kayseri native, scoffed at the notion that the government's seizure of businesses, now about 800 collectively worth some $13 billion, may cost it support in the referendum.
"We've held nearly 10 campaign rallies in Boydak factories," Ozhaseki said. "Not a single worker objected."
Credit Cards
Back in Keskin, Kazim Cetin is the only person at his table of six laborers who openly rejects the proposed presidential system. He sports the thick, crescent-shaped mustache identified with the nationalist opposition MHP party, whose backing of a strong presidency dismayed many supporters.
"We're going to vote 'no,'" Cetin said as his buddies praised the proposed changes and Erdogan himself.
"No? He must have said that just for fun," a friend shouted from a far corner of the cafe. Then to Cetin: "You know I would shoot you in the foot, don't you?"
Many in the Turkish heartland said they'd vote to empower the president further because he's their best chance at increased prosperity, even as they complained about mounting financial problems.
"It used to be that when you wanted a loan, you went to the bank and they asked for a million documents," said Davut Erise, 43." Now you can get one with just your ID. Everything's easier."
He was interrupted by Osman Ozkan.
"The economy's bad and people are in debt," the 22-year-old blurted out before adding: "I'm going to say 'yes,' but you shouldn't forget that stuff."
Asked how he's doing on the economic front, Ickedal, the shop owner, pulled out his wallet to display an array of 10 or so credit cards.
"I've got 60,000-70,000 liras ($19,000) in debt," he said. "And I'm one of Keskin's few businessmen."
Watch Next: How Turkey's President Could Get Even More Power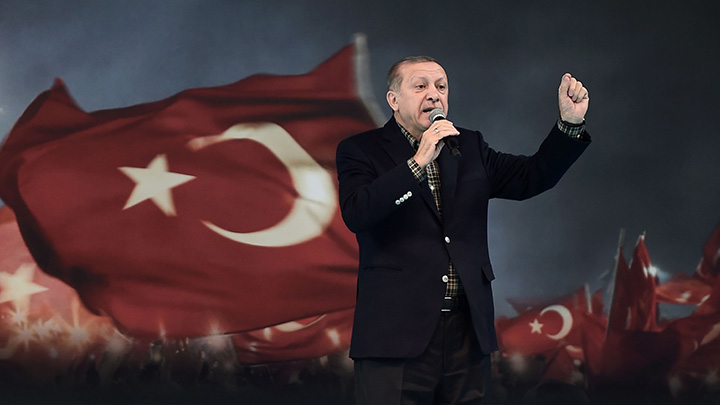 Before it's here, it's on the Bloomberg Terminal.
LEARN MORE