Trump Says NATO Allies Must Meet Defense Spending Obligation
By
'We are not getting along with Russia at all,' president says

Only five of 28 NATO countries meet alliance spending goal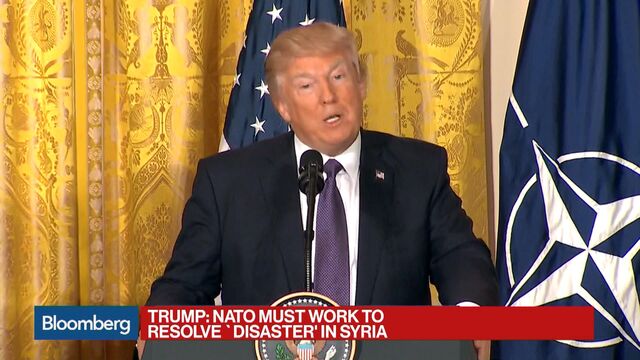 President Donald Trump, who said in January that NATO was "obsolete" and accused allies of delinquency, again demanded on Wednesday that they pay more for their own defense while reaffirming his commitment to the alliance as tensions rise between the U.S. and Russia over the conflict in Syria.
"In facing our common challenges we must also ensure that NATO members meet their financial obligations and pay what they owe," Trump said at a White House news conference after meeting with Jens Stoltenberg, the secretary general of the North Atlantic Treaty Organization. "If other countries pay their fair share instead of relying on the United States to make up the difference, we will all be much more secure and our partnership will be made that much stronger."
Trump's position on NATO has evolved into a more traditional one for a U.S. president, after he repeatedly questioned the value of the alliance and made overtures to Russia during his presidential campaign. On Tuesday, Trump supported the admission of Montenegro into NATO.
Trump's evolution was likely impacted by his decision last week to launch 59 Tomahawk cruise missiles against the Syrian government, a move that prompted backlash from Moscow, according to a U.S. officials who briefed reporters Wednesday on condition of anonymity.
"Right now we are not getting along with Russia at all," Trump said. "We may be at an all-time low with the relationship with Russia."
'Butcher' Assad
He called Syrian President Bashar al-Assad "a butcher" and said "I have absolutely no doubt we did the right thing" in launching the missile strike.
The president ordered the strike against an air base the U.S. government says had been used for chemical weapons attacks targeting Syrian civilians last week. Russia, which has backed Syria in that country's six-year civil war, called the missile strike a violation of international law and pledged to retaliate for further attacks. Russian President Vladimir Putin said the level of trust between Russia and the U.S. has slipped after Trump's election.
"Trust at the working level, especially at the military level, hasn't gotten better; rather, it's deteriorated," Putin said in an interview with the Mir TV channel that aired Wednesday.
Putin met with U.S. Secretary of State Rex Tillerson on Wednesday in Moscow for the first time. The FBI meanwhile is investigating Russia's meddling in the 2016 election and whether there was coordination between Trump campaign officials and Russian operatives.
Trump called Tillerson's work in Moscow "absolutely terrific" but said "the end result is what's important, not just talk."
'A Mess'
"I would love to be able to get along with everybody," Trump said. "Right now the world is a mess. I think by the time we finish I think it's going to be a lot better place to live."
Trump praised Putin throughout his political campaign, and said he would be interested in cooperating with the Russian president. He floated the idea of easing sanctions imposed on the country for its incursions into Ukraine. At the same time, he criticized NATO and suggested the U.S. wouldn't stand by its Article 5 commitment to defend members that didn't meet the alliance's defense spending guideline -- 2 percent of gross domestic product.
Only five of the alliance's 28 member countries met that level in 2016, according to NATO estimates. However, total defense spending by NATO members grew an estimated 3.8 percent in 2016, after declining from 2009 to 2014.
"I strongly believe the only way to deter Russia is to be strong," Stoltenberg said, backing Trump's demand that NATO members raise their defense spending. But he added: "We have to find ways to live with them, to avoid a new cold war."
Even before NATO released its most recent estimates, Trump claimed credit for increased defense spending by its members. During a joint address to Congress in February, he said that his stern warnings had led to an influx of money from NATO countries to support the alliance.
"In fact I can tell you, the money is pouring in," he said. "Very nice."
Former President Barack Obama also criticized NATO members for not meeting their defense spending obligations, though he did not go as far as Trump. In an interview published in two European newspapers Jan. 15, Trump called NATO "obsolete."
— With assistance by Ilya Arkhipov, Nick Wadhams, Justin Sink, and Jennifer Epstein
Before it's here, it's on the Bloomberg Terminal.
LEARN MORE