Trump Says It's Unlikely Russia Was Unaware of Syria Gas Attack
By and
'They were there,' president observes of Russian forces

U.S. has sought to debunk Russian claim of rebel culpability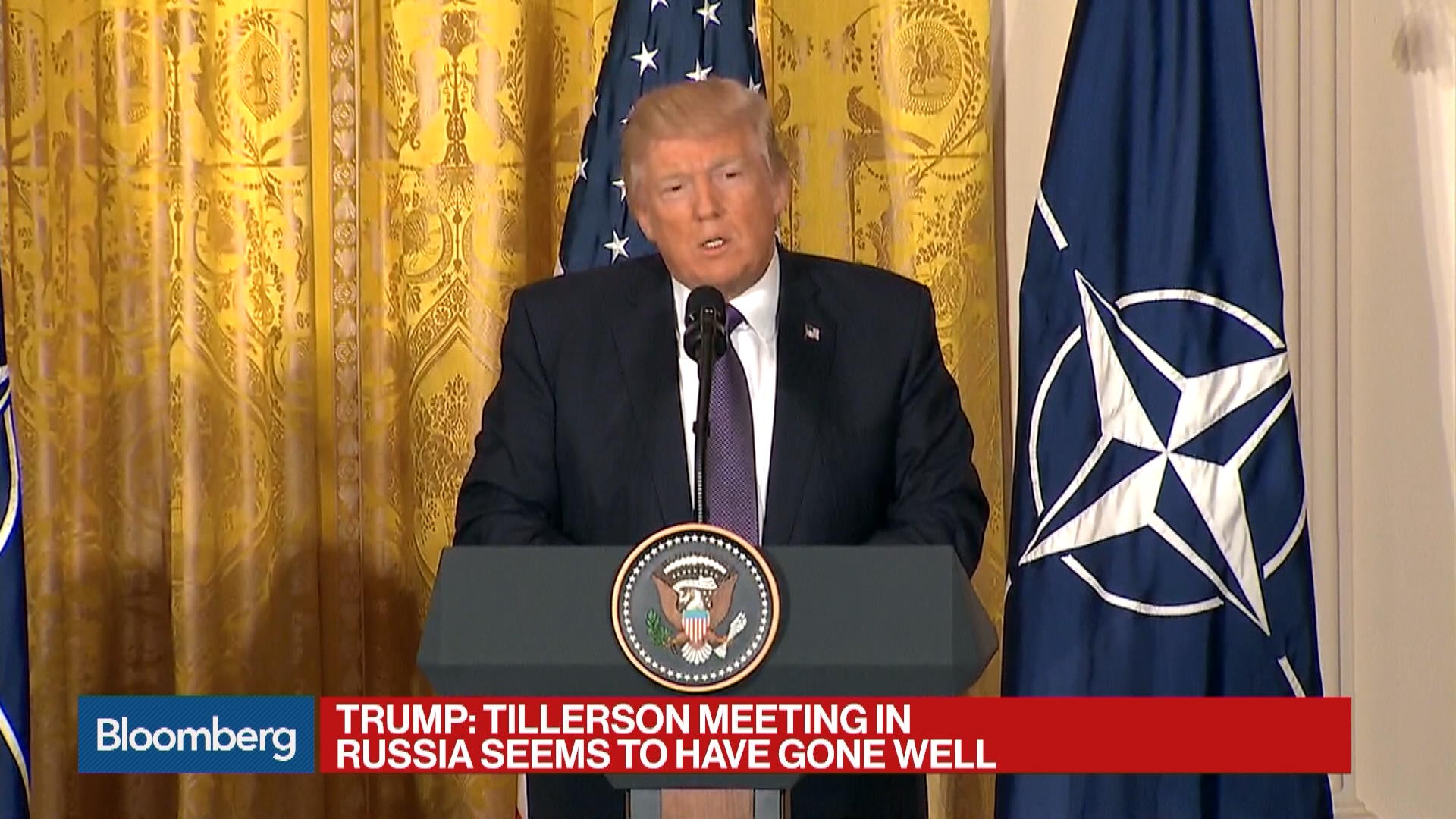 President Donald Trump said he thinks it's "unlikely" Russia had no advance knowledge of Syrian President Bashar al-Assad's chemical weapons attack on civilians last week.
"I think it's certainly possible. I think it's probably unlikely," Trump said at a White House news conference with NATO Secretary General Jens Stoltenberg after he was asked whether he thought Assad could launch the attack without his Russian ally's knowledge.
"I would like to think that they didn't know. But certainly they could have. They were there," Trump said.
Trump ordered a cruise-missile strike Thursday on a Syrian airbase where the U.S. determined the sarin gas attack had been launched and where the Russians had also stationed forces. Amid rising tensions over Syria, U.S. Secretary of State Rex Tillerson wrapped up a visit to Moscow on Wednesday that included meetings with Russian Foreign Minister Sergey Lavrov and President Vladimir Putin.
U.S. officials have issued a four-page document summarizing evidence debunking Russian claims that Syrian jets struck a chemical weapons depot controlled by rebels. The Russian government has stuck to the claim, offering no evidence of its own. The U.S. and European nations have increased pressure on Putin to sever ties with Assad, so far to no avail.
End in Sight
Tillerson said Tuesday that Assad's time leading Syria was "coming to an end" and that Russia could lose relevance in the Middle East if it continues to support Assad. U.S. Ambassador to the United Nations Nikki Haley has warned that Russia could become an "island" if it doesn't find a way to save face and side with the U.S. and its allies in opposition to Assad.
The administration appears to prefer a diplomatic solution to the Syrian crisis over a military one. In an interview Tuesday with Fox Business Network, Trump said the U.S. is "not going into Syria" and said last week's missile strike was a direct response to images of dying children he saw after the sarin attack.
Haley said Wednesday the U.S. is "ready to throw our weight and resources behind diplomacy" to bring the six-year war in Syria to an end.
Before it's here, it's on the Bloomberg Terminal.
LEARN MORE