Trump Meddling Leaves Ryan's Clout in Doubt After Health Fiasco
By
Speaker was face of health-care bill until Trump stepped in

Republicans still making changes to bill and hoping for vote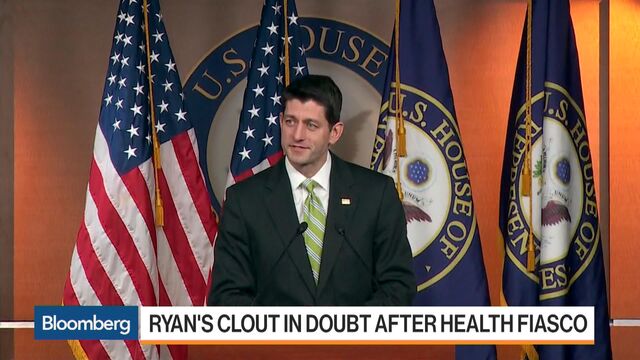 Paul Ryan was the public face of Republican efforts to repeal Obamacare until two weeks ago. Then he went nearly silent.
The White House began demanding votes, driving a frenzied debate on amendments and negotiating late into the night with conservative holdouts -- all with Ryan mostly on the sidelines. That has GOP lawmakers wondering who'll lead their next attempt at fulfilling a longstanding Republican campaign promise.
"I asked Speaker Ryan directly -- who's in charge of the House? Is it President Trump or is it Speaker Ryan?" Representative Justin Amash of Michigan, a Freedom Caucus member, told a local radio station Tuesday.
The abrupt death of the repeal effort, its short-lived rebirth and then a pause for a two-week recess has left Republicans adrift -- unclear where their long-promised repeal effort stands, whether Ryan will reassert himself in the House and what President Donald Trump will demand of them next.
"It's out of the ordinary at the beginning of an administration" for the vice president, not the speaker, to be leading discussions with members, said James Thurber, a political scientist at American University, noting that Vice President Mike Pence was negotiating personally with holdouts. 
By contrast, Thurber pointed to examples of Vice President Joe Biden drawing on his experience in the Senate to broker deals with the leaders of both houses of Congress, but rarely offering deals directly to individual lawmakers.
'Right Direction'
Ryan maintained his veneer of optimism about the prospects for the GOP's beleaguered health-care bill when he faced reporters last week.
"This is a step in the right direction," he said of the most recent tweak to the legislation. "It's closer toward the final goal and agreement. And we're going to keep talking and working on it until we get it right."
The challenge for Ryan as part of a unified Republican government is how to handle an administration that has a bold but vague agenda and narrow legislative experience. Unrealistic White House demands risk derailing the year's legislative agenda and undermining Ryan's leadership in the House.
But it's hard to say no to the president of your own party. And if Ryan pushes back too much, he risks getting cut out of the process.
"The speaker was burned and he just doesn't want to do it again right now," Thurber said of spending more political capital on health care. "I think Trump told Pence what he wanted, and I think Pence is doing it."
Mixed Signals
The mixed signals coming from the White House have made Ryan's job even harder. On the day the House scrapped its planned vote on the health-care bill, Trump said it was time to move on. "Now we're going to go for tax reform, which I've always liked," he told reporters.
Days later, his aides were talking to conservatives about reviving the health-care bill.
This was a change for Ryan, who for most of March had led the negotiations over the health-care bill, set the original timetable for a vote and blanketed the conservative airwaves to sell the measure. Once Trump became personally involved, Ryan went along with the president's demand to put the bill to a floor vote, only to pull it at the last minute.
Letting White House officials like Pence and budget director Mick Mulvaney take over the resurrection of the health care bill was a "welcome change" for Dan Holler, a vice president at Heritage Action, the conservative group that has applauded Freedom Caucus members holding out for a fuller repeal of Obamacare. He said there was a lot of frustration with how the GOP health-care bill was originally handled.
"Between the policy and the process, it's led to a really bad political situation, and a lot of folks attribute that to the leadership team," Holler said.
Courting Conservatives
It's not clear, however, how effective Pence or Mulvaney will be at reaching out to moderate holdouts, or those uneasy about the conservative demands for changes to the legislation. Both Pence and Mulvaney come from the same far-right wing of the House GOP that has resisted Ryan's bill. Pence, previously head of the Republican Study Committee, opposed the $700 billion Wall Street financial rescue plan of 2008 that others in his party -- including Ryan -- came around to support.
"If Mike Pence were still in Congress, he'd be leading the Freedom Caucus," Trent Franks of Arizona, a member of the group, said last week.
One of Ryan's aides says it is a great advantage for top members of the Trump administration to have direct contact with members, so they don't need to rely on leadership to broker meetings. 
"The week's focus was to get members talking to each other and seeing this discussion from beyond their own vantage point," AshLee Strong, a spokeswoman for Ryan, said by email.
But most of the changes in the past two weeks have been offered to conservative holdouts -- the very group that stymied Ryan's original Obamacare repeal pitch.
Heading into the two-week recess, Ryan and other GOP leaders said they were getting closer to a deal on health care, although they're not making specific promises about timing of any vote. Ryan said in a radio interview last week that he wants to be done with health care "obviously in the spring."
'We're All Guilty'
Republicans are still under intense pressure to deliver on their Obamacare repeal pledge.
"There's recriminations all around. I think we're all guilty," said Republican Senator David Perdue of Georgia, a Trump ally. "But the bottom line is are we going to step up and get it done or not?"
GOP leaders are a facing a growing outcry from their party over how they and the Trump administration have handled the health-care bill. Ryan kept the bill secret for weeks, and then released it 17 days before a planned vote, with no hearings and no amendments. Later, changes to the measure were negotiated behind closed doors, with an amendment accepted late last week in an unusual meeting of the House Rules Committee.
"When the most powerful committee in Washington is the Rules Committee, that is a flawed process," said Jim Renacci, a Republican from Ohio and a member of the Ways and Means Committee. "The process has to be reinstated of hearings, and having discussion and having amendments, then you have a product that's totally vetted before it gets to the floor."
Managing Divisions
Still, many legislators in both chambers say Ryan is doing the best he can with difficult divisions in his party and an unconventional president with little tolerance for the slow pace of legislating. 
"Anybody serving as speaker would have the same challenge," Representative Bill Flores, a Republican from Texas, said. "I think he's done better than anyone else I can think of."
David Hoppe, a former Ryan aide who also worked with Senate Republicans, said there's an ebb and flow to legislating that only works when the time is taken to do it properly.
"It's like when you're rushing to get somewhere and it ends up taking longer because you get pulled over for speeding," Hoppe said. "If you'd just driven the speed limit, you would have gotten there on time."
Lessons for GOP
The initial health care fumble should be a lesson for House Republicans on why the process of crafting laws is important -- and why Ryan, rather than the White House, must keep his party focused and pulling in the right direction.
Republican Senator Roy Blunt of Missouri, a former House majority leader and longtime whip, said some of the difficulty stems from a House Republican conference unused to governing with a Republican president and starting off with something as complex and politically charged as health care.
"And on these big issues like health care particularly, that you take on right away, you've got a lot on the line with a team that's not practiced," Blunt said. "For the leaders and the whips, it's a different ask, when you're asking, we're trying to put this on a president's desk that's on our side who will sign it."
— With assistance by Steven T. Dennis, and Billy House
Before it's here, it's on the Bloomberg Terminal.
LEARN MORE