Toshiba Sees Long Odds for Hon Hai's $27 Billion Chip Bid
Takahiko Hyuga, Takako Taniguchi and Peter Elstrom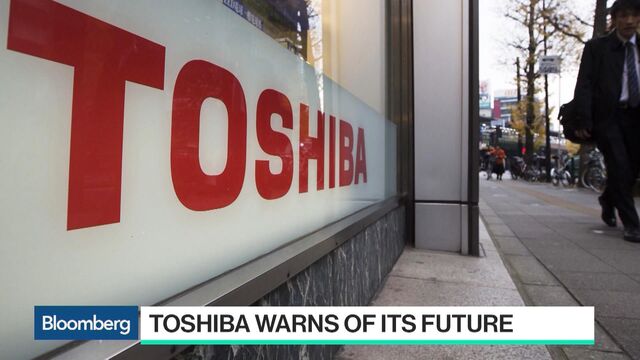 Toshiba Corp. may forgo the highest bid for its semiconductor business, from Hon Hai Precision Industry Co., because of likely opposition from the Japanese and American governments, according to people familiar with the matter.
Taiwan's Hon Hai, which has indicated its willingness to pay as much as 3 trillion yen ($27 billion) for the chip unit, would face resistance because of its ties to China, said the people, asking not to be identified because the matter is private. That could drag out regulatory approvals and delay badly needed cash payments to Toshiba, raising the risks of such a deal, the people said. Hon Hai, the primary iPhone assembler for Apple Inc., has most of its factories in mainland China.
As a result, Toshiba is giving serious consideration to lower bids, including a potential offer of about 2 trillion yen from U.S. chipmaker Broadcom Ltd., the people said. The Japan government is organizing an alternative offer from Japanese companies that aims to inject 500 billion yen into the chips unit in exchange for a minority stake, one person said. Current bids are non-binding and could change. The deadline for the next round of bidding is mid-May, one of the people said.
On Tuesday, two senior officials, Chief Cabinet Secretary Yoshihide Suga and Industry Minister Hiroshige Seko, said Japan would protect its interests in any sale. "We are keeping a close eye on the process," Suga said. "As a general principle, there would be a requirement to examine any deal under the foreign exchange law."
For a timeline of Toshiba's nuclear problems, click here
Kaori Hiraki, a Toshiba spokeswoman, declined to comment. Representatives for Hon Hai didn't respond to an emailed request for comment and calls to their media department went unanswered.
Toshiba's board has signaled its preference for keeping the business within Japan. "If you ask whether we really should let go of a technology that's important by an order of magnitude, the answer is no," Yoshimitsu Kobayashi, an outside director, said late last month. He added that, if the business was sold to a foreign company, a U.S. buyer would make most sense.
The stance sets up a clash with Hon Hai's strong-willed Chairman Terry Gou. The Taiwanese billionaire is fresh off winning a similar battle against Japanese officials for control of Sharp Corp., which makes panels for the iPhone and other devices. In that auction, Gou employed a parallel strategy of offering much more than any other bidders, pressuring a resistant management into talks. He then solicited directors, shareholders and government officials to win approval for the acquisiton -- only to lower his bid later before closing the deal. 
The acquisition has been a success for Hon Hai. Sharp shares have surged four fold from their low in August. That helped push the stock of Hon Hai, which with affiliates owns more than half of Sharp, to a decade high this month.
In Toshiba Chip Contest, Foxconn Money Talks Loudest: Gadfly
Toshiba is well aware of Gou's history and is reluctant to be drawn into such a volatile, unpredictable negotiation. That has led the Tokyo-based company to give closer attention to rival offers, like Broadcom's, even though it is only two thirds of the Hon Hai bid. South Korea's SK Hynix Inc. has also submitted an bid and is in talks with Japanese investors about participating, in part to overcome political hurdles, a person familiar with the matter said this week.
Broadcom, which has considered joining with private equity investor Silver Lake on a bid, has emphasized it is a newcomer to the flash memory business so it won't face the antitrust scrutiny that Hynix will, the person said. Still, Broadcom thinks it will gain synergies from combining Toshiba memory operations with its own chips business. 
Toshiba shareholders may well resist any management move to approve an offer $9 billion less than Hon Hai's. The company needs cash to plug a gaping hole in its balance sheet and warned Tuesday that it may not be able to continue as a going concern because of losses from its Westinghouse nuclear business. Toshiba also said losses last year had left it with negative shareholders equity of 225.6 billion yen at the end of December, jeopardizing its listing on the Tokyo Stock Exchange.
Before it's here, it's on the Bloomberg Terminal.
LEARN MORE