business
Swedish Elk-Hunt Bribery Case Widens to Handelsbanken Chairman
By
Chairman Par Boman questioned by prosecutor on Tuesday

Boman says accusations that he received a bribe are groundless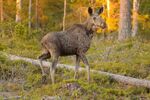 Svenska Handelsbanken AB Chairman Par Boman was questioned by Swedish prosecutors over bribery accusations, in a case relating to elk hunting trips that has already implicated former Finance Minister Anders Borg and investor Fredrik Lundberg.
Boman was questioned by prosecutor Alf Johansson on Tuesday after being notified of suspicions of receiving bribes, according to a statement from the bank. The "suspicions are, in my opinion, groundless," Boman said. Johansson wasn't immediately available for comment when contacted by Bloomberg, though his office confirmed that Boman had been notified.
The case centers around hunting trips organized by paper maker Holmen AB in the forests around Norrkoping, south of Stockholm. Lundberg, one of Sweden's most powerful investors, is suspected of having given a bribe in his capacity as chairman of Holmen. Borg, who served as Sweden's finance minister between 2006 and 2014 and became an adviser to Citigroup Inc. in 2015, is also suspected of accepting a bribe. Borg, Lundberg and Boman all deny the allegations.
Boman said that while chief executive officer of Handelsbanken he was invited to Holmen's hunting trips by Lundberg, who is also Handelsbanken's deputy chairman. Since the hunting trips were organized by an external company, Boman consulted with then bank Chairman Hans Larsson and others before accepting. "Consequently, my participation was completely open, and with the express consent of my principal," he said.
Boman said he had also participated in two elk hunts since he became chairman of Handelsbanken in 2015. On both occasions he had contacted the company organizing the trip and had paid for the hunt, he said.
"I have also paid all the travel and accommodation costs myself," Boman said.
Before it's here, it's on the Bloomberg Terminal.
LEARN MORE