Larry Summers Sees More Downside Risks
By
Former U.S. Treasury secretary says he won't call market top

Probably 'more room for downside surprises' than upside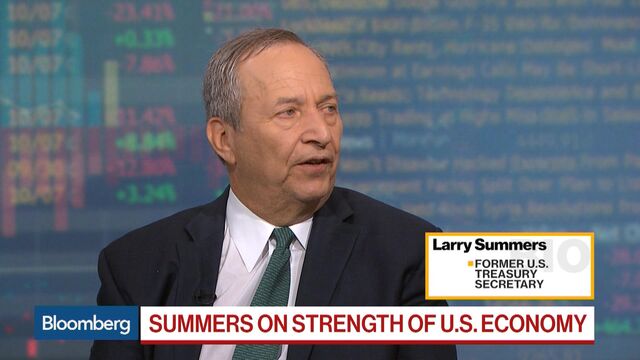 Former U.S. Treasury Secretary Lawrence Summers said that while it's difficult to call a market top, valuations have gotten ahead of the economy in recent months.
"I'm not sure that I see what in the economy would justify a market move of the magnitude we've seen in the last months," Summers said in an interview Wednesday on Bloomberg Television. "It wouldn't surprise me if people look back and see that there was a bit of a sugar high in some of the valuations that we're seeing."
The S&P 500 Index has risen for six straight quarters, reaching a closing record of 2,395.96 in early March. On Tuesday it closed at 2,353.78.
Summers, a Harvard University economist who led the Treasury Department under Democratic President Bill Clinton, also criticized Donald Trump's administration for trumpeting the idea that harsher trade deals with China could help boost American growth. Trump and Wilbur Ross, his Commerce Department secretary, have an eye on reworking trade deals with the world's second-largest economy.
"The suggestion that the president makes, and that frankly Secretary Ross makes, with huge frequency, that there's some kind of low-hanging fruit in improving U.S. economic performance from some kind of stronger trade diplomacy with China, seems to me very misguided," Summers said.
Summers said that there's more downside risk to markets than upside risk right now, and said there's "a certain amount of apprehensiveness" given politics in Europe, uncertainty in Asia and challenges moving U.S. legislation.
"There seems to me to be probably more room for downside surprises at this point," he said.