Schaeuble Warns of French Nightmare Scenario in Runoff Ballot
By
Le Pen-Melenchon choice would be 'worst possible' choice

German leaders are weighing in on French presidential vote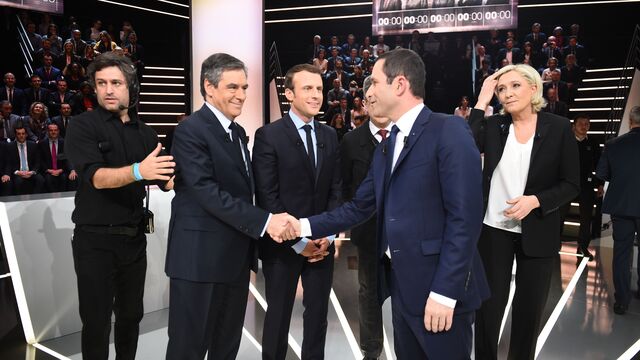 German Finance Minister Wolfgang Schaeuble said a French presidential runoff between Marine Le Pen and a Communist-backed rival would be a "nightmare" choice between political extremes that he'd like the euro area's second-biggest economy to avoid.
Eleven days before France narrows down the field of contenders in the first round of voting, Schaeuble expanded on the preferences of Chancellor Angela Merkel's government for the leadership of its neighbor and key European Union ally. A day earlier, he said he'd probably vote for independent candidate Emmanuel Macron if he could.
Polls suggest that left-wing candidate Jean-Luc Melenchon has late momentum, spurring speculation about a possible runoff between him and Le Pen, the National Front leader who wants to pull her country out of the euro area.
"I hope that this won't happen," Schaeuble on a panel in Berlin on Wednesday alongside French European Parliament member Sylvie Goulard. That would be "the worst possible constellation," he said.
If Melenchon and Le Pen make the runoff, "France could face a binary choice between unreconstructed communism and unrestrained fascism," Bill Blain, a strategist at brokerage Mint Partners in London, wrote in a note to clients Wednesday.
Schaeuble said he hopes Le Pen won't become French president.
"We need a strong and pro-European France," he said. "We need France to keep Europe together."

Before it's here, it's on the Bloomberg Terminal.
LEARN MORE