S. Africa Parliament Delays Zuma Confidence Vote on DA Request
By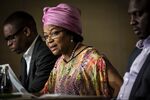 A parliamentary vote on a motion of no confidence in South African President Jacob Zuma has been postponed.
The speaker of the National Assembly, Baleka Mbete, decided to delay the debate and vote on the motion after a request by the opposition Democratic Alliance for a delay pending the conclusion of an application to the country's top court seeking a secret ballot, Parliament said in an emailed statement Wednesday. The vote was originally scheduled for April 18.
The United Democratic Movement, another opposition party, said Tuesday that the Constitutional Court agreed to consider its demand for a secret ballot. The rules of the National Assembly "do not provide for secret voting," parliamentary spokesman Moloto Mothapo said in an emailed statement Tuesday.
The DA and the Economic Freedom Fighters demanded the no-confidence motion after Zuma's decision to fire Pravin Gordhan as finance minister and make 19 other changes to his administration on March 31. The president's action drew widespread criticism in his ruling African National Congress, sparked street protests, and prompted S&P Global Ratings to downgrade the nation's international credit rating to junk. Fitch Ratings Ltd. followed suit on April 7.
Opposition parties and civil-rights groups held demonstrations Wednesday in Pretoria, the capital, to pressure Zuma to resign. The protests were scheduled to coincide with Zuma's 75th birthday.
ANC Secretary-General Gwede Mantashe said last week that no party member would vote against Zuma in the no-confidence vote. To pass, the motion requires a simple majority of the 400 seats in the National Assembly where the ANC holds a 62 percent majority.
The postponement of the motion will be referred to the National Assembly's program committee for consideration, Parliament said. Postponed motions remain on the programming system, blocking any lawmaker from tabling a similar motion until the current one is debated and voted on, according to the statement.
— With assistance by Karl Maier
Before it's here, it's on the Bloomberg Terminal.
LEARN MORE