Putin Says Trust With U.S. Deteriorated After Trump Took Office
By
Putin comments on U.S. relations as Tillerson visits Moscow

Putin says Syrian authorities destroyed all chemical weapons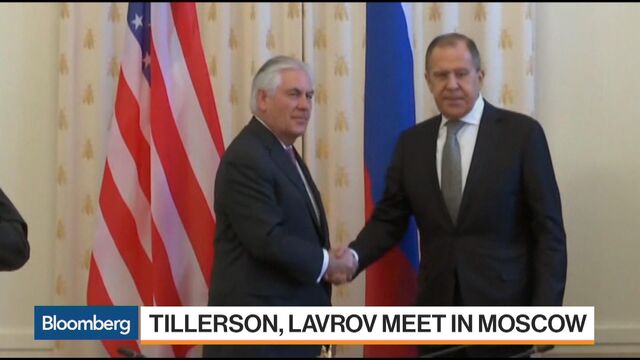 President Vladimir Putin said the level of trust with the U.S. has slipped after Donald Trump's election, as Secretary of State Rex Tillerson starts talks in Moscow amid heightened tensions over the conflict in Syria.
While the Kremlin had welcomed Trump's campaign promises to improve relations with Russia, the prospects for ending a deep-freeze between the two countries have faded as the U.S. takes a tougher line on issues including Syria.

"Trust at the working level, especially at the military level, hasn't gotten better; rather, it's deteriorated," said Putin in an interview with the Mir TV channel that aired Wednesday.
The U.S. and its allies are trying to increase pressure on Russia to abandon its support for Syrian President Bashar al-Assad. The Trump administration said evidence clearly showed Syria was behind a chemical attack on civilians this month and accused Russia of trying to cover up for its ally by spreading disinformation.
Putin pushed back, saying the deadly chemical weapons blast may have been a "provocation" staged to increase international pressure on Assad. The Russian leader said his information shows Assad has met obligations under a Russian-brokered deal to destroy chemical weapons.
Russia has "absolute reliable information" that Syria's jets struck chemical weapons controlled by terrorists, Deputy Foreign Minister Sergei Ryabkov told reporters Wednesday. He didn't provide details. The U.S. published a four-page document with satellite images, reports from the scene and evidence of exposure gathered from victims to support that the claim that Assad's regime used the nerve agent sarin against its own people.
The fight against terrorism and Islamic State remains a priority for Russia, Putin said. There are about 20,000 foreign militants in Syria, including about 10,000 are citizens of former Soviet Union, of whom just less than a half come from Russia, he said.
Putin may meet with Tillerson after the U.S. diplomat's talks with Foreign Minister Sergei Lavrov if a "report to the head of state" is needed, Kremlin spokesman Dmitry Peskov told reporters. Lavrov greeted Tillerson with a handshake and criticism of the Trump administration's "very ambiguous and contradictory ideas" on foreign policy.
Before it's here, it's on the Bloomberg Terminal.
LEARN MORE