Merkel's Courting of Trump Undermined by U.S. Unpredictability
By
Tillerson, Mnuchin, Spicer comments unsettle German government

'Hopefully it doesn't go on like this,' Schaeuble says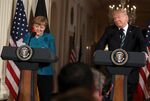 Just when Angela Merkel thought she'd gotten a grip on Donald Trump's administration, the U.S. is swinging back out of reach.
In the space of a few hours on Tuesday, U.S. officials riled the German government on trade, Russia and Ukraine, all issues of key importance to Merkel. White House press secretary Sean Spicer's reference to Adolf Hitler in relation to Syria only compounded the impression of a gaffe-prone administration with a shaky sense of historic context.
Those differences matter as Merkel seeks to moderate policies weighed by Trump that would go against German interests, from questioning the European Union's integrity to casting doubt on U.S. security guarantees. With Finance Minister Wolfgang Schaeuble expressing concern about U.S. stability, Germany -- the de-facto leader of Europe -- is left grappling with a level of global political risk it's always sought to avoid.
"I think German political leaders are profoundly irritated" by the Trump administration's lack of predictability, Josef Janning, senior policy fellow at the European Council on Foreign Relations in Berlin, said in an interview. In the past, "there were these continuities that one could rely on" with both Democratic and Republican administrations. "Now you have a bit of a trial-and-error process."
The uncertainty could lead to clashes at a series of international summits over the coming months. Merkel and Trump will meet in Italy in May at the Group of Seven, then again in July, when she hosts the Group of 20 in Hamburg with trade as a centerpiece of the talks. Before then, the two are likely to disagree on defense spending when they attend a ceremony in Brussels to open NATO's new headquarters.
Unexpected Congratulations
Merkel isn't alone in dealing with the unpredictability. After a cordial meeting with Chinese President Xi Jinping in Florida last week, Trump shifted tone on Twitter on Tuesday, saying if China doesn't help rein in North Korea, "we will solve the problem without them!"
The irony is that Merkel and Trump established a working relationship in March when they met for about five hours at the White House -- even if German officials conceded afterward that they had no idea if it would last. Trump took the unprecedented step 10 days later of calling the chancellor to congratulate her on her party's victory in a regional election in one of Germany's smallest states. The episode showed that it's possible to work with Trump, according to a person familiar with the chancellery's thinking.
Germany also was encouraged by the shake-up of officials surrounding Trump, including the appointment of National Security Adviser H.R. McMaster, who was stationed with the U.S. Army in Germany around the end of the Cold War. Merkel, who spoke with Trump just once before their meeting, has held three calls with the president since her visit to Washington, on topics including Russia, Ukraine, Syria and North Korea.
'U.S. Taxpayers'
An offhand remark by Secretary of State Rex Tillerson on Tuesday may have undermined some of that nascent trust. By asking his G-7 counterparts "why should U.S. taxpayers be interested in Ukraine?" Tillerson gave ammunition to European officials fearful that Trump might ease sanctions on Russia. He also questioned a central tenet of German foreign policy: pursuing a resolution to Ukraine's ongoing conflict with Russia as laid out in the Minsk peace process that Merkel helped to negotiate with President Vladimir Putin.
How Merkel tried to use her influence to shift Trump on Ukraine
The remark amounts to a slap at Merkel, who made a point of briefing Trump on Putin's worldview during her White House visit. The message to Europeans from Tillerson, according to Janning, is that they shouldn't count on the U.S. to back a tough sanctions regime because "people at home are not interested in this."
Nazi Comment
On trade too, Tuesday brought a glimpse of the differences that have arisen between the U.S. and Germany. Speaking in Hamburg, the main shipping point for German exports, Finance Minister Schaeuble said he had urged Treasury Secretary Steven Mnuchin to abandon plans for a U.S. border tax, which would harm German sales. Germany would challenge any trade-distorting tax at the World Trade Organization, Schaeuble said.
He was speaking at about the same time that Spicer made his remark about Hitler, Syria and poison gas, prompting an outcry -- and an apology. Merkel's chief spokesman expressed bewilderment.
"Any comparisons between current events and the crimes of Nazism lead to a bad place," Steffen Seibert told reporters in Berlin on Wednesday.
Schaeuble, who helped negotiate Germany's east-west reunification in 1990 and first sat at Helmut Kohl's cabinet table in 1984, said decision-making in the 11-week-old Trump administration appears somewhat chaotic.
"One might like it or not, but the world does better with a stable United States, which contributes to a certain extent to stability overall," he said. "Hopefully it doesn't go on like this for three years."
— With assistance by Tony Czuczka, Rainer Buergin, Birgit Jennen, and Patrick Donahue
Before it's here, it's on the Bloomberg Terminal.
LEARN MORE