markets
Kim Il Sung's Birthday Party One to Watch for Korea Traders
Bloomberg News
Risk of missile test around holiday period: Macquarie Group

South Korean bond risk jumps as won, stocks take a breather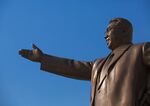 It's going to be a long week for Korea watchers.
Donald Trump's tweet Tuesday claiming North Korea is "looking for trouble" is stoking a sense of unease that's wiped $30 billion from South Korean equity values this week and driven a spike in the nation's debt risk.
Those mulling what comes next should familiarize themselves with the North Korean holiday calendar, as a series of events over the next 13 days -- from founder Kim Il Sung's 105th birthday to the army's anniversary -- raise the chance of provocative action from the nuclear-armed state.
"Some traders are concerned that North Korea might conduct a sixth nuclear test around these events, prompting a U.S.-China-South Korea response," Thierry Wizman, a global interest-rates and currency strategist at Macquarie Group Ltd. in New York, said in an email. "The market's attention will remain fixated on tensions in the region."

After an almost uninterrupted selloff since Trump's Syria strike sparked concern over what it means for his stance toward North Korea, assets in the South took a breather Wednesday, with the Kospi index bouncing off a one-month low following a surge in volatility bets. The won closed up 0.4 percent in Seoul after a six-day slump that's made it the worst developing-nation performer globally over the past week.
South Korea is seeking to defuse concern as war angst builds. Read more.
While the U.S. emphasized it wasn't interested in regime change in North Korea, the diversion of a warship into the region ratcheted up tensions, fueling losses in a market more accustomed to shrugging off North Korean attention seeking. Despite this week's slump, the won is posting the second-best gains in Asia this year amid a wider rally in emerging-market assets.
Busy Month
The 'Day of the Sun' holiday on April 15 commemorates the birth of Kim Il Sung, North Korea's long dead founder and current leader Kim Jong Un's grandfather. April has proven to be an active time for North Korea in the past, with a failed rocket launch marking the month in 2012. In April 2009, the country fired a missile claiming it was a satellite, prompting the strengthening of United Nations' sanctions.
North Korea Missile Launches, Nuclear Detonations: Timeline
"I don't think the actual situation is too different from previous episodes at this time of year around the birthday celebrations and U.S.-South Korea military exercises," said Ashley Perrott, head of pan-Asia fixed income at UBS Asset Management in Singapore. "The variable this time that is an unknown for the market is the U.S. president and what the reaction function will be, particularly post the Syria events. That is what is making markets cautious."

Kim Il Sung's birthday holiday spills over into Sunday as well, and is followed on April 25 by a holiday marking the foundation of the North Korean military 85 years ago.
With Japan's foreign ministry issuing a travel alert for South Korea, the finance ministry in Seoul has said it will take action if volatility in the markets increases. Ministry officials met with regulators and the Bank of Korea Wednesday to discuss the impact of geopolitical tension on the market.
President Trump spoke with his Chinese counterpart, Xi Jinping, about North Korea by phone on Wednesday.
The focus when it comes to the Korean peninsula should be on resolving issues "peacefully" through dialogue and consultation, Xi was quoted as saying by state broadcaster China Central Television.
While the current tensions probably won't wreak long-term damage on Korean assets, Aberdeen Asset Management Plc is bearish on the won and South Korean debt, said Singapore-based investment manager Leong Lin Jing. The Federal Reserve's plans to reduce its balance sheet aren't priced into Korean bonds yet and domestic inflation is expected to accelerate next quarter, pushing yields higher, he said.
Also looming is Thursday's BOK policy review -- with interest rates expected to be held -- and the U.S. Treasury's semi-annual report on foreign-exchange policy. The document, which could land as soon as this weekend, may label some of America's trading partners as currency manipulators. South Korea's presidential election is scheduled for May 9.
"The market continues to be concerned over the risk of a U.S. attack on North Korea," said Masashi Murata, a currency strategist at Brown Brothers Harriman in Tokyo. "A risk is just a risk, but the possibility may be higher than before."
— With assistance by Emma O'Brien, Lilian Karunungan, Y-Sing Liau, and Jung Park
Before it's here, it's on the Bloomberg Terminal.
LEARN MORE