Hungarian Protest Wave Continues as Pressure Mounts on Orban
By
Crackdown on university is being seen as rollback of democracy

U.S. calls on Hungarian government to back down on CEU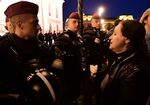 Thousands of Hungarians returned to the streets of Budapest to protest against measures that target a university founded by billionaire George Soros, boosting pressure on Prime Minister Viktor Orban after the U.S. called on his government to back down.
Demonstrators blocked a major thoroughfare in Budapest Wednesday evening while others tried to reach the headquarters of Orban's ruling party, where television images showed they were blocked by police. Earlier, thousands massed at Heroes' Square, one of the capital's largest, in a peaceful protest against new legislation targeting foreign universities and civil society groups.
The protest was part of the most intense wave of rallies against Orban since he took office in 2010 and followed one on Sunday when tens of thousands demonstrated.
Orban's cabinet, which pushed through the law last week targeting foreign colleges, on Wednesday showed the first signs that it's considering backtracking, with an official pointing to a legal loophole that could let Central European University, founded by the Hungarian-born investor and philanthropist Soros in 1991 to train democratic leaders after communism, to avert closure. CEU said new rules are aimed at shutting it down, a charge the government denies. The European Union on Wednesday said it will assess the legislation along with others to see if they violate the bloc's norms. The U.S. has called on Hungary to suspend the law.
"The government is scrambling to diffuse the pressure and come up with a face-saving solution," Attila Tibor Nagy, a political analyst at the Center for Fair Political Analysis in Budapest, said by phone.
Illiberal Democracy
Orban has vowed to end liberal democracy in the EU member state and is stepping up a campaign to sideline independent voices a year before parliamentary elections that he's expected to win. Last week, his government filed another bill to force civil society groups receiving financing from abroad to be labeled "foreign-funded" groups. 
A particular focus is Soros, who finances organizations that promote human rights and government transparency and whom Orban frequently accuses of undermining him.
CEU could continue to issue U.S. and Hungarian-accredited diplomas if it expanded an agreement with its Hungarian-registered legal entity, the HVG.hu website reported, citing State Secretary for Education Laszlo Palkovics. While that would strip CEU of its license in the eastern European nation, its operations could in effect stay intact, he said.
CEU said Palkovics's suggestion "does not appear to be legally and operationally coherent and certain" and that it would be open to any lawful and long-term solution to ensure academic freedom and its continued presence in Budapest.
Hungary's new legislative push raises concerns about the country's "compatibility with EU law and the common values on which the Union is based," the European Commission said in a statement on Wednesday. Commissioners "therefore agreed to start a political dialogue with the Hungarian authorities, the other Member States and the European Parliament."
Before it's here, it's on the Bloomberg Terminal.
LEARN MORE