markets
HSBC Says Companies Already Re-Routing Business Due to Brexit
By
Firms want foreign exchange, trading booked in Paris

U.K. firms holding more cash, commercial chief Noel Quinn says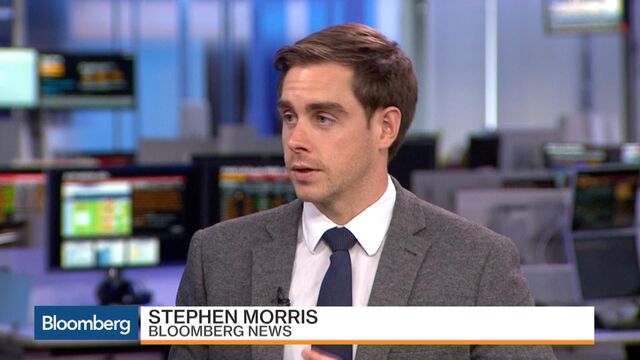 Follow @Brexit for all the latest news, and sign up to our daily Brexit Bulletin newsletter.
HSBC Holdings Plc said some of its largest clients have already asked for their business to be routed through the bank's offices in mainland Europe and aren't waiting to see what Brexit deal the U.K. hammers out with the continent's trading bloc.
"A small number of our larger clients are asking us to book more of their trade and foreign-exchange activity in their French operation through our Paris office than their U.K." divisions, Noel Quinn, head of global commercial banking, said in an interview. Executives at multinational companies are "making plans to ensure they can continue to trade irrespective of the outcome. They can't afford to wait for a decision that may not emerge until two years' time."
Global banks have started arranging for some British-based operations to move to new or expanded offices inside the EU after British Prime Minister Theresa May triggered discussions to leave the trading bloc. Privately, many executives at the world's biggest firms say they're now assuming the result will be a "hard Brexit" -- the loss of their right to sell services freely around the region from the U.K. That means they have to put contingency plans in place before the end of the two-year negotiation period.
Flipping HQ
Quinn, who's sat on the executive committee of HSBC, Europe's largest bank, since December 2015, said some companies are also evaluating whether to "flip" their regional head offices to European cities from Britain. This would require them to reclassify the U.K. branch as a country office that would become a subsidiary of the continental headquarters, he said. This may result in some small-scale job moves and lost taxation for the U.K. government, as firms start reporting the purchase and distribution of services elsewhere.
"Larger companies that already have a pan-European presence are going to find it easier to invoke a plan B than the smaller ones," Quinn said. "They're not losing faith in the U.K., but the reality is businesses or even individuals themselves will start making their decisions before the answer emerges from the Brexit process."
Hoarding Cash
HSBC Chief Executive Officer Stuart Gulliver has said as many as 1,000 of HSBC's traders and salespeople, who generate about 20 percent of the investment bank's revenue, will relocate from London to Paris after Prime Minister May confirmed the U.K. would leave the single market. Some French staff have already asked to return home, according to people familiar with the matter. The bank decided to keep its headquarters in London rather than move to Asia or France in February 2016 after a year-long review.
Quinn also noted companies are maintaining higher levels of cash since the June 23 vote to leave the EU.
"The quantity of cash they have in their bank accounts has progressively increased," Quinn said in the interview. "The cause of that could be U.K. businesses trading really well post-Brexit because of the devaluation of sterling, or it could be the preservation of cash given the uncertain economic horizon, or it could be deferment or delay in investment activity."

The commercial bank reported a 12 percent increase in adjusted pretax profit to $6.1 billion last year, which was the most among HSBC's four divisions and accounted for about a third of group's total earnings, according to company filings. The U.K. contributed $1.8 billion of its pretax profit compared with $2.9 billion in the Asia region.
Before it's here, it's on the Bloomberg Terminal.
LEARN MORE