business
Spring Is in the Air for Global Economy, IMF's Lagarde Says
By
Strong manufacturing activity driving advanced economies

Higher commmodity prices helping poor countries, Lagarde says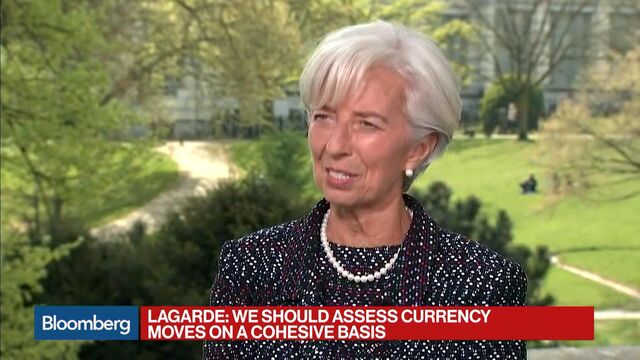 IMF Managing Director Christine Lagarde sounded more optimistic about the world economic outlook after a long and sluggish recovery, imploring countries not to retreat from the postwar push for increased trade and cooperation.
The global economic recovery is gaining momentum as businesses ramp up production, though policy makers must guard against imposing new trade barriers, Lagarde said.
"The good news is that, after six years of disappointing growth, the world economy is gaining momentum as a cyclical recovery holds out the promise of more jobs, higher incomes, and greater prosperity," Lagarde said Wednesday in a speech in Brussels ahead of the fund's annual spring meetings next week in Washington.
"But just as we see this momentum unfolding, we also see -- at least in some advanced economies -- doubts about the benefits of economic integration, about the very architecture that has underpinned the world economy for more than seven decades," the head of the International Monetary Fund said.
The outlook in advanced economies has improved, driven by stronger manufacturing activity, Lagarde said. Meanwhile, higher commodity prices have brought relief to many low-income countries, she said.
Good Policies
"We see spring in the air of the global economy," Lagarde said in a Bloomberg Television interview following the speech. "We should not waste it."
Lagarde's optimistic tone suggests the IMF may upgrade its forecast for the global economy when it releases its World Economic Outlook on April 18. In an update in January, the Washington-based fund forecast the world economy would grow 3.4 percent this year after an estimated 3.1 percent expansion last year.
At the time, the IMF bumped up its projection for U.S. growth this year and next, saying fiscal stimulus planned by President Donald Trump would likely boost output.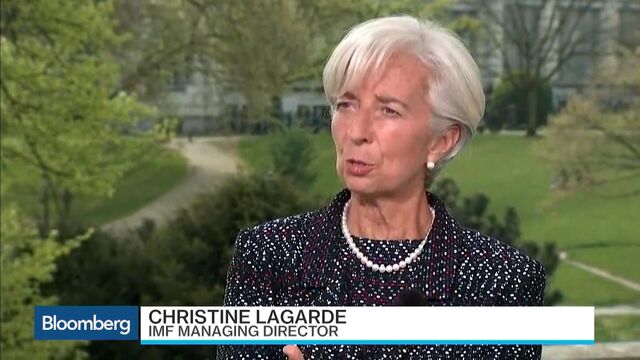 Lagarde said clear downside risks to the global recovery remain, including political uncertainty and the "sword of protectionism hanging over global trade." Tighter financial conditions could trigger capital outflows from emerging markets and developing economies, she said.
"Underneath those short-term issues lies a weak productivity trend that continues to be a severe drag on strong and inclusive growth," Lagarde said.
Countries need to adopt the right mix of fiscal and monetary policies and structural reforms to boost growth, she said. At the same time, policy makers need to ensure growth is more inclusive, by addressing the negative effects on workers of trade and technology, according to Lagarde.
She also called on countries to work together to reduce excessive trade imbalances and ensure financial stability. "Fostering more resilient growth therefore requires more international cooperation -- not less."
In her interview with Bloomberg TV, Lagarde warned the U.S. against targeting a single country in its upcoming currency report -- the first under President Donald Trump, who has promised to label China a currency manipulator.
"You cannot just identify one particular country, because the whole system works together," she said. "When the currency goes up somewhere, it goes down somewhere else."
— With assistance by Francine Lacqua
(
Updates with Lagarde interview quote in sixth paragraph.
)
Before it's here, it's on the Bloomberg Terminal.
LEARN MORE