markets
Einhorn's Greenlight Claims GM Misled Credit Raters on Stock
By
GM calls hedge fund's statement 'baseless and irresponsible'

Greenlight nominates three director candidates for GM's board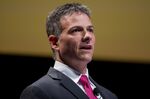 Billionaire David Einhorn's Greenlight Capital doubled down on its pitch for new General Motors Co. dividend shares, saying the carmaker misrepresented the hedge fund's proposal for a stock split to sway ratings agencies to opine against it.
GM presented "a one-sided and flawed analysis" to ratings companies, Vinit Sethi, a Greenlight partner and director of research, said in a statement. Underwhelmed by GM's returns as a shareholder since 2011, Greenlight has nominated Sethi to serve as a director, along with private-equity firm executives Leo Hindery and William Thorndike.
"To ensure the GM board objectively considers our plan and to look after the best interests of shareholders, we are nominating a slate of experienced candidates," Einhorn said in Greenlight's statement. "Our nominees are proven business leaders who are committed to working with the incumbent directors and exploring all avenues to address GM's persistent valuation gap and create value for all shareholders."
GM's board has voted unanimously to reject Greenlight, with directors concluding that guaranteeing a dividend even in a downturn would compromise the largest U.S. automaker's investment-grade credit ratings. Moody's Investors Service, Standard & Poor's and Fitch Ratings have each said a share class with a fixed dividend could prompt them to lower their credit ratings.
Claims, Retort
Greenlight claims GM misrepresented its proposal to credit-rating companies by portraying the dividend shares as debt-like instruments, even though Einhorn's firm was open to them being structured as a second class of common equity or as preferred stock. In a proxy filing Wednesday, Greenlight said its premise "leaves GM's financial policy, fundamental risk-profile and current capital allocation priorities unchanged."
"General Motors presented Greenlight's dividend share idea to the rating agencies fully and fairly," the Detroit-based carmaker said in a statement. GM said the rating companies' statements show they understood the proposal, which would be negative for its credit. "Any suggestion to the contrary is baseless and irresponsible."
GM shares rose 0.1 percent to $33.94 in New York trading. The stock has returned about 18 percent since GM's November 2010 initial public offering, compared with the S&P 500 Index's 129 percent surge. Greenlight noted when making its proposal last month that GM shares traded at the lowest price-to-earnings multiple in the S&P 500.
The push by Einhorn, best known as a short seller who bet against Lehman Brothers Holdings Inc. before the bank's 2008 collapse, began with an email to GM Chief Financial Officer Chuck Stevens in mid August. Greenlight said in the proxy it discussed the proposal with Stevens and met with two financial advisers to GM in late October.
'Not Interested'
"GM's advisors asked a number of questions and made a number of observations that suggested to Greenlight that the advisors were not interested in performing an objective analysis of the proposal – including making the blanket statement that it simply is not plausible to unlock so much value through modifications to the capital structure," Greenlight said.
GM brought Greenlight's proposal to three advisory firms, including Morgan Stanley and Goldman Sachs Group Inc., according to a person familiar with the matter, who asked not to be identified because the automaker hasn't identified the banks publicly.
To ensure objectivity, GM then hired a third adviser and didn't say who came up with dividend share idea. All three firms felt Einhorn's dual-stock proposal wouldn't create value and would only add risk, the person said.
When discussing the dividend stock with ratings companies, GM's advisers low-balled their assumed yield, presenting the proposal as "a highly leveraging event," Greenlight said in the proxy. Stevens told Einhorn on Dec. 15 that GM's evaluation of the pitch was complete and the company wouldn't discuss it further.
CEO's Involvement
Greenlight and GM restarted their talks in January, with Chief Executive Officer Mary Barra joining conference calls with her CFO and Einhorn. GM declined several requests from Greenlight for consent to make its pitch directly to ratings companies.
Stevens told Greenlight on March 16 that GM gave credit raters a copy of the stock-split pitch. Greenlight says in its proxy that the company "substantially altered" the proposal, including by eliminating the hedge fund's claim that the dividend shares would still be common, rather than preferred, stock.
A day before going public with its proposal on March 28, Greenlight spoke with Barra and other GM representatives.
"Ms. Barra explained that the board had determined that the two class common stock proposal was not in the best interests of the company and GM would not support the election of any of the Greenlight director nominees," Greenlight said in its proxy. "Ms. Barra refused to elaborate on the board's reasoning beyond saying that it was due to concerns previously communicated to Greenlight."
(
Updates with claims from Greenlight proxy filing starting in fifth paragraph.
)
Before it's here, it's on the Bloomberg Terminal.
LEARN MORE