Stocks Decline Amid Mounting Geopolitical Unease: Markets Wrap
By
Markets respond to reports of U.S. bombing in Afghanistan

Gold gains, Treasuries, oil and the dollar remain steady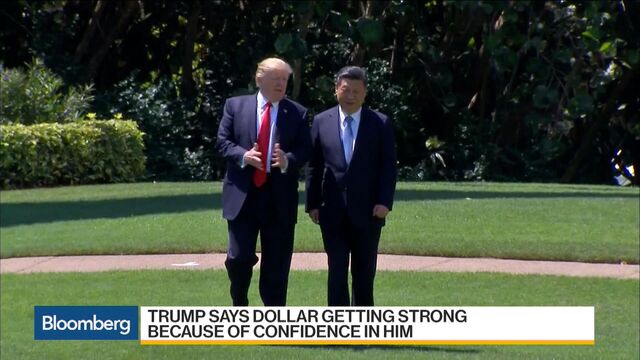 U.S. stocks fell as the U.S. launched a heavy bombing campaign against Islamic State positions in Afghanistan.
The S&P 500 Index closed down 0.68 percent at 2,328.96 Thursday, while the Dow Jones Industrial Average declined 0.67 percent to 20,453.25. The dollar rose slightly after dropping below its 200-day moving average on Wednesday. Treasuries were flat, erasing earlier declines.
"It's just creating more uncertainty with people," Frank Ingarra, head trader at NorthCoast Asset Management LLC, which oversees about $1.7 billion, said by phone. "It's the only big news that's come out. Does it mean we're going to be more militarily engaged in the world?"
In addition, traders are trying to get a handle on President Donald Trump's fiscal and economic plans following his remarks from Wednesday, in which he called the dollar too strong, signaled a softening on China's currency practices and left open the possibility of reappointing Federal Reserve Chair Janet Yellen.
"Talk of lower interest rates and a weaker dollar has not helped," said Mark Kepner, managing director and equity trader at Themis Trading LLC in Chatham, New Jersey.
Reduced volumes in the shorter trading week before Easter may have compounded the swings as well. The bond market closed at 2 p.m. in New York.
Here's what investors are watching:
With JPMorgan Chase & Co., Citigroup Inc. and Wells Fargo & Co. reporting earnings, analysts are looking at the slowdown in commercial loan growth as well as the state of consumer lending amid worries over high levels of student and auto loans.
Many markets around the world will be closed tomorrow for the Easter holiday weekend.
Read our Markets Live blog here.
Here are the main moves in markets:
Currencies
The Bloomberg Dollar Spot Index rose 0.1 percent, paring an earlier slide of as much as 0.3 percent. 
The yen fell 0.06 percent to 109.10 per dollar.
The euro was 0.43 percent lower at 1.0619, falling for the first time in four days.
Stocks
The Nasdaq 100 Index dropped 0.44 percent, while the Russell 2000 Index slid 1.03 percent.
The Stoxx Europe 600 Index lost 0.35 percent.
Bonds
The yield on the 10-year Treasury was essentially flat at 2.23 percent.

German 10-year yields fell one basis points to 0.19 percent.
Commodities
West Texas Intermediate slipped 0.1 percent to $53.04 a barrel. It fell 0.5 percent on Wednesday as a government report showed U.S. output expanded to the highest level in more than a year, countering a decline in stockpiles from a record.
Gold climbed 0.9 percent to $1,289.50 an ounce.
— With assistance by Cecile Gutscher, Vassilis Karamanis, Tanvir Sandhu, Blaise Robinson, V Ramakrishnan, Oliver Renick, and Dani Burger
Before it's here, it's on the Bloomberg Terminal.
LEARN MORE