Carney Says Crisis Lessons Are Why BOE Keeps Up With Fintech
By
BOE governor says right infrastructure will support startups

New technology may help make banking system more resilient
Bank of England Governor Mark Carney said the crisis shows why regulators and the banking industry must stay on top of the rapid developments in financial technology so that the system is solid enough to withstand shocks.
In a speech at a fintech conference hosted by the U.K. government on Wednesday, Carney said the "hard and soft infrastructure of the financial system failed to keep pace" with innovation in the buildup to the 2008 crash.

"Light touch regulation, out-moded codes of market conduct, inadequate settlement and clearing infrastructure all contributed" to the crisis a decade ago. "We can draw on these experiences to help ensure that fintech boosts growth and promotes financial stability."
Carney, also the chair of the G-20's Financial Stability Board, argued that regulation must not sacrifice the potential benefits to households and the financial system. The governor highlighted the U.K.'s regulatory sandboxes for new products and efforts by the BOE to allow non-bank payment service providers access to central bank money as ways to allow financial technology to flourish.
New fintech companies have generally avoided undertaking traditional banking activities so far, so unless there is a change in business models or scale of activities, authorities are unlikely to want to bring these firms inside the regulatory perimeter, Carney said.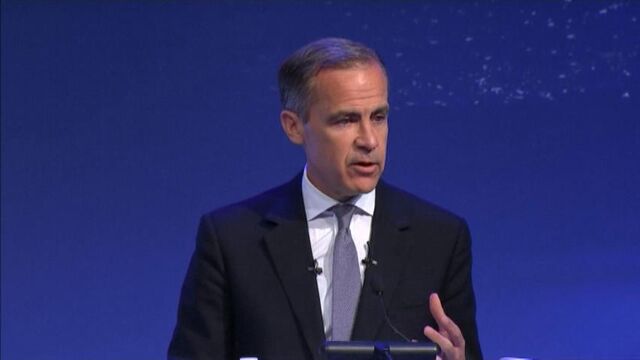 Speaking alongside Carney at the event, Chancellor of the Exchequer Philip Hammond said the U.K. must continue to attract talent from abroad and chase new business in financial technology to help support its economy after Brexit.
"We are ideally positioned to realize fintech's promise in the U.K.," Carney said. "The challenge for policy makers is to ensure that fintech develops in a way that maximizes the opportunities and minimizes the risks for society."
Before it's here, it's on the Bloomberg Terminal.
LEARN MORE