ANC Leader Calls for Urgent Meeting to Discuss Zuma's Future
By
Unrest in South Africa affecting business life: Motshekga

Opposition move to remove Zuma 'Greatest Exercise in Futility'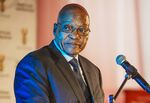 A senior leader of South Africa's ruling African National Congress has called for an urgent meeting of the party's National Executive Committee to discuss growing public calls for President Jacob Zuma to resign.
Mathole Motshekga, an NEC member and former parliamentary chief whip of the ANC, said the increasing public demands for Zuma to quit since he fired Pravin Gordhan as finance minister and made 19 other changes in his administration on March 31 is harming South Africa. He wrote to ANC Secretary-General Gwede Mantashe requesting the meeting, he said by phone.
"There is unrest in the country, and it is affecting civil and business life, so it is important that the matters that have been placed on the agenda be attended to quickly so that society can return to normalcy and people must go on with their work," said Motshekga, who's also a member of parliament.
Motshekga's call for a meeting of the 110-member NEC came as thousands of protesters organized by seven opposition parties marched to Zuma's offices in Pretoria, the capital, to demand that he resign. Zuma's shock cabinet reshuffle drew widespread criticism and prompted S&P Global Ratings and Fitch Ratings Ltd. to downgrade the nation's international credit rating to junk. 
A series of marches last week drew tens of thousands in cities including Johannesburg, the economic hub, Pretoria and Cape Town.
A decision by the party's National Working Committee on April 4 to defend Zuma needs to be reviewed, Motshekga said.
A parliamentary vote on a no-confidence motion in Zuma called by the opposition for this month was the "greatest exercise in futility" because ANC members won't side with their opponents, he said. 
The vote, originally sheduled for April 18, may have to be delayed after the Constitutional Court said it's willing to consider a case that would force parliament to hold a secret ballot.
Before it's here, it's on the Bloomberg Terminal.
LEARN MORE