Ahmadinejad Stirs Up Iran Presidential Race With Shock Bid
By and
Application is subject to vetting by powerful clerical body

President Hassan Rouhani is expected to seek reelection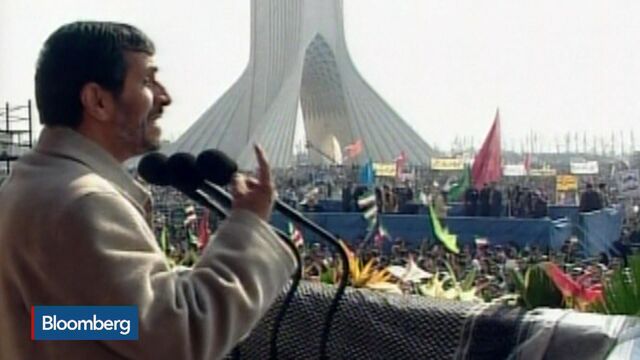 Former Iranian President Mahmoud Ahmadinejad registered for next month's presidential election in apparent defiance of Supreme Leader Ayatollah Ali Khamenei's advice not to run to avoid polarizing the country.
Ahmadinejad made a surprise visit to the Interior Ministry on Wednesday, the second day of registration for hopeful candidates, flashing a V for victory sign. His ally, Hamid Baghaei, also signed up to run in the May 19 race. Their candidacies are subject to the approval of the Guardian Council, a powerful body in charge of vetting all applicants.
It's a "calculated, provocative move," said Mehran Kamrava, director of the Center for International and Regional Studies at Georgetown University's School of Foreign Service in Qatar. Ahmadinejad could be "trying to hedge his bets that either him or Baghaei would get through" the vetting process, Kamrava said by phone, adding that it would be "difficult for the Guardian Council to reject his credentials."
In seeking to run, Ahmadinejad injected further uncertainty into a ballot that until last week had appeared comfortable for President Hassan Rouhani, the architect of the landmark 2015 nuclear accord that reversed Iran's economic and political isolation who's expected to seek a second term. The April 6 announcement that a key Khamenei ally and conservative cleric Ebrahim Raisi, 56, planned to contest had already changed the poll calculus.
Show Support
Ahmadinejad, whose two terms in office were marred by repeated confrontations with the U.S. and Western powers, had said just last week he had no plans to stand in the election and that he would instead endorse Baghaei. Speaking at the ministry, he played down his chances of winning, insisting that his move was only to show support for his former deputy.
"The supreme leader requested that I don't stand and I had accepted," Ahmadinejad told reporters. "It was advice. He said that he won't say 'stand' or 'don't stand.' My registration here is for the support of my dear brother Mr. Baghaei."
The election will help determine whether Iran remains committed to Rouhani's engagement with the West. The moderate cleric is facing mounting frustration over economic policies that critics say haven't yet benefited poor Iranians -- criticism echoed recently by Khamenei, who has final say over state matters.
Khamenei last year appointed Raisi to manage the Astan Quds Razavi, a wealthy Islamic charity that also controls Iran's holiest shrine in the northeastern city of Mashhad. The appointment signaled Khamenei's confidence in the younger cleric and triggered speculation that he was being groomed as a contender to succeed him to Iran's most powerful post. But while Raisi has had a number of important judicial and religious roles, he lacks political experience.
'Provocateur'
Raisi's entry and now "the provocateur Ahmadinejad" created some uncertainty and unpredictability around the election, said Kamrava. Even so, it may be good news for Rouhani because Ahmadinejad could split the conservative vote and make it harder for Raisi to win, he said.
Rouhani won the presidency in a first-round landslide in 2013, aided by a divided field of five conservative opponents.
Ahmadinejad's eight years in office saw a tightening of international sanctions on the Islamic Republic to curb its nuclear program. His 2009 victory was widely contested by critics and activists who accused authorities of rigging the vote, a charge Iranian officials have denied. His second term was fraught with quarrels involving top officials.
Some 197 hopefuls have signed up since registration opened at the ministry in Tehran on Tuesday in a process that runs until April 15.
Before it's here, it's on the Bloomberg Terminal.
LEARN MORE