business
Zuma Confidence Vote May Face Delay Over Secret Ballot Case
By and
Opposition UDM asks parliament to postpone no-confidence vote

Constitutional Court to consider ordering secret ballot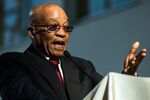 A parliamentary vote on a no-confidence motion in South African President Jacob Zuma scheduled for April 18 faces a possible delay after the Constitutional Court said final submissions in a court case seeking a secret ballot are due three days later.
One of the sponsors of the no-confidence motion, the opposition Democratic Alliance, said it will write to parliamentary speaker Baleka Mbete to request a delay. The court case was brought by another opposition party, the United Democratic Movement, which said Tuesday that the tribunal agreed to consider its demand for a secret ballot. Its leader, Bantu Holomisa, said his party has requested a postponement.
"We are to write to the speaker asking for a postponement until the constitutional court issue is settled," James Selfe, the DA's federal executive chairman, said by phone. "If the speaker does not agree then we and the UDM would have to seek a court interdict."
The DA and the Economic Freedom Fighters demanded the no-confidence motion after Zuma's decision to fire Pravin Gordhan as finance minister and make 19 other changes to his administration on March 31. The president's action drew widespread criticism in his ruling party, sparked street protests, and prompted S&P Global Ratings to downgrade the nation's international credit rating to junk. Fitch Ratings Ltd. followed suit on April 7.
EFF national spokesman Mbuyiseni Ndlozi didn't answer calls and a text message seeking comment.
Parliamentary Rules
While parliamentary speaker Mbete "has no position" on the issue of a secret ballot, the rules of the National Assembly "do not provide for secret voting," parliamentary spokesman Moloto Mothapo said in an emailed statement. The Constitutional Court hasn't ordered parliament to delay the vote, the National Assembly said in a separate statement.
African National Congress Secretary-General Gwede Mantashe said last week that no ANC member would vote against Zuma in the no-confidence vote. To pass, the motion requires a simple majority of the 400 seats in National Assembly where the ANC holds a 62 percent majority.
Zuma, who's due to step down as ANC leader in December and whose term as the nation's president ends in 2019, has survived a series of corruption scandals and presided over the party's worst-electoral performance since the end of apartheid in 1994 in municipal elections in August.
Opposition parties and civil-rights groups plan to hold demonstrations Wednesday in Pretoria, the capital, to pressure Zuma to resign. The so-called National Day of Action protests are scheduled to coincide with Zuma's 75th birthday.
— With assistance by Amogelang Mbatha
(
Updates with comment from parliament in first paragraph after Parliamentary Rules subheadline.
)
Before it's here, it's on the Bloomberg Terminal.
LEARN MORE