Pressure on Zuma Builds as South Africa Girds for Protests
By
ANC veterans call for a national conference to discuss crisis

Ex-leader Mbeki urges free ANC vote on no-confidence motion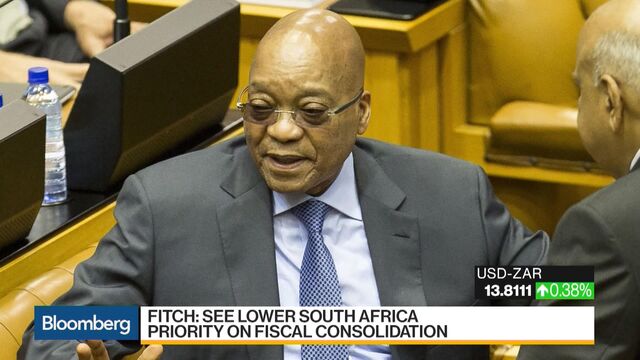 A week after South African President Jacob Zuma appeared to have weathered calls to resign, former leaders of the ruling African National Congress are ratcheting up pressure on him to quit after his shock cabinet purge prompted two ratings agencies to downgrade the nation's credit to junk.
Former President Thabo Mbeki, in an opinion piece in the Johannesburg-based Star newspaper, joined another former leader, Kgalema Motlanthe, in urging ANC lawmakers to vote with their conscience on an opposition-sponsored no-confidence motion in parliament. Party veterans, including all those jailed with Nelson Mandela who are still alive, called for a national conference to discuss South Africa's worst political crisis in a decade.
"The crisis and those who have created it reaches deep into the very fabric of our society and is based on an unquenchable need for power and money," the veterans said Tuesday in an emailed statement.
The public criticism from ANC officials and supporters came a day before opposition parties and civil rights groups plan to hold demonstrations in Pretoria, the capital, to pressure Zuma to resign. The so-called National Day of Action protests are scheduled to coincide with his 75th birthday.
Zuma's decision to fire Pravin Gordhan as finance minister and make 19 other changes to his administration on March 31 drew widespread criticism, prompted S&P Global Ratings to downgrade the nation's international credit rating to junk and weakened the rand. Fitch Ratings Ltd. followed suit on April 7.
Nationwide Protests
"The contract between the African National Congress and the people of South Africa has unraveled," Zwelinzima Vavi, the former general secretary of the Congress of South African Trade Unions, an ANC ally, told reporters Tuesday in Pretoria. "South Africa is facing a political crisis that is playing itself out in the economy, affecting the working class and the poor in the most unbelievable way."
Tens of thousands of people marched on April 7 in major cities including Johannesburg, the economic hub, Pretoria and Cape Town to demand that Zuma quit. Zuma criticized the protests on Monday, saying that some of demonstrators were inspired by racism.
Zuma, who's due to step down as ANC leader in December and whose term as the nation's president ends in 2019, has survived a series of corruption scandals and presided over the party's worst-electoral performance since the end of apartheid in 1994 in municipal elections in August.
No-Confidence Vote
The Constitutional Court agreed to consider hearing a case brought by the opposition United Democratic Movement to force parliament to permit a secret vote on the motion and set a deadline for final submissions on April 21, three days after it was scheduled to be held.
After the court issued its directions for the case, both the DA and the UDM said they're asking parliament to delay the vote until after the tribunal come to a decison.
Parliamentary speaker Baleka Mbete has said parliamentary rules don't allow for a secret ballot.
ANC Secretary-General Gwede Mantashe said last week that no ANC member would vote against Zuma in the no-confidence vote. To pass, the motion requires a simple majority of the 400 seats in National Assembly where the ANC holds a 62 percent majority.
Makhosi Khoza, an ANC lawmaker, criticized the party's call to rally behind Zuma to preserve unity in the 105-year-old organization.
"We are directed to maintain unity at all cost even if leads us to the ditch," she wrote on her Facebook page. "We are instructed to follow directionless directives without questioning or raising the risks, concerns for the route we are taking even if it leads us to the wasteland."
Before it's here, it's on the Bloomberg Terminal.
LEARN MORE