business
South Africa's Zuma Hosts Qatar's Emir as Protests Mount
By and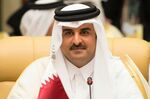 South African President Jacob Zuma is meeting Qatar's Emir Sheikh Tamim Bin Hamad Bin Al Thani in the capital, Pretoria, on Tuesday night, a day before opposition parties are due to march on his offices to demand he step down.
The visit by Al Thani was set for Tuesday and Wednesday and the meeting between the two heads of state is taking place after consultations by both parties, Zuma's spokesman Bongani Ngqulunga said by phone. Demonstrations have not prevented the president or presidency from executing their duties, he said.
The visit by the Emir, who arrived in South African from Kenya, will review progress in bilateral political and economic relations between the two countries and identify "three short-term projects in the fields of trade and investment, agriculture and oceans economy," the presidency said in an emailed statement. Total trade between South Africa and Qatar has increased to 7 billion rand ($506 million) in 2016 from 4 billion rand in 2012, it said.
The Democratic Alliance, Economic Freedom Fighters and other opposition parties are planning protest marches on Wednesday to coincide with Zuma's 75th birthday. The parties have demanded a no-confidence vote be held in Parliament after Zuma's decision to fire Pravin Gordhan as finance minister and make 19 other changes to his administration shortly after midnight on March 31.
The president's action drew widespread criticism in his ruling party, sparked street protests, and prompted S&P Global Ratings to downgrade the nation's international credit rating to junk. Fitch Ratings Ltd. followed suit on April 7.
Before it's here, it's on the Bloomberg Terminal.
LEARN MORE