Russia Questions U.S. Readiness to Fix Ties as Tillerson Visits
By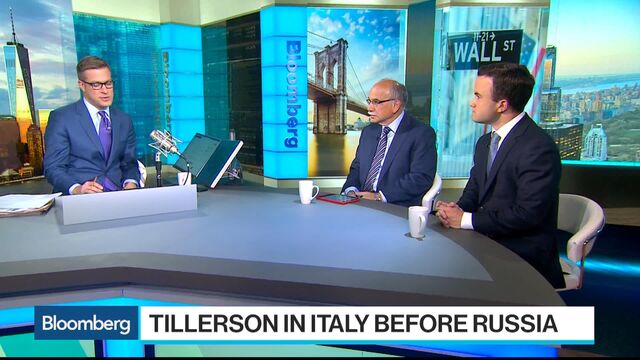 Russia questioned whether the new administration of President Donald Trump is ready to work with it on mending the worst tensions since the Cold War as Secretary of State Rex Tillerson prepares to visit Moscow in the wake of U.S. strikes on the Kremlin's Syrian ally.
In the harshest language since Trump came to office in January, the Russian Foreign Ministry said the "long list of irritants" that are Washington's fault is not decreasing, from Syria to Libya, Afghanistan and Ukraine, and warned of retaliatory steps.
"It's clear that Russian-U.S. relations are going through the most difficult time since the Cold War," the ministry said in a website statement. "In the course of the upcoming talks we'd like to find out if the U.S. understands at all the need to stabilize and normalize bilateral ties."
Russia condemned the U.S. missile strike on an air base in Syria in response to a deadly chemical attack blamed on President Bashar al-Assad's forces as an "act of aggression against a sovereign state," amid pressure from the Trump administration and its allies on President Vladimir Putin to reconsider his support for the Syrian regime.
Russia had welcomed the election of Trump, who campaigned on pledges to improve relations. But the Kremlin has become increasingly disillusioned about the prospects for ending the deep-freeze between the two countries, especially as the U.S. has taken a tougher line on issues like Syria. Russian state media, closely controlled by the Kremlin, have replaced their once fawning coverage of Trump with critical reports in recent weeks.
Before it's here, it's on the Bloomberg Terminal.
LEARN MORE