Merkel's 'Nein' to Pooled Euro Debt Emerges as Election Plank
By and
SPD challenger Schulz confronts past support for 'eurobonds'

Merkel stance against shared debt is campaign asset: Brzeski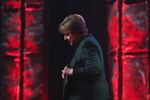 Chancellor Angela Merkel has spent much of her time in office rejecting proposals to pool euro-area debt. Now it might just help her bid for re-election.
Merkel's main challenger, Social Democrat Martin Schulz, has backed the idea in the past as a way to help struggling euro nations -- and his electoral opponents won't let him forget it. As others in his party warn of the financial and electoral risks of such a policy, Schulz is faced with trying to squelch a debate that could lead to an internal rift and drive away voters.
Polls underscore why the Social Democrats have reasons to avoid an issue that's been a red flag for most German voters ever since the debt crisis spread from Greece in 2010. After a surge triggered by Schulz's nomination in January lifted the SPD into a statistical tie, four polls since last Tuesday suggest that Merkel's CDU-led bloc has pulled ahead again.
The resurgence of the topic of shared debt as Schulz seeks to deny the chancellor a fourth term on Sept. 24 "will definitely help Merkel," Carsten Brzeski, chief economist at ING-Diba in Frankfurt, said by email. It hands her Christian Democratic Union "one of many arguments to discredit Schulz during the campaign."
Germany's Economy Ministry, which is run by the Social Democrats, sought to steer the debate with a report published Monday that rates a range of proposals for issuing joint euro-area debt. It doesn't endorse any of them and warns that one concept, so-called European Safe Bonds, could actually lead to "mutualization of risks" through the back door.
James Bond
Schulz sought to quash debate about joint bonds with a quip, telling reporters in Berlin the same day that it's enough that euro-area governments have a rescue fund, the European Stability Mechanism. "So the remaining questions on this topic have been dealt with," he said. "The most interesting Bond is James."
Schulz and his party say it's time to end years of austerity in Europe championed by Merkel and German Finance Minister Wolfgang Schaeuble in response to the debt crisis. At one point during the crisis, Merkel told a meeting of lawmakers she doesn't expect to see euro bonds in her lifetime. Around the same time, Schulz, then a European Parliament member, suggested in German media interviews that joint bonds would help reduce the financial burden on southern euro-area nations.
The broader goal of a fiscal union in Europe is worth discussing, "but not in the direction of euro bonds," said Joachim Poss, an SPD lawmaker whose 37 years in parliament have been dominated by Christian Democratic chancellors. "That only serves to stoke an anti-Schulz campaign."
'Transfer Union'
Merkel has stuck with her position, telling reporters in February she still says "no to euro bonds." Her party is meanwhile already sniping at the SPD candidate, saying he'd remain committed to his old goals if elected.
Schulz "is marching straight toward mutualization and a transfer union," Wolfgang Steiger, head of the CDU's business caucus, said in a statement on Monday.
German voters have consistently backed Merkel's stance. A European Union survey in November found that Germany has the least public backing for so-called euro bonds among EU countries, with just 24 percent saying they were in favor. That compared with 55 percent support in Portugal and 50 percent in Greece.
Schaeuble chimed in with a backhanded compliment for Schulz, who also called for Greece to overhaul its economy. "Suddenly I thought this man is really becoming reasonable," the finance minister said at a CDU rally in Hamburg late Tuesday. If Schulz is pledging continuity on European policy, he might as well say that Merkel will be re-elected, Schaeuble said.
Even if the dredged-up debate helps Merkel, "it will definitely not help the euro zone," Brzeski said. As the Social Democrats draft their election platform, Schulz's U-turn suggests "the SPD is currently not willing to present a clear and straightforward vision" for the euro area.
— With assistance by Rainer Buergin
Before it's here, it's on the Bloomberg Terminal.
LEARN MORE