Le Pen Faces Trump's KKK Quandary With Her Extremist Supporters
By and
She has tried to distance herself from party's extremist past

Political expediency seen preventing her from going too hard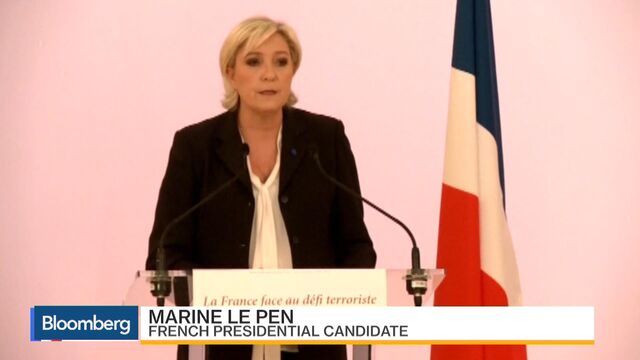 Not unlike candidate Donald Trump, France's Marine Le Pen walks a fine line when confronted with the xenophobic and antisemitic elements among her supporters.
Trump, when asked to repudiate the endorsement he got from David Duke, the former Ku Klux Klan Grand Wizard, during the 2016 U.S. presidential campaign famously said "I don't know anything about him." The leader of the French anti-immigration National Front party has often been similarly vague about some of her supporters' extremist views. Until Sunday.
In a radio interview, the 48-year-old made comments absolving France of responsibility in the 1942 roundup of more than 13,000 Jews who were deported to Nazi death camps in Auschwitz, putting the National Front's antisemitic past in the news again.
Her first such remarks since taking charge of the party in 2011 drew criticism from Jewish groups, mainstream media and her opponents, and were seen by political observers as aimed at indulging parts of her base and creating a buzz for her flagging campaign.
"She's picked a theme that she knows will appeal to right-wing voters who hate repentance and will secure her most conservative base," said Nicolas Lebourg, a researcher on far-right politics at the University of Montpellier. "While this will not give her any new voters, she won't lose any either."
For Le Pen -- who's running neck-and-neck with Emmanuel Macron in polls for the first round of the French elections on April 23 -- the murky history of the party founded by her father is one that just won't go away. While she has scrupulously avoided making racist or antisemitic remarks and has even ousted her father from the party for such comments, her party's history of pandering to extremist supporters is among reasons why polls see her defeat in the second round of the election on May 7.
Vel' d'Hiv
"Being an outsider places the National Front under a double-constraint," said Jean-Yves Camus a Paris-based researcher and co-author of "Far-Right Politics in Europe."  "It needs to offer a radical political stance for its base while avoiding politics that are too negative for most voters."
On Sunday, Le Pen opened a can of worms by talking about France's role in the "Vel' d'Hiv" case. On July 16 and 17, 1942, French police arrested thousands of Jews in and around Paris at the request of the Nazi German authorities and stationed them in a cycle-racing arena in the city known as Velodrome d'Hiver before deporting them to the death camp. A third of the group were children.
In July 1995, French President Jacques Chirac apologized for the action and admitted the responsibility of the French state, breaking with the official line that authorities based in Vichy during World War II didn't really represent the country. Le Pen is effectively going back to that view.
'Real Face of National Front'
"If there's anyone responsible, it's those who were in power at the time, it's not France," she said in the RTL interview. "France has been mistreated in minds for years. Our children have been taught they had every reason to criticize it, to see only its darkest aspects. I want them to be proud to be French again."
Her comments brought a flood of criticism. Jewish organizations slammed her for what they said was a "revisionist" take on history. Macron said on Monday that the remarks reveal "the real face" of the National Front. In a Tuesday editorial, Le Monde newspaper said the comments are "anachronistic and sickening" and that it detracted from "years of efforts to clean up the party's image."
"Marine Le Pen has reminded us that this a party of the extreme right, it is an antisemitic, racist party, " European Commissioner Pierre Moscovici said on Public Senat TV on Tuesday. "It's too easy to say that the good France was in London and the bad France was in Vichy, and whitewash all responsibility."
Le Pen responded to the criticism, saying she condemns the Vichy regime's collaboration under the Nazis. She also blamed Muslim preachers for instilling "hatred toward our Jewish compatriots."
In a book published in March entitled "Marine est au courant de tout," or "Marine knows all," journalists Marine Turchi and Mathias Destal say that Le Pen's inner circle includes several former members of the GUD, an extreme-right student political group created in 1968 some of whose members have had brushes with the law for racist, homophobic and antisemitic activities. 
Questionable Company
The authors note, for example, that Frederic Chatillon, who was the president of GUD in the early 1990s, is part of her campaign team. Chatillon, who was charged with irregularities in the National Front's financing in 2011, is in charge of Le Pen's digital strategy in the 2017 campaign. He produced its main promotional video.
Chatillon, who hasn't been convicted and denies any wrongdoing, is present at her major events, including the January meeting of Europe's far-right leaders in Koblenz, Germany, and the unveiling of her campaign platform in Lyon.
"Mr. Chatillon does web stuff, nothing more," Louis Aliot, a member of Le Pen's campaign strategic committee, said in an interview. "If these people had any influence over her, I would know about it."
Le Pen herself acknowledges friendship with Chatillon and other GUD-linked supporters, while saying their role in her party is minor.
Party's History
Jean-Marie Le Pen founded the National Front in 1972 with groups that included neo-fascists, World War II collaborationists and others known for their violent opposition to France leaving Algeria.
Bent on cleaning up the party's image even before her father made it to the second round of the presidential election in 2002, Marine led a purge after taking over. A lawyer by training, she emerged in her father's party through a low-key role in the legal department she formed in 1998. She sought to draw the party into the political mainstream by steering clear of her father's blatantly racist rhetoric to focus on the economy and immigration.
Father and daughter share the desire to cut taxes, kick out all illegal immigrants, exit the European Union and give native-born French priority in housing and welfare benefits.
While her father criticized the national soccer team for not having enough whites, Marine publicly praised an African-born player. In a 2013 interview with Bloomberg News, she said the strategy was paying off and that the party would be in power in the next decade as "votes now flow from the left to the Front as much as they flow from the right."
Clean Up
The spat that led to her father's expulsion two years ago was triggered by his reiterating his position that Nazi gas chambers were a mere "detail" of World War II, as well as his admiration for France's wartime collaborationist leader Philippe Petain.
After she was elected the National Front's leader, the party threw out Yvan Benedetti for his public admiration of Petain and antisemitic comments. Another member Alexandre Gabriac was kicked out after photographs showed him doing a Nazi salute.
In 2013, the National Front suspended Anne-Sophie Leclere from a city council ballot after she called French Justice Minister Christiane Taubira, an African-French Guianan native, a monkey during a TV program, saying her place was to "scramble in trees" rather than in government.
No Radical Change
She has also promoted younger party leaders, such as vice-presidents Aliot, currently her partner, and Florian Philippot, who's gay. 
Still, for many observers, her continuing ties to questionable characters is an indication that those moves may be more cosmetic than a radical change in the party's political stance.
Le Pen in 2010 equated Muslims praying in the street to the Nazi occupation. In the 2012 campaign, she criticized halal meat being served in school cafeterias. Le Pen has also never disowned or distanced herself from the origins of her party.
Her Vel' d'Hiv comments have brought those to the fore again.
"The National Front can't wipe antisemitism and holocaust denial away from its
past," said Valerie Igounet, a French historian and author of "Les Francais d'abord," a history of the party's slogans published in January. "It continuously resurfaces."
For Related News and Information:
News on the French economy: TNI FRANCE ECO
Top France stories: TOP FRANCE
Top Europe stories: TOP EUR
Quotes from this Article
Before it's here, it's on the Bloomberg Terminal.
LEARN MORE