German Union Warns Thyssenkrupp Against Tata Steel JV
By
IG Metall sees "high risk" for company if JV is completed

Bochum rolling mill site at risk of closing, union says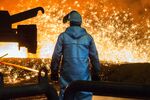 Germany's biggest union, IG Metall, is opposing a joint venture between Thyssenkrupp AG, the nation's top steelmaker, and Tata Steel Ltd.
The project is "high risk" for Thyssenkrupp, said Detlef Wetzel, who represents IG Metall for the steel unit at the Essen-based company. The joint venture will lead to job losses and the closing of steel factories in Germany, according to Wilhelm Segerath, chairman of Thyssenkrupp's works group council.
Tata Steel has been in talks with Thyssenkrupp and others for a joint venture of their European steel businesses since last year as part of its strategy to increase profitability amid oversupply in the global market. Thyssenkrupp's Chief Executive Officer Heinrich Hiesinger in November said that pension liabilities were a major stumbling block to an accord.
"Any possible joint venture will have to be based on a convincing business plan with corresponding synergies," Hiesinger said in January.
Thyssenkrupp shares slid 1 percent to 22.40 euros at 5 p.m. in Frankfurt.
Steel Project
IG Metall's main concern is that the Tata joint venture could be a way for Thyssenkrupp to eventually exit steel entirely, said Wilhelm Segerath, chairman of Thyssenkrupp's works group council and a member of IG Metall's board of directors.
If there was consolidation, Thyssenkrupp would remain a co-owner of the steel unit, according to spokesman Robin Zimmermann.
Thyssenkrupp is under pressure to turn around its steel operations, and has said it would cut costs by 500 million euros ($530 million) over the next three years. As many as 350 jobs at the Bochum and Duisburg-Huettenheim plants could be cut, said General Works Council Chairman Guenter Back after a meeting with management this month.
The Bochum rolling mill is among sites at risk of being closed in a venture with Tata, said the union.
Another issue IG Metall raised was how the deal could affect debt levels. Thyssenkrupp is currently seeking a joint venture in which it has equal ownership with Tata. That could result in Thyssenkrupp adding debt to lower its stake, according to IG Metall.
Before it's here, it's on the Bloomberg Terminal.
LEARN MORE