Photographer: Simon Dawson/Bloomberg
business
Brexit Bulletin: Secret Supermarket Squeeze
Supermarkets and bank lobbyists find creative solutions to Brexit price pressures.
By
Sign up to receive the Brexit Bulletin in your inbox, and follow @Brexit on Twitter.
Supermarkets are imposing a secret squeeze on British consumers to compensate for Brexit-induced cost increases.
As Bloomberg's Sam Chambers reports on Tuesday, grocers such as Tesco and Wal-Mart's Asda are proving unable to raise prices on staple goods from milk to Marmite because of tough competition from discounter rivals and watchful tabloid newspapers.
Their solution? Ratchet up the bill for less frequently-purchased goods such as dental floss, whose costs might not register as readily with shoppers. That's helping them offset some of the pressures they're feeling in part from the pound's post-referendum slide.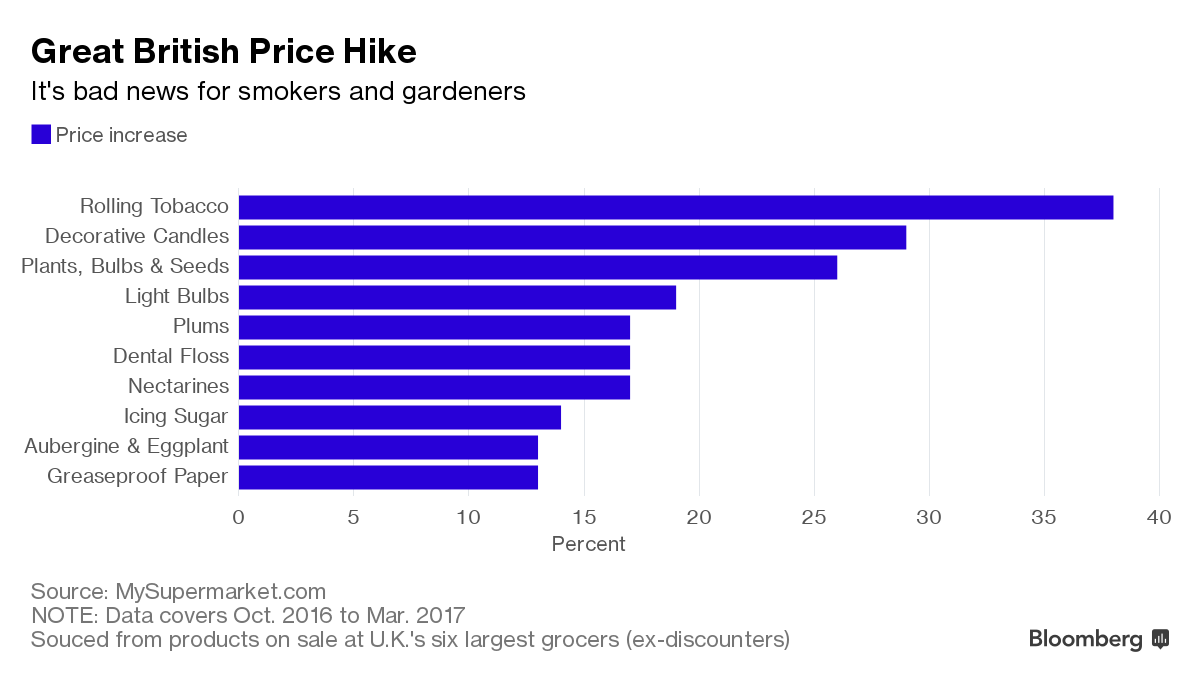 The strategy comes to light as the British Retail Consortium and KPMG reported that like-for-like retail sales fell 1 percent in March on a year-on-year basis. The Office for National Statistics is predicted to report later on Tuesday that inflation last month remained above the Bank of England's 2 percent target.
May's City Confidant
Frenchman Xavier Rolet aligned with then-Prime Minister David Cameron against Brexit and warned of the economic repercussions of it.
Now the 57-year-old chief executive of the London Stock Exchange is trying to turn the loss into a win by working closely with Prime Minister Theresa May to bring a piece of the Aramco initial public offering, the biggest in history, to the U.K. capital. Last week, he traveled with the premier to meet with the king of Saudi Arabia.

Success would signal to the world that London is still Europe's top financial center and damp the voices of those in Brussels who say Brexit must come at a price, Bloomberg's John Detrixhe and Alex Morales report on Tuesday. A failure would be a public embarrassment for May and the executive who is increasingly put into service by the British government.
Financial Manifesto
The British finance industry released a new Brexit manifesto, arguing the U.K. and European Union should strike a deal that allows both sides access to each other's markets and goes beyond the option of regulatory equivalence. 
The International Regulatory Strategy Group, which is sponsored by the City of London Corporation and TheCityUK, also proposed a joint committee to ensure regulations stay aligned and laid out a way to resolve disputes after any future trade deal.
"What we're trying to do is set out a mechanism by which we feel we can have mutual recognition of our regulatory systems, which will enable cross-border business to continue to flow post-Brexit," said Mark Hoban, chairman of the IRSG. "We want to try and shape thinking on both sides of the debate."
The Financial Times reported one option for banks is to volunteer to be subject to EU rules in order to gain market access.
Further reading: What are the options for banks after Brexit?
Brexit Bullets
Emissaries of the 27 EU governments excluding Britain meet in Brussels on Tuesday to discuss the draft negotiating guidelines drawn up by EU President Donald Tusk
Eurasia Group's Mujtaba Rahman suggests the two sides address the bill the EU wants to impose by establishing a working group to study it, freeing up time to discuss other topics
BMW, Ford and Jaguar Land Rover are among the winners of £110 million from the U.K. for the development of low-carbon vehicles and driverless cars as the government tries to nurture industries of the future
Migration Watch says high-skilled British workers might be able to find jobs in the EU even without a Brexit deal thanks to an expansion of the EU's "blue visa" program
Bloomberg View's Justin Fox analyses the "U.K.'s strange Singapore envy"
A survey of 2,500 Swiss companies by UBS finds 65 percent of chief executives believe there will be further withdrawals from the EU, according to the Daily Express
Russian billionaire Alisher Usmanov, an owner of Arsenal Football Club, says Brexit offers investors both risks and opportunities.
And Finally…
Tensions between the two sides during and after last year's referendum campaign were aggravated by so-called bots spreading fake news on social media, according to a new study.
In a presentation to the Royal Economic Society's annual conference this week, researchers Yuriy Gorodnichenko, Tho Pham and Oleksandr Talavera concluded that automated software agents used to spread incorrect stories drove the two sides of the debate further apart.
Their study encompassed more than 28 million tweets sent between May 24 and August 17 last year. A pro-Brexit tweet had a stronger effect on a Leave supporter than a Remain one, they found.
"Social bots spread and amplify misinformation, thus influencing what humans think about a given issue," the authors said. "Policy-makers and social media should seriously consider mechanisms to discourage the use of social bots to manipulate public opinion."

For more on Brexit follow Bloomberg on Twitter, Facebook and Instagram, and see our full coverage at Bloomberg.com
Before it's here, it's on the Bloomberg Terminal.
LEARN MORE