Governance
Activist Investors Shift Their Focus to Mid-Caps Like Skechers
Amalgamated Bank of New York's funds unit has filed proxy proposals pressing for more board diversity at seven companies this year.
By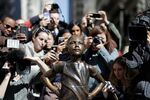 Kim Kardashian, Sugar Ray Leonard, Britney Spears, Ringo Starr. When it comes to choosing spokespeople to endorse its brightly colored footwear, Skechers U.S.A. Inc. has gone for a diverse lineup of celebrities.
But when it comes to picking who sits on the board of the Manhattan Beach, Calif.-based company, things look decidedly more monochrome: nine white men, the youngest of whom is 48 years old.

That homogeneity rankles an increasing number of investors, who are demanding that boards become more diverse. In fact, shareholders have been so successful in pressing the largest U.S. companies to add women to their boards, they're now drilling down into the next tier of businesses and shining a spotlight on diversity—or rather the lack of it—at mid-cap and smaller members of the Russell 3000 Index such as Skechers.
Amalgamated Bank of New York's LongView Funds unit, which controls $42 billion, including $13 billion in actively managed assets, is making the sneakers company into the poster child for its diversity lobbying this year. The bank has filed a proxy proposal asking Skechers to diversify its board and prepare a report on the steps it's taking.
Amalgamated made similar proposals at six other mid-cap companies this year. The bank, which is majority-owned by Workers United, an affiliate of the Service Employees International Union, has in the past teamed with big institutional investors such as the California Public Employees' Retirement System and the New York State Common Retirement Fund to prod companies in the S&P 500 to add women to their boards.
Amalgamated Chief Executive Officer Keith Mestrich says the bank aims to expand its advocacy push. "Now the effort is to try to deepen this into a broader set of companies," he says at his office in New York's Chelsea neighborhood. Mestrich adds that Amalgamated, which has socially responsible B Corporation status, has been advocating for diversity not only because it's the right thing, but also because it improves a company's operations. "Having a commitment to diversity makes sure you don't get groupthink," he says. "You get better decisions."
 
 
Longview's campaign aimed at midsize companies began with the 2014-15 proxy season, when it filed proposals at five of them, only one of which was in the S&P 500. Today all five have at least one woman director. In the 2015-16 proxy season, the bank filed proposals at five more companies: Qorvo Inc., XPO Logistics Inc., Stifel Financial Corp., Linear Technology Corp., and Joy Global Inc. Those initiatives were withdrawn at all but one—Joy Global, a Milwaukee-based maker of mining equipment, where it went to a vote and failed by a narrow margin. (Last year, Japan's Komatsu Ltd. agreed to acquire the company.)
Smaller companies lag far behind their larger peers regarding diversity. Only 1 percent of S&P 500 companies have all-male boards, and just 21 percent of them have boards that are less than 15 percent female, according to Peter Kimball, executive director at ISS Corporate Solutions Inc. But when you look at the broader index, the gender imbalance is stark: Among Russell 3000 companies that aren't in the S&P 500, 28 percent have no women on their boards, and 62 percent have boards that are less than 15 percent female, the ISS data show.
Mestrich declined to name the other companies where LongView has filed this year, because they've entered into talks with the bank about acceding to its request. Four of the proposals have been withdrawn so far. "It's better to be in negotiations and have them take steps," he says, adding that none were as well-known as the footwear company. "Usually, they do it to avoid public embarrassment."
Each year about 20 such proposals are filed at U.S. com­panies, ISS says. This year as of the end of March, ISS has already logged about 33 board diversity proposals, not counting those filed by LongView. Twenty were at companies that aren't part of the S&P 500.
 
 
While giant government pension funds such as the NYS Common Retirement Fund and CalPERS have long pressured companies on diversity and other governance issues, some private-sector behemoths are now raising their voices as well.
State Street Global Advisers Inc., which manages $2.5 trillion, drew a line in the sand on March 8, International Women's Day. It promised to hold companies it invests in accountable, threatening to vote its shares against those that don't embrace diversity. To underline that new stance, State Street placed a bronze statue called Fearless Girl, her hands on her hips as she stares directly at the iconic bull sculpture, on Bowling Green in Lower Manhattan.
BlackRock Inc., which manages $5.1 trillion, said a week later that it too would begin to make board diversity a focus.
Both BlackRock, which owns about 8 percent of Skechers, and T. Rowe Price Group Inc., which holds a 2.5 percent stake, declined to comment on whether they would vote in favor of the LongView proposal. Skechers didn't respond to emails and phone calls seeking comment.
This isn't the first time the shoe company, whose founders control a majority of votes through two classes of stock, has faced such a move. Last year the NYS Common Retirement Fund filed a similar motion. Skechers' board argued against the move, calling it "unnecessarily restrictive" and adding that it "would not maintain the necessary flexibility in the nominating process to ensure that the most qualified candidates are selected." Shareholders rejected the pension fund's proposal.
Cornish Hitchcock, a Washington attorney who represents the LongView funds in shareholder actions, questions the view of the Skechers board. "It seems fair to ask why a footwear company can't find a qualified female candidate," he says. "If the current board can't find a qualified female or minority candidate, what does that tell us about the competence of the board?"
 
Colby is a senior reporter at Bloomberg News in New York.
 
Before it's here, it's on the Bloomberg Terminal.
LEARN MORE