Your Evening Briefing
Here are today's top stories
Bloomberg News
Want to receive this post in your inbox every afternoon? Sign up here.
Good afternoon. No U.S. company ranks among the top five automakers in terms of market cap, but GM and Tesla elbowed each other around in the sixth and seventh positions today. Investors seem to be coming around to Elon Musk's vision of an electric car future, although the much smaller Tesla has a long way to go before being as profitable as its century-old competitor. –Emily Banks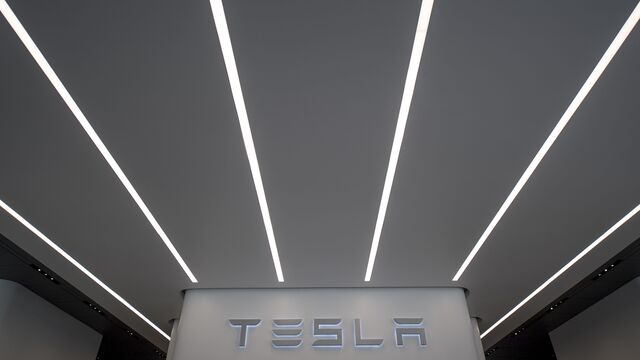 Tesla passed GM to become the top U.S. carmaker. Tesla climbed as much as 3.7 percent in early Monday trading, boosting its market capitalization to $51 billion. The company was valued at about $1.7 billion more than GM as of 9:35 a.m. in New York and the two jostled for the lead spot in subsequent trading. Tesla has long been treated like a technology stock with investors betting on its ability to dominate a market for electric cars and energy storage. To those same investors, GM and Ford are headed for a slowdown in car sales that will erode profits.
Wells Fargo's board clawed back $28 million from former CEO John Stumpf and canceled about $47 million of ex-community bank head Carrie Tolstedt's stock options after determining they were among senior managers who failed to heed warnings of spreading sales abuses for more than a decade. The bank's executives treated thousands of fired employees as rogues, and then downplayed the mounting terminations as the board began raising questions, according to the results of a six-month probe by a panel of independent directors.
France's presidential election is becoming a four-way contest as far-left candidate Jean-Luc Melenchon surges to catch Republican Francois Fillon, stoking uncertainty over the outcome less than two weeks before voting begins. Melenchon's surprise groundswell of support coupled with Fillon's resilience adds another layer of risk to France's most unpredictable election in a generation. Here's a who's who in the race.
There was nothing normal about America's winter weather. It's not just your imagination. A tornado in Massachusetts, wildfires in the Great Plains, and record snow in the Sierra Nevada. While some of the swings may result from chance, scientists agree climate change is adding to weather mayhem and that the world will have to brace for worse.
Six experts reveal where to invest right now. U.S. stocks have been resilient, rising 5.5 percent in the first three months of the year. To cut through the market noise, we asked six leading investors to share their best ideas on where to invest $10,000 right now. This quarter, Japanese stocks, battered emerging-market stocks and bonds, and big drug companies are among their picks.
These are the seven types of people who tweet at Trump. Trump's 10 most-engaged Twitter followers over the past 30 days include five confirmed robots and three accounts that appear to be bots, according to audience data collected by Social Rank. But there are plenty of humans in the 20,000 or so replies generated by a typical Trump tweet. We set out to profile the lovers, haters, and robots to understand their motivations.
The San Francisco skyline is reshaped by the tallest building on the West Coast. Builders have laid the final beam for Salesforce Tower, a $1 billion skyscraper in San Francisco that now stands as the tallest office building west of Chicago. The 1,070-foot tower is set to be finished this summer, with its main occupier Salesforce.com, now the city's biggest tech tenant.

Before it's here, it's on the Bloomberg Terminal.
LEARN MORE