business
Trump and May See Chance to Persuade Russia to Cut Assad Support
By , , and
Tillerson Moscow visit 'a window of opportunity,' leaders say

New sanction targets could include Syrian and Russian military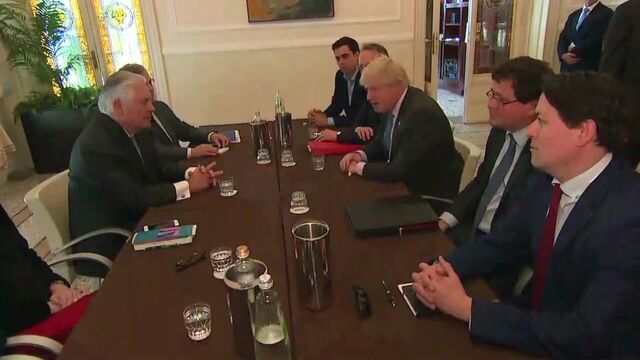 U.S. President Donald Trump and U.K. Prime Minister Theresa May said Secretary of State Rex Tillerson's visit to Moscow Tuesday provides a chance to persuade Russia to cut its support for the Syrian regime as western powers weigh wider sanctions in response to a deadly chemical attack on civilians last week.
The leaders are seeking to present a united front ahead of the trip, and new sanctions on Russia and Syria over President Bashar al-Assad's actions were on the agenda Monday during the first of two days of talks between foreign ministers of the Group of Seven nations in the Tuscan town of Lucca.
"The prime minister and the president agreed that a window of opportunity now exists in which to persuade Russia that its alliance with Assad is no longer in its strategic interest," May's office said in an emailed statement. "They agreed that U.S. Secretary of State Tillerson's visit to Moscow this week provides an opportunity to make progress towards a solution which will deliver a lasting political settlement."
British Foreign Secretary Boris Johnson said earlier that G-7 ministers would be "discussing the possibility of further sanctions, certainly, on some of the Syrian military figures and indeed on some of the Russian military figures." European Union nations, the U.S. and Turkey have already frozen the assets of dozens of Syrians, and foreign nationals doing business with them, to punish Assad's government for its actions in Syria's conflict.
First Intervention
In response to the April 4 attack that killed dozens of people, including many children, the U.S. launched airstrikes on a Syrian airbase. Immediately after, Treasury Secretary Steven Mnuchin said the U.S. would soon announce new sanctions on the Assad regime to deter countries and companies from supporting it. It was first U.S. intervention against Syria's government and pushed the country's six-year civil war to the top of the agenda for the G-7 meeting.
"The game has now been changed, and it's important that message should be heard from the Americans to the Russians," Johnson told reporters in Lucca. Russian President Vladimir Putin "is toxifying the reputation of Russia through his continuing association with a guy who's poisoned his own people," Johnson said.
Ministers at the meeting also were expected to discuss terrorism, North Korea's nuclear program and the European refugee crisis.
Tillerson will travel to Moscow Tuesday afternoon for meetings with top officials, possibly including Putin. He will look to gauge Russia's willingness to work together to fight Islamic State and rein in Assad, whom Moscow supports.
Question of Priorities
In an interview on CBS's "Face the Nation" that aired April 9, Tillerson said the U.S. priority remains defeating Islamic State, rather than forcing Assad out. "I think the president has been quite clear: First and foremost, we must defeat ISIS," he said, using the U.S.'s preferred acronym for the jihadist group.
After that, he said, "we can navigate a political outcome in which the Syrian people, in fact, will determine Bashar al-Assad's fate."
Italian Foreign Minister Angelino Alfano said he had invited "other countries which have a similar view to ours on Syria." The aim is "to reflect on what is the best strategy to give Syria peace and security." Alfano called the Syria meeting in agreement with foreign ministers Johnson, Sigmar Gabriel of Germany, and Jean-Marc Ayrault of France.
"We are in discussions with our partners to see if we can bring further pressure to bear on the regime and those who are supporting it," including Russia, May's spokesman James Slack told reporters on Monday. Slack said he saw "no long term future" for Assad in Syria.
Also speaking at Monday's ceremony, Federica Mogherini, EU foreign-policy chief, said "there is no military solution to this war, and the negotiations in Geneva must start again with the support of all of us: Europe is the one which is trying to get the Syrians to sit at the same table."
— With assistance by Alex Morales
Before it's here, it's on the Bloomberg Terminal.
LEARN MORE