Warning to Crooks: New Ford Cop Car May Be Green, But It's Fast
By
Pursuit-rated Police Responder cuts fuel consumption by half

Vehicle will be unveiled at events in Los Angeles, New York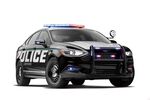 Ford Motor Co. has found a way for cops to chase down bad guys in a speeding police cruiser while helping the environment at the same time.
The automaker says its new Police Responder hybrid sedan, a modified Fusion, is the first gasoline-electric cop car to be "pursuit-rated," meaning it can race through city streets while navigating crowded intersections or hopping curbs. The vehicle will be unveiled Monday at simultaneous events in New York and Los Angeles, the latter to be attended by Los Angeles Police Chief Charlie Beck.
The cruiser will average 38 miles per gallon in combined city and highway driving, more than twice what the current Police Interceptor model gets with a 3.7-liter V-6 engine. Ford calculates fuel savings of $3,877 per car annually. For big-city police forces that can have more than 1,000 cruisers in their fleet, that can translate to yearly savings approaching $4 million.
"Having a pursuit-rated green vehicle is what they were looking for," Arie Groeneveld, Ford's chief program engineer for police cruisers, said in an interview. "We expect this vehicle will grow our market share."
The Responder is among 13 new hybrid or electric models Ford has said it will offer globally by 2020, which will account for 40 percent of its showroom offerings, up from 13 percent. The automaker is spending $4.5 billion on its ambitious plan to electrify its lineup, even as President Donald Trump is considering easing fuel-economy regulations and consumers continue to give a cold shoulder to green vehicles.
Bonnie & Clyde
Ford has been building police cars since 1920, when it offered cops a modified Model T. It now controls nearly two thirds of the U.S. market with modified versions of the Taurus sedan and Explorer sport utility vehicle. For decades its Crown Victoria dominated highway patrol so much that speeders knew to pull over if they recognized the distinctive grille in their rear-view mirror.
Bank robbers like Fords, too. The Henry Ford Museum near Ford's headquarters in Dearborn, Michigan, displays a fan letter from the infamous Clyde Barrow. "While I still have got a breath in my lungs, I will tell you what a dandy car you make," he wrote Henry Ford in 1934, a month before police gunned down Barrow and Bonnie Parker -- in a Ford, of course.
The latest Ford police car, which will hit the streets in the summer of 2018, can go from zero to 60 miles per hour in 8.7 seconds, matching the speed of the old Crown Vic, said Brett Hinds, chief engineer of Ford's electrified powertrain systems. The electric motor pared with a two-liter gasoline engine gives the car initial launch acceleration that feels "a lot snappier" than traditional cruisers, Hinds said.
Idle Savings
The secret to its fuel savings, though, comes when the car is stopped by the side of the road. The gas engine shuts down for four minutes at a time, while the electric motor continues to power the squad car's lights, laptop computer, radio and climate controls. After resting, the engine automatically fires up for two minutes to recharge the battery. That process, repeated over the many hours a police car sits idle, drastically reduces fuel consumption, Hinds said.
"Police cruisers are in an idle position about 61 percent of the time," Groeneveld said. "That's where you get the very significant savings."
Ford is banking on finding a market for green vehicles among police chiefs buffeted by budget cuts. But cops like their cruisers fast and tough, so the idea of a fuel-sipping hybrid chase car raised more than a few questions among police officials. That is, until they put the hybrid through a test drive.
"Any concerns they had went away once they had it on the test track," said Groeneveld. "It was better than they expected from a hybrid."
Before it's here, it's on the Bloomberg Terminal.
LEARN MORE