Trump Takes Credit for Planned $1.33 Billion Toyota Spending
By
Kentucky factory investment paves way for redesigned Camry

Trump cut off CEO last month to demand new plants in U.S.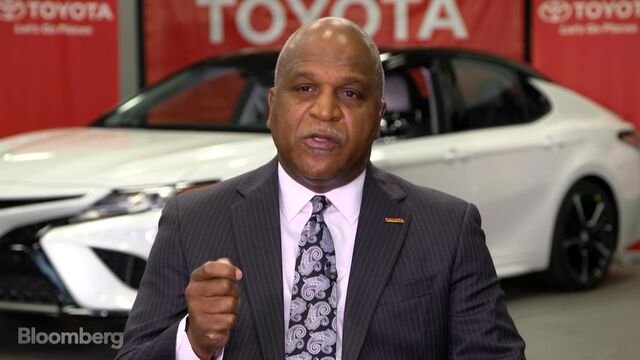 President Donald Trump took credit for Toyota Motor Corp. investing $1.33 billion in an existing U.S. factory, championing spending by a Japanese automaker he's blasted for building a plant in Mexico.
The outlays in Georgetown, Kentucky, aren't new -- they've been in the works for years. But the way they're being marketed is. Instead of emphasizing cost efficiency, Toyota is highlighting ample spending and the previously announced addition of 700 jobs. The president has taken notice.
Toyota's announcement "is further evidence that manufacturers are now confident that the economic climate has greatly improved under my administration," Trump said in the automaker's statement Monday.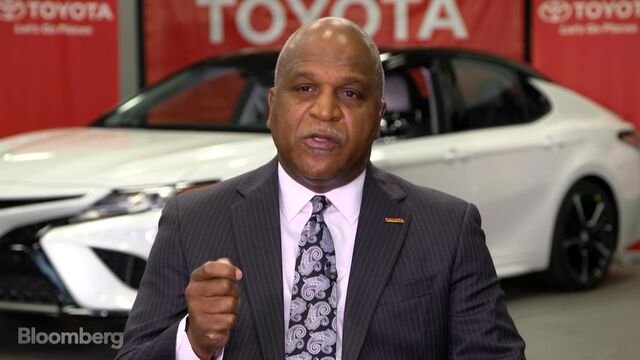 The bigger the U.S. investment the better right now for Toyota. Trump singled out the company in January for its plan to build a Corolla small-car factory in Mexico. As Toyota's North American Chief Executive Officer Jim Lentz discussed setting up autonomous- and connected-car business units in the U.S. with Trump last month, the president cut him off and said the company needed to "build those new plants here."
While Toyota is pleased Trump recognized the significance of its investment, according to Wil James, the Kentucky factory's president, the company started preparing for the redesigned Camry that will be built at the plant during Barack Obama's administration.
"We've been working on this Camry now for over three years, so this is not something that's just brand new and picked up most recently," James said in an interview Monday on Bloomberg Television.
Read more: Toyota's red wall tested as Trump demands more U.S. plants

As part of the $10 billion that Toyota plans to invest in the U.S. over the next five years, the company's spending in Kentucky paves the way for output of the redesigned Camry sedan later this year. The car will be the first in North America to adopt the Toyota New Global Architecture system for designing, engineering and manufacturing vehicles.
In describing the system referred to as TNGA in March 2015, Toyota said it was aiming to reduce the amount of spending required to prepare the production line for a new model by about half. The Toyota City, Japan-based company is avoiding any emphasis of the frugal benefits of TNGA with regards to its plans in Georgetown.
"This is the largest investment in our plant's history," James said in the statement. "This major overhaul will enable the plant to stay flexible and competitive, further cementing our presence in Kentucky."
Toyota will spend the $1.33 billion over the next two or three years, James said in a press conference at the Georgetown plant. It's only after the money is spent -- including on more flexible equipment in the welding shop and elsewhere -- that TNGA's expected cost savings will kick in, he said.
Kentucky Governor Matt Bevin predicted the state's best year ever for capital investments by big companies during the event at the plant.
Mexico Scrutiny
In January, Trump criticized a $1 billion factory in Mexico where Toyota will begin making Corolla compact cars in 2019. While he's made similar denouncements of General Motors Co. assembling the Chevrolet Cruze south of the border and attacked Ford Motor Co. before the automaker canceled a small-car plant in Mexico, he's also praised Chief Executive Officers Mary Barra and Mark Fields and hosted them for several White House visits.
When Trump met with auto executives and workers in Michigan last month, he strolled through a vehicle display with Barra, Fields and Fiat Chrysler Automobiles NV CEO Sergio Marchionne and posed for a group photo. The North American chiefs of Japanese, Korean and German automakers stood by and watched.
Toyota's Georgetown plant -- about the size of 156 football fields -- built more than 500,000 Camry, Avalon and Lexus ES sedans last year. That was roughly a quarter of Toyota vehicles produced in North America.
Camry Redesign
The Camry has been completely redesigned with a longer, lower and stiffer body and improved suspension to boost driving dynamics.
The makeover comes just as crossover sport utility vehicles like the RAV4 become the new American family car, a blow for Toyota because Camry has been a top-selling model in the U.S. for 15 years.
Toyota's RAV4 SUV deliveries climbed 5.8 percent this year through March, while Camry declined 13 percent, according to researcher Autodata Corp. Last year, Camry outsold RAV4 by just 36,477 units, a much narrower margin than the roughly 160,000 that separated them in 2014.
Toyota built 2.12 million vehicles from eight North America assembly plants last year. The company imported more than one in four vehicles sold in the U.S. from outside North America, including Prius hybrids and Lexus NX crossovers shipped from Japan.
— With assistance by David Westin
Before it's here, it's on the Bloomberg Terminal.
LEARN MORE