Frenchman Who Feared Brexit Now Seeking to Make It a Success
By and
CEO of the London Stock Exchange joins forces with Theresa May

Aramco listing in London a win for both Rolet and U.K. premier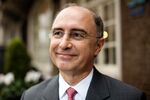 Follow @Brexit for all the latest news, and sign up to our daily Brexit Bulletin newsletter.
Xavier Rolet is an unlikely Brexit champion: a Frenchman who was aligned with then-Prime Minister David Cameron to keep the U.K. in the European Union.
Now the 57-year-old chief executive of the London Stock Exchange Group Plc has the ear of Cameron's successor, Theresa May, to turn that loss into a win. He accompanied her last week in the highest-profile political mission of his career, shaking hands with the King of Saudi Arabia. His job at Al-Yamamah Palace was to bring back an Aramco listing on the exchange he runs.
If successful, a piece of the biggest initial public offering in history would signal to the world that London is still Europe's top financial center and damp the voices of those in Brussels who say Brexit must come at a price. A failure would be a public embarrassment for May and the executive who is increasingly put into service by the British government.
Rolet has been advising 10 Downing Street, the office for prime ministers, for years. He was part of Cameron's business advisory group, and went to China with then-Chancellor of the Exchequer George Osborne as part of a trade mission in 2015. But June's referendum vote has elevated the former French Air Force officer to a critical role in protecting the City of London.
Rolet is on the front lines for Brexit because of a little-talked-about clearinghouse he bought in 2012 that is seen as one of the most vulnerable dominoes in the City and a bellwether for negotiations. He's already lost one battle, as Britain's referendum decision helped thwart LSE's tie-up with Frankfurt-based Deutsche Boerse AG last month.
May's Confidante
Rolet's influence over the unfolding Brexit debate is palpable. He was the first person May introduced to King Salman. His point of view can be heard in Chancellor of the Exchequer Philip Hammond's defense of London's role in euro clearing. He's touted 232,000 U.K. jobs are at risk, a figure cited in government circles but disputed by some in the industry as unrealistic.
"There needs to be interaction between the industry and the highest levels of government so that officials in the UK and EU27, as they negotiate with one another, understand the potential ramifications," said Simon Puleston Jones, head of Europe for the FIA, formerly known as the Futures Industry Association.
On the surface Rolet is the very embodiment of the global elite that May has disparaged, the class she referred to as "citizens of nowhere." He got his MBA from Columbia University before Robert Rubin, the former head of Goldman Sachs, hired him in New York. But while he may be worth millions now and owns a Provence vineyard estate, his upbringing was modest.
Rolet has said he knows what poverty is because he grew up seeing it. Born in military barracks in Algeria when it was part of the French Empire, Rolet and his family moved to Sarcelles, a working class banlieue to the north of Paris, at the end of Algeria's war of independence in 1962. After a stint as an instructor in the French Air Force, Rolet decided he wanted to make money.
Charming, Aggressive
The portrait of Rolet that emerges from interviews, news reports and discussions with people who have worked with him is that of an aggressive, restless, multi-faceted businessman. He's sometimes described as confident and aloof, but he can be humble and deferential with Middle Eastern royalty. U.K. officials said he was charming with the Saudis and that Rolet had his own independent relationship with them.
Those are qualities May will be keen to harness. She herself was against Brexit when she served as home secretary under Cameron. But now her own legacy, in unison with Rolet's, is tied with making it a success.
They come at it from different perspectives though. May has been reluctant to be seen as in-league with big finance. Therefore her supporting role in the LSE's quest to win a place on the state-owned Saudi Arabian Oil Co. deal allows her to keep a low profile while doing her bit to advance the interests of a vital U.K. industry.
Circle of Trust
On her first foray overseas after triggering Brexit, Rolet was the only CEO of a British company to join May's entourage. It's an example of the unusual role stock exchanges play in modern society: the big ones are owned by shareholders and can become symbols for the countries they're based in.
At stake for Rolet is the sway of LSE, whose shares have rallied about five-fold during his eight-year tenure as CEO. While London is still favored to win big stock listings, that may change over time as money managers relocate to retain access to their clients in the EU.
A timely win, such as Aramco, would dispel those anxieties in an early phase in the Brexit talks when May is seeking to tone down any alarmist rhetoric.
"There's no doubt that management of money will start to fragment across Europe post-Brexit, but it will take a while to unravel, and fragmentation of markets definitely won't help smaller markets win international listings," said Niki Beattie, a Merrill Lynch alumna who now heads adviser Market Structure Partners.
— With assistance by Simon Dawson
Before it's here, it's on the Bloomberg Terminal.
LEARN MORE