Merkel Rival Questions NATO Defense Goals in Anti-Trump Stand
By
SPD's Schulz: Wouldn't push 2% spending target if elected

Warns of a militarized Germany in the middle of Europe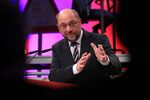 German Social Democrat Martin Schulz said he may brush aside NATO's defense spending target if he defeats Angela Merkel for the chancellorship in September.
Warning against a "highly armed" Germany in the heart of Europe, Merkel's main challenger gave the clearest signal yet that an SPD-led government would defy U.S. demands. President Donald Trump's administration is pressing NATO member countries for individual road maps to boost defense budgets to 2 percent of gross domestic product.
Increasing Germany's military budget to that level would impose an "enormous financial burden" on Europe's biggest economy and "is certainly not the goal that my government would pursue," Schulz told foreign reporters in Berlin on Monday. He put the estimated increase for Germany at 20 billion euros ($21 billion) or more per year.
Schulz, the SPD chairman, is running to unseat Merkel in national elections on Sept. 24. While the Social Democrats closed the gap with Merkel's Christian Democrat-led bloc after Schulz's nomination in January, several polls over the past week suggested that Merkel's CDU-CSU is pulling ahead again.
German Foreign Minister Sigmar Gabriel, the former Social Democratic leader who stepped aside to allow Schulz to take on the candidacy for the chancellorship, has called the NATO target unrealistic. He clashed with U.S. Secretary of State Rex Tillerson at a NATO meeting last month over the spending demands.
Merkel Position
Merkel has pledged to uphold the NATO target, which committed alliance members in 2014 to "move towards" the 2 percent threshold "within a decade."
A day after Merkel's first trip to the White House since Trump took office, the president said on Twitter that Germany owes "vast sums of money to NATO."
"I'm not of the opinion that it's been agreed on within NATO to completely reach the 2 percent GDP goal," Schulz said Monday at the SPD's headquarters in the capital. "If I've interpreted this correctly, it's been stated that you can strive toward this goal."
Germany increased its defense budget by 8 percent this year to about 37 billion euros, which accounts for about 1.2 percent of GDP. Gabriel has said a NATO-approved spending level in the middle of the next decade would be on the order of 70 billion euros a year. He and other officials have also said that German spending on development aid -- 0.7 percent of GDP -- should be considered a component of security, an argument the U.S. rejects.
Gabriel told Tillerson last month that the NATO demands would create a vast conventional German military that would be viewed with suspicion by European Union member states already fretting over Germany's leadership in economic matters. Only four European NATO states spend 2 percent or more of GDP on defense -- the U.K., Greece, Estonia and Poland.
"A policy where you have a highly armed military in the middle of Europe doesn't seem to me to be a priority objective of German foreign policy," Schulz said Monday. "What we need isn't an arms race but initiatives for disarmament."
Before it's here, it's on the Bloomberg Terminal.
LEARN MORE