markets
Traders Are Still Waiting for Their Koruna Bonanza
By and
CIBC Asset Management expects 8% koruna gain over 12-18 months

Some lose patience as speculative buildup delays expected gain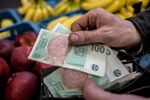 Luc de la Durantaye may be stuck in one of the most crowded currency trades, but he believes his bet on the koruna must eventually pay off. His strategy for the next few months is to do nothing.
The money manager at CIBC Asset Management Inc. in Montreal has been long the Czech currency in the forwards market since 2015, and doesn't expect a quick profit after policy makers ditched their 27-per-euro limit last week. Too many investors positioned for appreciation are preventing a rapid rally, but de la Durantaye is confident the central European country's robust economy will eventually propel an 8 percent gain for the currency in 12 to 18 months to his target of about 25 per euro.

"We're going to wait this out," de la Durantaye, who helps oversee about $22 billion in currencies, said in an interview. "The fundamental pressure must sooner or later return the koruna on an appreciation path."
The koruna cap, imposed in 2013 to avoid deflation, turbocharged the Czech economy and helped cut the unemployment rate in the ex-communist country of 10.6 million to the lowest in the European Union. Foreigners poured as much as $65 billion of speculative capital into local assets, including bonds with negative yields, on hopes the end of the cap would spur a bonanza akin to the day Switzerland unexpectedly abandoned a similar policy in January 2015, sparking a jump in the franc of as much as 41 percent.
The unshackled koruna has gained a mere 1.4 percent since April 6 to 26.64 at 9:15 a.m. in Prague on Tuesday, well short of the average 25.66 rate in the 12 months before the intervention program began. Policy makers as well as some fund managers and analysts previously warned the currency was overbought and investors would struggle to find enough counter-parties to sell to.
Euro-koruna forwards indicate another 0.5 percent appreciation to 26.52 in 12 months, trailing the median estimate of analysts polled by Bloomberg for a 3.3 percent rally to 25.80. Jiri Polansky, an analyst at the Czech unit of Erste Group Bank AG, said the koruna may even weaken back above 27 if some investors lose patience and abandon the trade.
"The uncertainty is extreme," he wrote in a report to clients last week. "Expectations of foreign investors and their time constraints will be crucial."

Paul McNamara is one of those who decided to jump ship. The London-based money manager, who helps oversee $6.3 billion at GAM U.K. Ltd., closed his long-koruna position about three months ago as he saw others pile in at a rate several times higher than inflows generated by the country's foreign-trade surplus.
"A lot of people including ourselves were concerned you'd get a small spike stronger followed by weakening as people tried to take profit," he said.
CIBC's de la Durantaye, who has been losing about 1 percent per year on his koruna holdings, is ready for the potentially long and bumpy road to what he sees as the currency's fundamental value of about 25 per euro. De la Durantaye increased his position shortly before the cap ended because, he says, Czech inflation now running above the central bank's 2 percent target is a signal that higher interest rates are needed.
"We are aware of the large positioning, and the koruna may weaken easily to 28 if people get disappointed and unwind their trades," he said. "But that would only stimulate the economy more and make the koruna even more undervalued. We would then add to our position."
— With assistance by Marton Eder
(
Updates koruna in fifth paragraph.
)
Before it's here, it's on the Bloomberg Terminal.
LEARN MORE