business
Hungarians Plan More Protests as President's Deadline Nears
By
President Ader has Monday deadline to sign law targeting CEU

Protest organizers seek to keep momentum of mass demonstration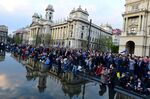 Hungarian anti-government organizers vowed to continue protests after one of the largest mass demonstrations against Prime Minister Viktor Orban's rule as the deadline approaches for the country's president to sign a law that may force a university founded by billionaire George Soros to shut down.
Organizers of a rally in support of Central European University, which they said attracted as many as 80,000 people on Sunday, announced a protest for Wednesday against a government-sponsored bill that would label most critical civil groups as foreign agents. Orban, who has vowed to turn the nation of 10 million into an illiberal democracy, is scheduled to answer lawmaker questions in parliament on Monday.
The bills are at the vanguard of government efforts to dismantle critical voices after the ruling party stacked most independent organizations with loyalists, giving the premier more power than any predecessor since the fall of communism more than a quarter century ago. Orban is on course to win a third consecutive term as premier next year, according to polls.
While the government denies that CEU is the target of the legislation, Orban regularly blames Hungarian-born Soros, who also funds organizations that seek to promote human rights and government transparency, for trying to undermine him.
President Janos Ader, an ally of Orban, has to decide on Monday whether to sign the legislation, return it to parliament or send it to the Constitutional Court if he has legal objections. CEU is "determined to stay in Budapest" and will resort to "all legal remedies" to remain there, Chairman of the Board of Trustees Leon Botstein said in a statement on Thursday.
Before it's here, it's on the Bloomberg Terminal.
LEARN MORE