French Election Pressure Shows as Macron Goes on the Attack
By and
Rise of Communist-backed Melenchon adds pressure on rivals

Le Pen panned for disowning French role in 1942 Nazi roundup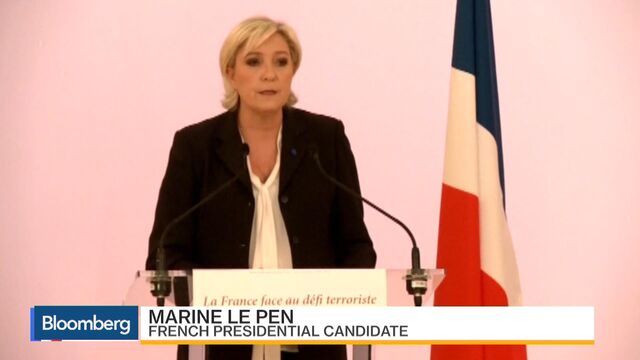 France's presidential candidates hurled insults at one another as tightening polls and the absence of a clear front-runner began to weigh on the campaign.
With the pressure building less than two weeks before the first round, independent Emmanuel Macron became the latest candidate to go on the attack. During a press conference on Monday, he mocked Republican nominee Francois Fillon's "problem with the truth," labeled Marine Le Pen's comments on French history as revealing her party's "true face" and pilloried Communist-backed insurgent Jean-Luc Melenchon for his anti-war stance.
Having sustained verbal assaults from all sides as the nominal front runner, Macron is increasingly hitting back as France's 2017 presidential race enters the home stretch. He's in good company: Fillon is using every rally to blast 39-year-old Macron.
QuickTake How to Read French Election Polls
The Macron attacks "show he's losing his nerve," Fillon said Tuesday on France 2 TV. "It shows he doesn't have the broad shoulders you need to be president."
The raw tone to the campaign reflects the uncertainty of the outcome, and what's at stake for France. With just 12 days left before voting begins on April 23, polls show all four main candidates capable of qualifying for the two-person runoff. Le Monde newspaper headlined its Tuesday edition with "Unprecedented Lack of Certainty" for a presidential vote.
"French political risk is back," Aline Schuiling and Kim Lui, analysts at ABN Amro, said in a note to clients.
The premium that France pays over Germany to borrow for 10 years rose to 75 basis points on Tuesday from less than 60 points in late March. In particular, Melenchon's surge in popularity "is bad news for French bonds," said Schuiling and Kim Lui.
Undecided Voters
Le Pen and Macron remain in the lead, with first-round support of 24 percent and 23 percent respectively, according to Bloomberg's composite poll of voting intention. Fillon and Melenchon have 18.5 percent and 18 percent backing. Yet with a margin of error of about 2 percentage points, the lead is far from secure.
Pollsters say that Fillon or Macron would defeat Le Pen in the runoff, yet they also warn that many voters may only make up their minds at the last minute. Forty percent remain undecided, according to Kantar Sofres. The rise of Melenchon, whose support has increased by half since March 20, is adding to the nervousness and pushed Fillon and Macron to swipe at him for the first time.

After Melenchon blasted President Francois Hollande and German Chancellor Angela Merkel for backing U.S. air strikes on Syria, Macron warned that the far-left candidate would leave France defenseless in a dangerous world with leaders such as the Russian president.
"If the peace that Jean-Luc Melenchon is defending is the peace of Vladimir Putin, I'm not interested," Macron said. Adding to that on LCP television Tuesday, Macron took issue with Melenchon's plans for a massive increasing in public spending, calling them "un-implementable" as well as "dramatic for the middle and working classes."
Campaign Targets
As the official campaign started Monday -- which imposes an absolute equality of airtime for all 11 contenders -- the candidates are turning to rallies and ground campaigning to reach out to the undecided.
Fillon, who lost his front-runner status earlier this year as a series a scandals about his spending habits unfolded, will speak in Marseille Tuesday and Lyon Wednesday. At a major rally in Paris on Sunday the 63-year-old derided Macron's plan to turn France into a "gigantic co-working space."
Macron will be hunting on Fillon's turf Tuesday, going to eastern France to meet with pensioners in a retirement home in the town of Besancon. Polling shows that those aged over 65 are overwhelmingly planning to choose the Republican nominee -- and are also the most committed to vote. Kantar polling shows the portion of Macron's supporters who are sure to vote for him is the lowest among the four candidates.
Melenchon hit back at both candidates. Promises made by Macron and Fillon to overhaul labor law are a "return to the past," he said. "I ask Mr. Macron to be more respectful of his adversaries because one of us will be the next president," he added.
Meanwhile, Le Pen is playing with fire. The nationalist candidate, who has made France's exit from the euro the centerpiece of her campaign, was widely criticized on Monday after returned to her party's roots by saying in a weekend radio interview that France isn't responsible for the 1942 "Vel' d'Hiv" roundup in which more than 13,000 Jews were arrested to be deported to Nazi concentration camps.
According to Nicolas Lebourg, a researcher on French far-right politics at the University of Montpellier, Le Pen's comments were calculated to ensure she remains "the anti-system, outcast candidate" but are a sign that her campaign is stalling.
While "a provocation" intended to help her stand out, "it's a bad calculation," Lebourg said. "It's a first round calculation and it will backfire in the second round where she'll be reminded of it every day."
— With assistance by Gregory Viscusi, and Francois De Beaupuy
Before it's here, it's on the Bloomberg Terminal.
LEARN MORE