Ex-Lone Star Banker Aims to Join 'Genius' Ranks in Divorce Fight
By
Work asked U.K. judges for 66% of multimillion-dollar fortune

Case relies on rarely won 'special contribution' argument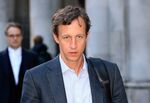 A former Lone Star Funds executive is betting his financial "genius" is evident enough to convince U.K. appeals court judges that he deserves a larger share of a $225 million fortune than his wife after a long-fought divorce battle.
The court is poised to rule Tuesday on Randy Work's appeal, which hinges on an argument that financiers are increasingly using to argue they made a "special contribution" during their marriage and so shouldn't have to follow the British practice of 50-50 division of marital assets. They seldom win, but when they do, the numbers can be eye-popping.
Work and Mandy Gray, both American, were married for 20 years when they split. A family judge said in 2015 that the multimillion-dollar estate should be equally split because while Work may have worked hard, the fortune was the result of "being in the right place at the right time, or benefiting from a period of boom," not his professional brilliance.
"The word 'genius' tends to be over-used and is properly reserved for Leonardo Da Vinci, Mozart, Einstein, and others like them," Judge Edward Holman said at the time, rejecting the special contribution argument.
Asset Division
The tactic dates back to 2001 and last week, it won over Judge David Bodey, who awarded the wife of 78-year-old Khoo Kay Peng, Malayan United Industries Bhd's chairman 64 million pounds ($79 million) in their divorce, after 42 years of marriage. She had sought about 100 million pounds.
The judge described Peng as a "hugely successful entrepreneur and businessman" but ruled that given the "substantial contribution" in the home made by his ex-wife Pauline Chai, "much of it on her own, on different continents from her husband," there was no case to award him more.
And in 2014, a judge decided that Jamie Cooper-Hohn, the ex-wife of the Children's Investment Fund Management UK LLP founder Chris Hohn should get 36 percent of their $1.5 billion marital estate. She didn't appeal.
London courts have gained a reputation as being a more sympathetic place to play out high-stakes divorces, as generally speaking judges order a 50-50 split of assets, giving equal weight to the work of a wealth creator and a home maker. 
In previous rulings on the issue, judges have said that for the breadwinner to prevail, it had to be clear that person was the "generating force behind the fortune" and had "financial genius" or "entrepreneurial flair and drive" to justify breaking with tradition.
Threshold Level
There isn't a clear guide for what level of assets you need to argue special contribution but 20 million pounds is generally the baseline, though the fortune in dispute should probably exceed 100 million pounds, according to Graham Coy, a lawyer at Stowe Family Law who isn't involved in the cases.
"There has to be a gross disparity in contributions to how that wealth was accumulated," he said. "Inheritances or lottery wins are simply not enough on their own to be classified as special. Lastly, there must be no gender discrimination against the home-maker."
Work, who could've walked away with $115.5 million in a equal split, argued he should get 66 percent of their assets, including property and a fine-art collection. Initially he said his ex-wife was entitled to 5 million pounds.
Lawyers for Work and Gray didn't immediately respond to requests for comment on Tuesday's case.
Before it's here, it's on the Bloomberg Terminal.
LEARN MORE