business
Bombardier Cuts Chairman's Pay in Response to Taxpayer Outrage
By and
Company unveils details on deferral of other executive payouts

Moves follow uproar after planemaker receives public aid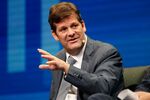 Bombardier Inc. confirmed plans to roll back Executive Chairman Pierre Beaudoin's 2016 compensation and defer payouts for managers including Chief Executive Officer Alain Bellemare, deciding against additional measures to appease angry taxpayers over raises that followed $1 billion in public aid.
The board slashed Beaudoin's pay by $1.4 million, bringing his total last year to $3.85 million, or equal to his 2015 package, the Montreal-based planemaker said Monday in a regulatory filing. Awards of restricted shares and stock options to the executive chairman and the five other top executives will vest and be exercisable in 2020, a year later than planned. Bellemare was awarded $9.49 million for 2016, after receiving $6.43 million the previous year.
The moves cap almost two weeks of public anger as the company sought to boost 2016 compensation almost 50 percent after benefiting from taxpayer aid and announcing plans to eliminate more than 14,000 jobs. Quebec last year invested $1 billion in Bombardier's C Series jetliner program, which entered service more than two years late and billions of dollars over budget.
Monday's filing means that total compensation for Beaudoin, Bellemare and four other senior executives amounted to $31.2 million last year. That compares with the $21.9 million the managers received in 2015, when some of them were hired and received compensation for only part of the year. The board authorized the increases to "ensure retention" and "recognize exceptional performance," the company said.
Beaudoin's accumulated retirement benefits were valued at $15.3 million at the end of last year.
Justified Response
The packages prompted Quebec Finance Minister Carlos Leitao to express shock. Bellemare himself later acknowledged that Quebeckers were right to be angry at the compensation. Ninety-three percent of respondents in a Leger Marketing online poll published April 2 by the Journal de Montreal said they disagreed with Bombardier's decision to boost the compensation of senior executives. Eighty-four percent said Quebec should review its support for the company.
Bombardier's five-year turnaround plan aims to reach break-even cash-flow in 2018 and $25 billion of annual revenue by 2020. It's being spearheaded by Bellemare, who replaced Beaudoin as CEO in February 2015.
The six executives received about 40 percent of the $31.2 million in total compensation, or roughly $13 million, in the form of salaries, cash bonuses, relocation benefits and payments to offset currency swings versus the U.S. dollar. Contributions to various pension plans the executives are eligible for totaled a bit less than $2 million.
Meeting Targets
Most of the pay, about $16.3 million, came in shares and stock options that the executives will receive over several years. The shares will be delivered only if the company hits targets for free cash flow and earnings before interest and taxes. The options will generate a return only if Bombardier's stock price rises above C$1.97. The shares climbed 4.7 percent to close at C$2.22 Monday in Toronto, up 2.3 percent for the year.
The shares won't be delivered until 2020, a year later than initially planned. The six executives also agreed not to cash in any of the stock options they received last year before August 2020. Boards often extend vesting periods for executive awards to strengthen the link between pay and company results.
(
Updates with additional detail in fifth paragraph.
)
Before it's here, it's on the Bloomberg Terminal.
LEARN MORE