Hot Spots in Emerging Markets This Week: South Africa, Russia
By
Faceoff in Syria threatens to spark outflows from ruble assets

Explosions in Egyptian Churches shatter calm on Palm Sunday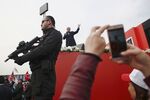 South African bonds traded Monday carrying junk grades from two ratings agencies for the first time since 2000, while Russian assets may come under pressure as tension between President Vladimir Putin's government and the U.S. escalates after an American missile attack in Syria.
Meanwhile, Turkey's bonds and the lira will be in the spotlight as voters prepare to decide in an April 16 referendum on whether to give President Recep Tayyip Erdogan broader executive powers.
RUSSIA


Russian assets will continue to weaken over worries about rising tension with the U.S., says Timothy Ash, a senior strategist at Bluebay Asset Management. The ruble was the worst performer among 31 major currencies tracked by Bloomberg on Friday, falling 1.5 percent, while the country's credit-default swaps jumped the most in the world.
Putin has slammed the U.S. attacks in Syria as an "act of aggression," dispelling hopes for improved ties between the two nations. U.K. Foreign Secretary Boris Johnson on Saturday canceled a trip to Moscow for high-level meetings scheduled for Monday after coordinating with the U.S., saying he would meet instead with his Group of Seven peers in Italy to discuss the Syrian crisis and "Russia's support for Assad."

SOUTH AFRICA
The rand fell for a second straight week after Fitch Ratings dealt a fresh blow to South Africa on Friday when it cut the nation's debt to below investment grade, following a similar move by S&P Global Ratings. JPMorgan Chase & Co. said it would remove South Africa from gauges tracked by $59 billion of funds.
The currency declined 0.9 percent of 2:11 p.m. in Johannesburg, bringing its decline over the past two week to about 10 percent, more than any other major currency in the world.
"In light of the junk status, we will need to revise expenditure patterns as a government," African National Congress Economic Committee Chairman Enoch Godongwana told reporters in Johannesburg on Sunday.
President Jacob Zuma has plunged the nation into a political crisis since firing Finance Minister Pravin Gordhan in a cabinet purge March 31.

TURKEY
Turks on Sunday will vote on a proposal to reshape the nation's democracy by abolishing the post of prime minister and handing President Erdogan sweeping executive powers. The lira's one-month implied volatility rose last week to the highest level since January.
Read More: Investors Just Want Turkey's Referendum Done With: Scenarios
Meanwhile, the U.S. attack in Syria aligned Trump with Turkish policies on the civil war in the Levant nation. Turkey has been a steadfast proponent of targeting President Bashar al-Assad's regime.

VENEZUELA
The country's state-controlled oil-producer, known as PDVSA, is scheduled to pay $2.1 billion in debt this week. The company has informed investors that all principal and interest related to its bond maturing this month will be paid on April 12, it said in an e-mailed statement. The bonds surged last week.
Read More: PDVSA to Make $2.1 Billion Payment That Spurred Bets on Default
EGYPT
The country's EGX 30 Index of stocks fell Sunday by the most since Feb. 27 after an explosion tore through a church in the Nile Delta city of Tanta, killing at least 21 people. It was followed by another attack in Alexandria that left at least 13 dead.
The blasts underscore the challenges confronting President Abdel-Fattah El-Sisi as his government tries to attract international investors to an economy battered by years of unrest. The IMF said last week it's working with Egyptian authorities to help control inflation that surged past 30 percent in February.
Read More
Before it's here, it's on the Bloomberg Terminal.
LEARN MORE