markets
Treasuries, Oil Gain as Risk-Off Sentiment Rules: Markets Wrap
By
S&P 500 runs into trouble after crossing 21-day moving average

Oil gains for fifth day in longest winning streak of 2017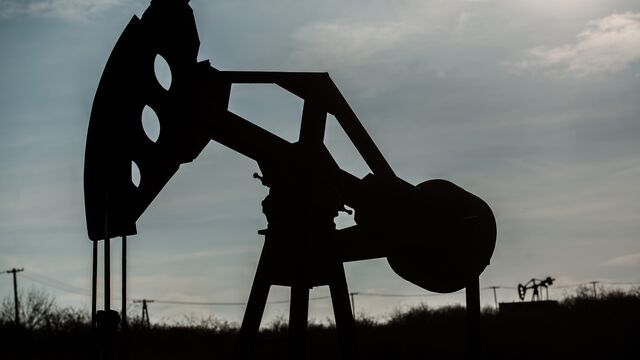 Treasuries rose and stocks were little changed with investors erring on the side of caution as geopolitical concerns build in Asia and the Middle East. Oil posted its longest run of gains this year and the dollar weakened for the first time in three trading sessions.
For the sixth time in seven days, the S&P 500 ran into trouble after crossing above its 21-day moving average. The chart level, roughly the index's mean altitude over the last month, current sits at 2,360.7. The S&P 500 went as high as 2,366.37 before dropping back to finish little changed. The price swings sent the CBOE Volatility Index, or VIX -- the market's standard fear gauge -- to the highest level this year.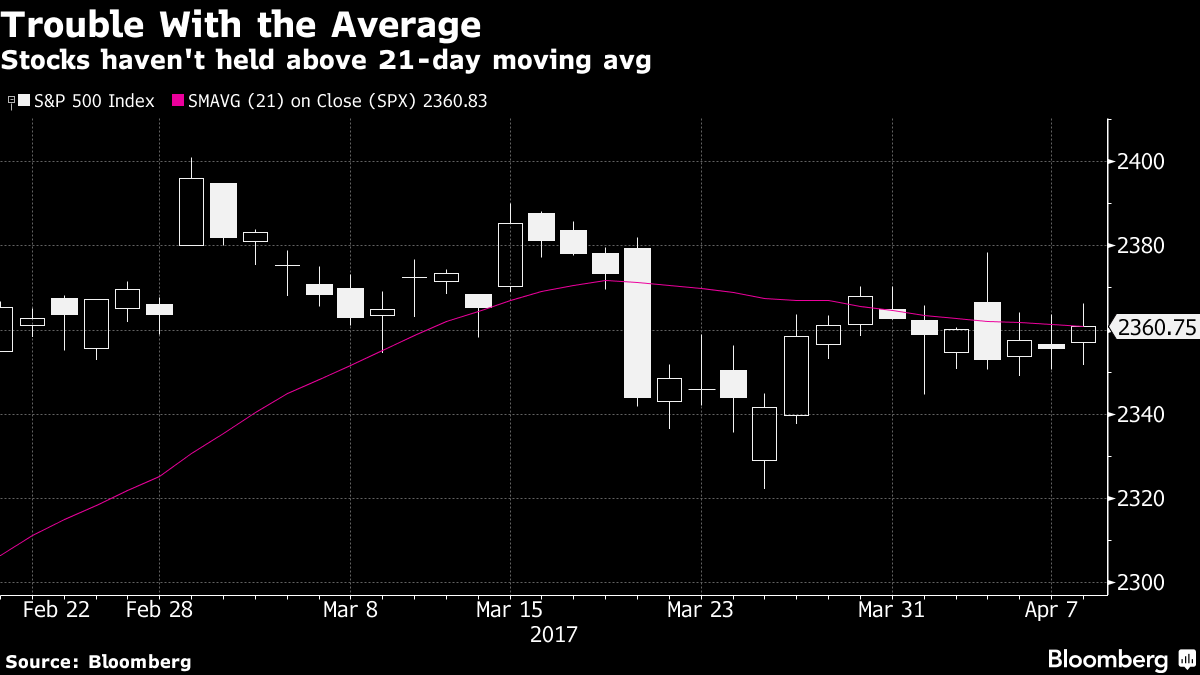 Energy shares were one of the few bright spots in the S&P 500 as Libya's biggest oil field suffered another outage while Russia signaled it's weighing an extension of OPEC-led production cuts. French bonds fell, widening the yield spread over Germany to the highest since February after polls showed the country's presidential election is becoming a four-way contest. European stocks traded mostly sideways as equities in France gave up ground.
Oil rose for a fifth day after advancing 3.2 percent last week following a U.S. military strike on Syria. In Russia, Energy Minister Alexander Novak said Friday his ministry had been in talks with oil companies regarding the need to prolong the six-month deal with OPEC. The U.S.'s decision to divert an aircraft carrier to North Asia sparked a selloff in South Korea assets and renewed concern of Chinese involvement in any regional conflict.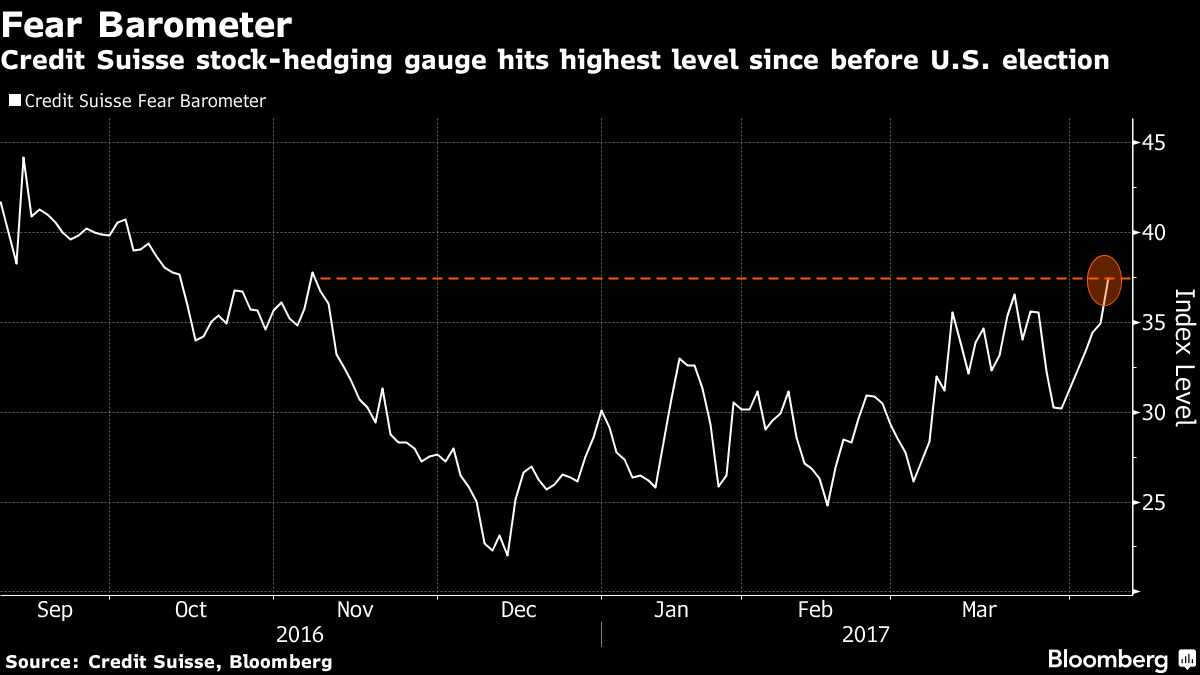 While demand for haven assets has eased as financial markets attempt to shrug off Friday's disappointing U.S. employment figures, a ratcheting up of geopolitical tensions and Europe's looming test of populism curtailed optimism. Corporate results may provide the next fresh catalyst -- they'll accelerate this week with earnings due from the likes of JPMorgan Chase & Co., Tesco Plc and Prada SpA.
"Geopolitics trumps economics as the main market driver, with strained U.S.-Russian relations and the dispatch of a U.S. aircraft carrier towards the Korean peninsula making the headlines," Kit Juckes, a global strategist at Societe Generale, wrote in a note. "This week, it will be geopolitics and events outside the U.S. which drive markets."
Read our Markets Live blog here:
What investors will be watching this week:
Argentina, Brazil, Canada, Chile and South Korea are among countries setting interest rates.
U.S. bank earnings also begin with Citigroup, JPMorgan and Wells Fargo early Thursday.
U.S. Secretary of State Rex Tillerson will meet with Russian counterpart Sergei Lavrov in Moscow, and is expected to press the Kremlin about chemical weapons in Syria.
Fed Bank of Minneapolis President Neel Kashkari will participate in a Q&A at a meeting of the Minnesota Business Partnership on Tuesday.
The U.K. economy is in focus. Inflation probably slowed in March, tomorrow's report may show, though the headline rate should pick up in coming months. Employment figures are likely to have remained steady on Wednesday, while wage growth slowed.
Here are the main moves in markets:
Currencies
The Bloomberg Dollar Spot Index fell 0.1 percent at 1,229.06 as of 4:09 p.m. in New York, after advancing 0.3 percent on Friday. The pound gained 0.4 percent versus the greenback.
Stocks
The S&P 500 rose 0.07 percent to 2,357.16. The underlying gauge lost 0.3 percent last week.
The Stoxx Europe 600 Index finished little changed. France's CAC 40 Index dropped 0.5 percent
Bonds
The yield on 10-year Treasuries fell 2 basis points to 2.36 percent, after climbing four basis points on Friday.
France's 10-year yield rose four basis points to 0.93 percent. That compared to the bund benchmark yield at 0.21 percent, little changed from the previous session.
Commodities
Gold was little changed at $1,254.18 per ounce.
West Texas Intermediate crude rose 1.6 percent to $53.08 a barrel, after climbing more than 1 percent in each of the previous two sessions.
Asia
Equities in Tokyo and Sydney climbed with traders in the Asia Pacific region taking their first chance to react to worse-than-forecast U.S. hiring data.
The Kospi slipped the most in more than five weeks and the won was one of the biggest losers among major currencies as geopolitical concerns lingered in South Korea.
— With assistance by Cecile Vannucci, and Samuel Potter
Before it's here, it's on the Bloomberg Terminal.
LEARN MORE