Swedish Police Confident They've Caught Terrorist Behind Rampage
By and
Hijacked beer truck plowed through crowd in central Stockholm

Police say one man has been detained but search continues
Swedish prosecutors arrested a man on terror charges after a hijacked beer truck plowed through Stockholm's main pedestrian shopping street on Friday and then slammed into a department store, killing at least four people.
The suspect, who's believed to have driven the truck, is a 39-year-old man originally from Uzbekistan, the police said at a press conference Saturday in Stockholm. The investigation is continuing and more people are being questioned. They are also investigating a "technical device" that was found in the cabin of the truck, but can't confirm that it was bomb.
It's not clear whether the suspect worked as part of a broader network, National Police Commissioner Dan Eliasson said at the press conference. He was known to security services but the information was of a "marginal character," he said.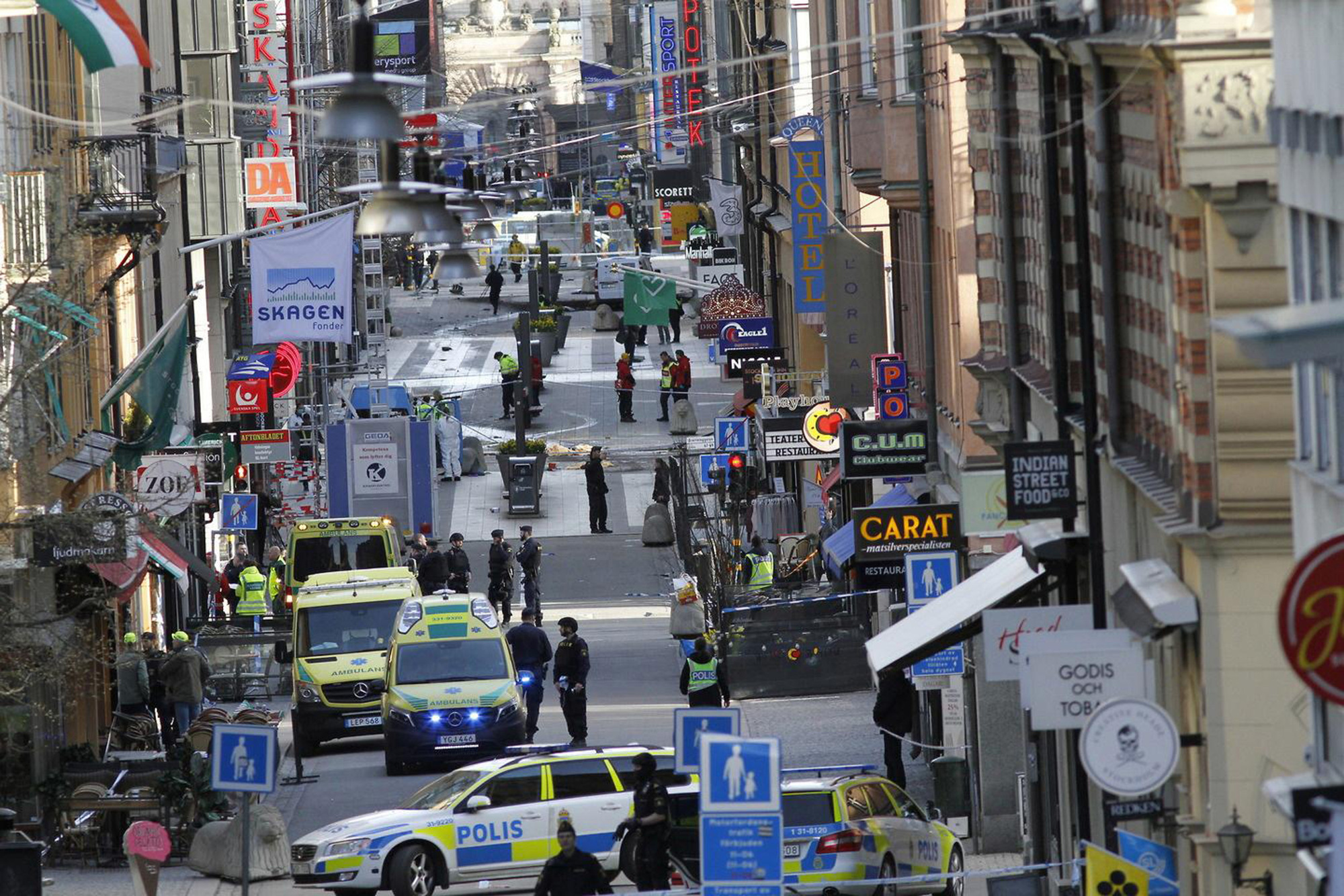 Security was strengthened across the country after the worst terrorist event in seven decades, with border-controls imposed and parts of the capital were still under lock-down on Saturday. People flocked to the place of the carnage, turning construction fences at the scene into a wall of flowers. Crown Princess Victoria and Prime Minister Stefan Lofven were among the visitors.
The man, who was caught on security cameras fleeing the scene, was arrested late Friday in a shop in Marsta, a suburb north of Stockholm. Police said he drew attention to himself after behaving in a way that was abnormal, prompting the arrest.
"We're focusing, of course, on how he has entered the country, where he has been and what kind of contacts he has had, what we can see from his friends and so on," Eliasson said.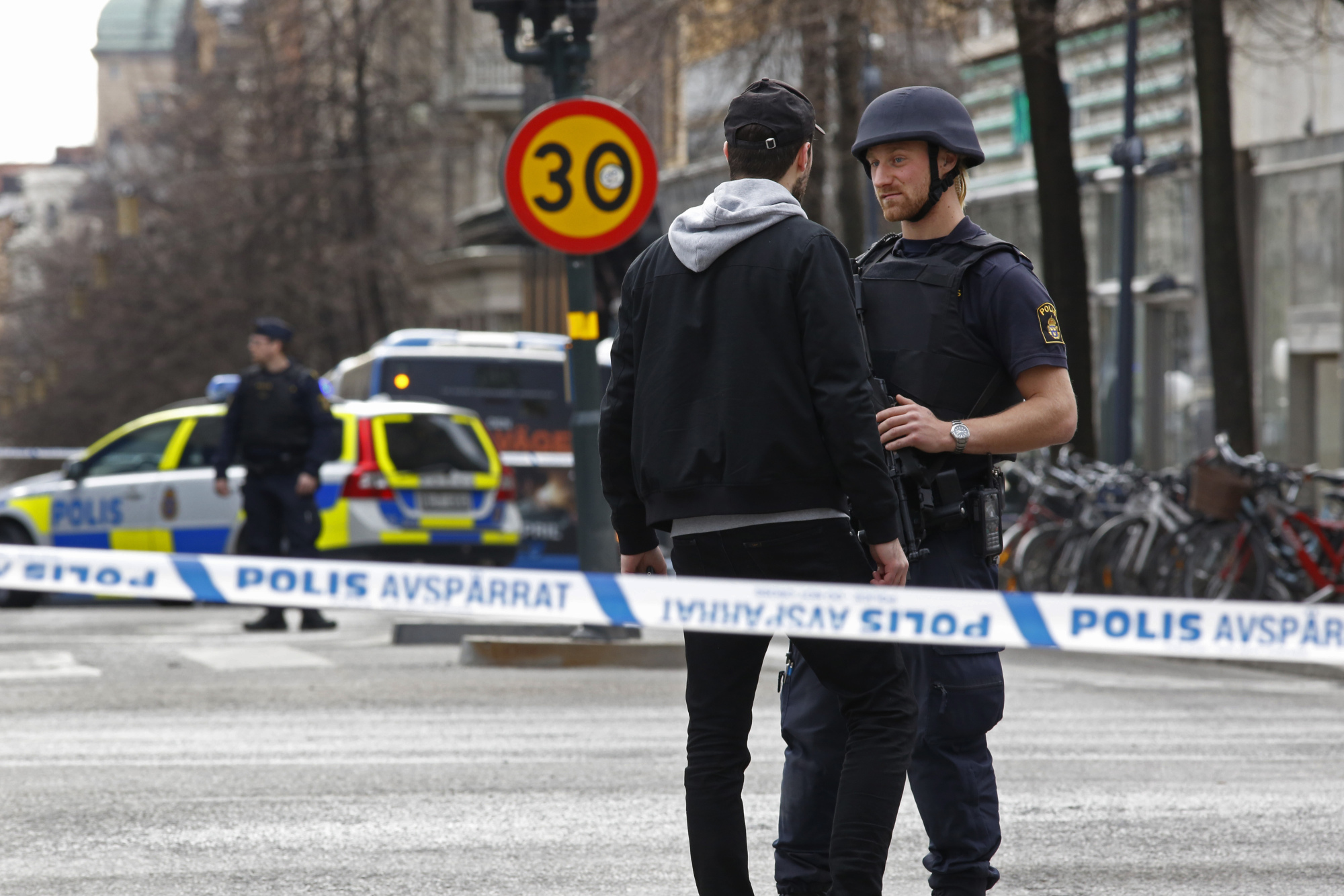 Prosecutors and police declined to comment on any possible links to radical groups such as Islamic State, citing the continuing investigation.
But the prosecutors said that it was clear from the "modus operandi" that this was terrorist crime.
"There are circumstances that may indicate that there's an explicit purpose to harm the population and incite fear," Hans Ihrman, the prosecutor, said at the press conference. "That's part of the investigation's focus, and there's a lot to indicate at this point that this is the case."
It's a scene that's becoming familiar in Europe.
Last month, a terrorist in London drove a car into pedestrians on a bridge before fatally stabbing a police officer outside parliament at Westminster, leaving five dead. Last year, trucks plowed through crowds in Berlin and Nice.
2010 Attack
Friday's attack took place just one block away from the scene of a suicide bombing in 2010, which injured two people and killed the perpetrator. That act was inspired by Islamist extremism.
Since then, the country has been spared deadly terrorist attacks carried out by fundamentalists, though there have been convictions for conspiracies as well as attacks by right-wing extremists against immigrants. Three people with neo-Nazi connections are currently in custody in Sweden, suspected of carrying out a series of bombings targeting facilities housing asylum seekers and political opponents.
The country has a small military contingent in Iraq helping the U.S.-led multinational effort against IS.
Sweden has also been a target of anti-immigration groups seeking to create a link between refugees and crime. The country of 10 million has received about a quarter of a million people seeking asylum in recent years, before restricting inflows in late 2015. The influx coincided with a rise of support for an anti-immigration party, the Sweden Democrats, which holds 47 seats in Sweden's 349-member parliament.
In Friday's heightened state of unease, there were reports of shootings as events were unfolding. Those reports were later rejected by the police.
A spokesman for the family-owned brewery Spendrups told local television that one of its drivers was making a delivery and had stepped out of the vehicle when a masked man jumped in and took the wheel. The Spendrups driver was hit by the truck and was slightly injured, according to the spokesman, Marten Lyth.
— With assistance by Rodney Jefferson
Before it's here, it's on the Bloomberg Terminal.
LEARN MORE