Whirlpool Is Sending French Jobs to Poland and Candidates Shrug
By
Macron, Fillon won't promise to preserve jobs in Amiens

Appliance maker's move to cost 280 jobs in Macron's hometown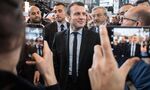 For two of France's leading presidential candidates, the time when politicians stood at a factory's gates and promised to save manufacturing jobs is over.
Emmanuel Macron, the independent who's leading in the polls, and Francois Fillon of the center-right Republicans have declined to pledge that they will maintain jobs at a Whirlpool Corp. appliance factory in the northern city of Amiens should they win the election. The U.S. maker of home appliances plans to transfer dryer production to Poland next year, meaning 280 workers will lose their jobs.
The candidates' stances reflect shifting political attitudes in France, where threats of job losses typically trigger a noisy response from politicians who promise, often without success, to preserve employment. During the 2012 campaign, now-President Francois Hollande climbed atop a union truck and pledged to defend workers from a planned shutdown of two blast furnaces at a steel plant operated by ArcelorMittal in Florange in northeastern France. The furnaces were closed in 2013.
"What am I going to do? Go stand on a truck and say, 'With me, we won't close it'? We know it's not true," Macron said Thursday on France 2 Television when asked about Whirlpool. Meeting plant workers on television amid the campaign would be "complete demagoguery," said Macron, who grew up in Amiens and was an economy minister under Hollande. Fillon, asked about the matter last month on RTL Radio, said the factory wasn't strategic for France.
Market Flexibility
Both Macron and Fillon have promised to make the country's labor market more competitive, with measures that include tax cuts and increased flexibility to fire employees.
At the same time, Fillon hasn't dismissed nationalization as a tool to help French companies. Like Socialist Benoit Hamon, who's running a distant fourth in polls for the first round of voting on April 23, and Marine Le Pen on the far right and Jean-Luc Melenchon on the far left, Fillon said he was open to a temporary government takeover of a shipyard in Saint-Nazaire to find a buyer who would guarantee that jobs and know-how stay in France.
Still, Macron and Fillon's approach stand in sharp contrast to that of Le Pen and U.S. President Donald Trump, one of her role models. The National Front's leader, who wants to call a referendum on France leaving the European Union, has proposed a 35 percent tax on products Whirlpool makes abroad and sells in France. The proposal is similar to Trump's, who has proposed to set up a tariff on auto imports from Mexico.
Carrier Jobs
Trump also has badgered companies such as United Technologies Corp. over plans to move jobs out of the U.S. During last year's campaign, he said he would impose a hefty tax on Mexican-made products from the United Technologies' Carrier air-conditioning unit if it followed through on plans to shift production to Mexico. At the end of last year, Carrier pared its workforce shift after getting state aid from Indiana, while Trump took credit for saving more than 1,100 jobs.
A French regulation known as the Florange law requires Whirlpool to seek a buyer for its operations in Amiens, and so far 15 parties are interested. A spokesman for the company declined to make management available for comment, saying it was devoting its energy to find a buyer. The Amiens plant isn't competitive in terms of costs due to a lack of economies of scale, according to an emailed statement.
Before it's here, it's on the Bloomberg Terminal.
LEARN MORE